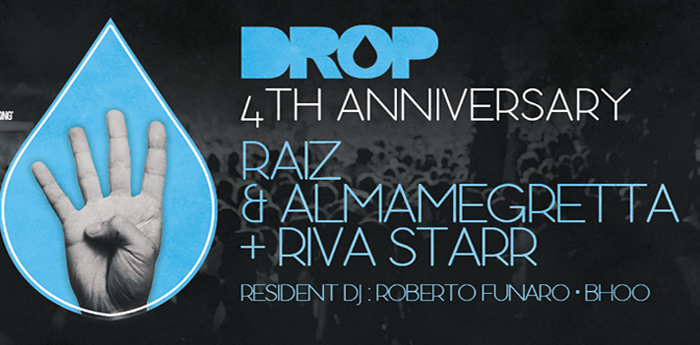 L'Arenile celebrates the anniversary 4 of Drop and it does so with a big concert by Almamegretta and Raiz and a party that will last all night long
The Arenile Reload has an important anniversary to celebrate: the
fourth anniversary of Drop
, the organization that in all this time has managed to propose great names of music on the stage of Arenile.
And the festivities will begin with the concert of the Almamegretta and Raiz, now together again for at least a year, after a temporary removal of the band leader. Raiz, in fact, had moved away from the 2003 to carry on solo projects that have also achieved a fairly good success, among which there was certainly participation in the film Passion by John Turturro, a wonderful musical film about Naples and the evolution of the Neapolitan song over time.
The 18 January, then, the Neapolitan group will perform on the stage of Arenile Reload proposing pieces of the last work in the studio, Controra, along with the typical dub sound songs that over the years have given them the success that accompanies them.
After the performance, however, the party will not end. In fact, the evening will continue with the music of the best DJs of Drop and will accompany the night of those who decide to stay. The will start Dj set by Riva Starr and Dj Roberto Funaro and the Neapolitans BHOO aka Gianluca Viscovo & Paul Kenny & Luciano Fm.
So much fun then, until you see the dawn!
Almamegretta and Raiz concert information
When: January 18 2013
Where: Arenile Reload, Via Coroglio 14 / b
Schedule: from the 21.30 5.00
Prezzi: 12 € (including pre-sale fees)
[Votes: 0 Media Rating: 0 / 5]