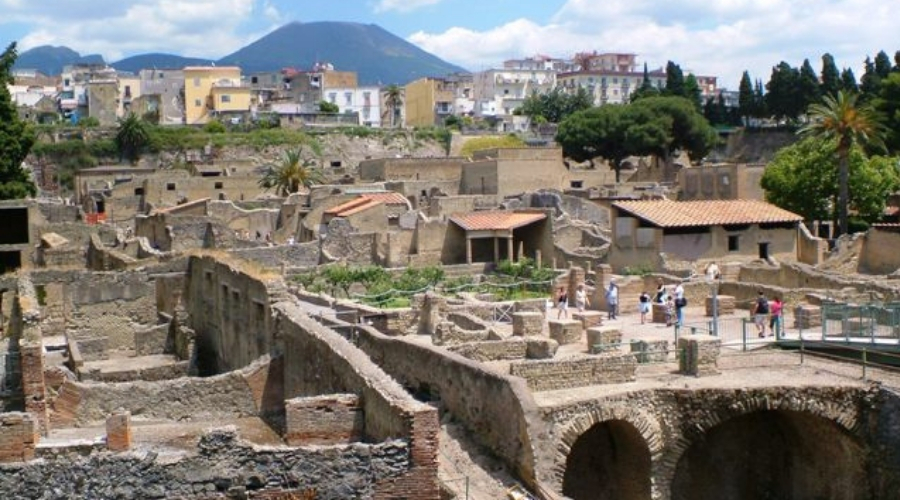 European Museum Night 2019 in Pompeii, Herculaneum, Oplontis, Stabia and Boscoreale: the cultural event that allows entry to museums belonging to 1 euro.
The next 18 Maggio 2019 in the Vesuvian archaeological sites will be the "Festival of Museums". From Ercolano Archaeological Park that adheres to the fifteenth edition of European Museum Night until you arrive in Pompeii, you will be spoiled for choice.
National demonstration, sponsored by European Council and from ICOM, thousands of European museums are involved, with the aim of promoting European cultural identity. This year's theme for International Museum Day (IMD) is "Museums as cultural hubs: the future of tradition".
Excavations of Herculaneum
In particular the 18 May evening, starting from 19.45 hours until 24.00, it will be possible to visit the Ercolano Archaeological Park admiring the main buildings of the archaeological site. By purchasing a ticket with the symbolic price of 1 €, it will be possible to access the Archaeological Park of Ercolano, but only from Corso Resina. We therefore remind you that it will be possible to purchase the ticket exclusively on the evening of May 18 at Park ticket office, which will be open from 19,45 until 23,00 with last entry from Corso Resina to 22,30.
Excavations of Pompeii, Stabia, Oplontis and Boscoreale
Furthermore, as part of the initiative promoted by the Ministry of Cultural Heritage and Activities, from 20,30 to 22,30 it will be possible to visit the archaeological areas of Pompeii Villa San Marco in Stabia Villa of Poppea to Oplontis and l 'Antiquarium of Boscoreale. Also in this case the payment of a symbolic ticket of 1 euro is foreseen.
If all this were not enough, you will be interested to know which visitors to Pompeii will access both from the entrance of Piazza Anfiteatro and from Porta Marina paying only one ticket for the two itineraries. Entering from Piazza Anfiteatro it will be possible to admire the preparation of the reperts at the Great Gymcoming from the town of Moregine; while coming in from Porta marina it is possible to access the Antiquarium, a building of the 800 which houses the permanent exhibition on the ground floor "Sacra Pompeiana", but also temporary exhibitions such as "In search of Stabiae" and "Treasures under the lapilli".
Information on the European Night of Museums 2019 in Pompeii and Herculaneum
Where: Pompeii, Herculaneum, Villa San Marco in Stabia, Villa di Poppea in Oplontis and the Antiquarium of Boscoreale
When: 18 May 2019
Schedule:
from 19.45 hours to 24.00 Herculaneum Archaeological Park
from 20.30 to 22.30 Pompeii, Oplontis, Boscoreale and Stabia
Price: 1 euro ticket