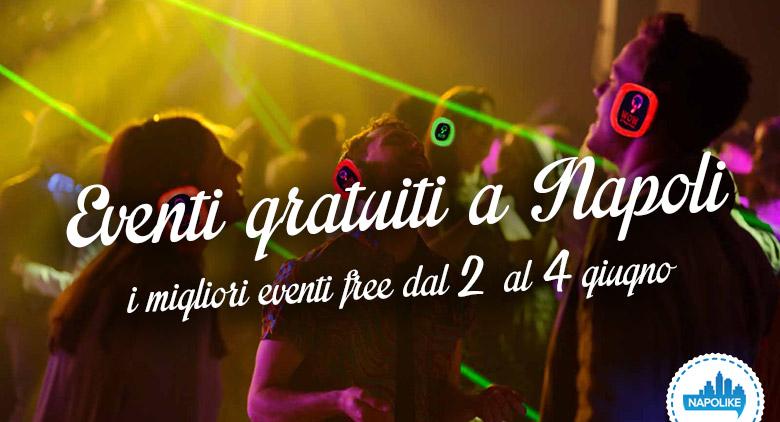 The unmissable free events in Naples during the 2, 3 and 4 June 2017 weekends!
The month of June has now begun and the free events in Naples continue to enrich your weekends with many impossible initiatives to lose. In weekend from 2 to 4 June 2017in fact, you can choose between museums, concerts, exhibitions, festivals and other very interesting events.
On the first Sunday of the month free museums are back in the whole city, a fantastic opportunity to discover our cultural heritage. If you prefer to dance, you can not lose them Nights of the Nile with the Silent Disco or Meeting of the Sea, but if you want to dedicate yourself to a gastronomic event, dive into the CerasaFest, the cherry festival on the Lungomare. Throughout the historical center, however, there will be the events of Paratissima.
But the free events do not end here, you just have to find out!
Cultural events in Naples
Free museums in Naples

Sunday 4 June free museums return to Naples with the initiative that gives you the opportunity to visit also monuments, parks, gardens, archaeological sites and historic buildings.
When: 4 June 2017
Where: museums of Naples
Exhibition on Totò with recycled caps
At the Hotel Mediterraneo a very original exhibition dedicated mainly to Totò in which the works that represent him were made with thousands of recycled metal caps.
When: from 11 May to 30 June 2017
Where: Hotel Mediterraneo, via Tappia Bridge 25
June Youth
The very rich program of June Youth provides more than 100 events including concerts, exhibitions, visits, meetings and shows featuring young people and their talent. Important events such as the Mates Festival are also included.
When: from 1 to 30 June 2017
Where: various locations in Naples
More information about June Youth.
Concerts in Naples
Nights of the Nile


In Piazzetta Nilo, in the historic center, come back the exciting concerts of more or less famous bands of Naples. This year, the theme will predominantly be Balkan music and on Friday the appointment is with the talented Lautari Din Rosiori. From midnight the Silent Disco to dance strictly with headphones.
When: concerts 2, 9, 16, 23 and 30 June 2017 | Silent Disco 2 and 20 June
Where: Piazzetta Nilo
Tony Tammaro concert
Tony Tammaro will perform at Arenile di Bagnoli with all his funniest songs, while for the whole night there will be a DJ set to dance until the morning.
When: June 3 2017
Where: Arenile di Bagnoli, via Coroglio 14b
Welcome to the Health District
It is the festival of events, concerts and visits organized under the direction of Alessandro Siani to contribute to the rebirth of the neighborhood. Saturday there will be the free concert by Valentina Stella.
When: from 15 April to 29 December 2017, various appointments
Where: Rione Sanità
Meeting of the Sea
Like every year, also this edition of Meeting del Mare in Marina di Camerota provides free concerts, meetings with famous people like Erri De Luca e workshop in a dream location.
When: from 1 to 3 June 2017
Where: Marina di Camerota
Concerts at the Palazzo Zevallos


The free concerts program at Palazzo Zevallos Stigliano continue to entertain you during your lunch break with the most important classical music. This Saturday will be between Verdi, Bizet and also Ennio Morricone.
When: adal 3 may at 10 June 2017
Where: Palazzo Zevallos Stigliano, via Toledo 185
Other events
Paratissima Naples
Concerts, exhibitions and free events will take place in many streets, shops, cafes, bars, taverns and other places of the historical center for a program rich in initiatives.
When: from 2 to 4 June 2017
Where: historical center
Prima Turismo in Chiaia and Posillipo
To promote tourism in the districts of Chiaia, Posillipo and San Ferdinando the municipalities have developed a very rich program of events between snorkeling, visits, exhibitions, conferences, itineraries specific and much more.
When: from April to December 2017
Where: Chiaia, Posillipo and San Ferdiando
CerasaFest

CerasaFest, la, will take place at the Rotonda Diaz festival dedicated to cherry in which you can wander among the many stands that will make you taste different cherry specialties, but also zero km products and Neapolitan street food.
When: from 1 to 4 June 2017
Where: Rotonda Diaz
More information about CerasaFest.