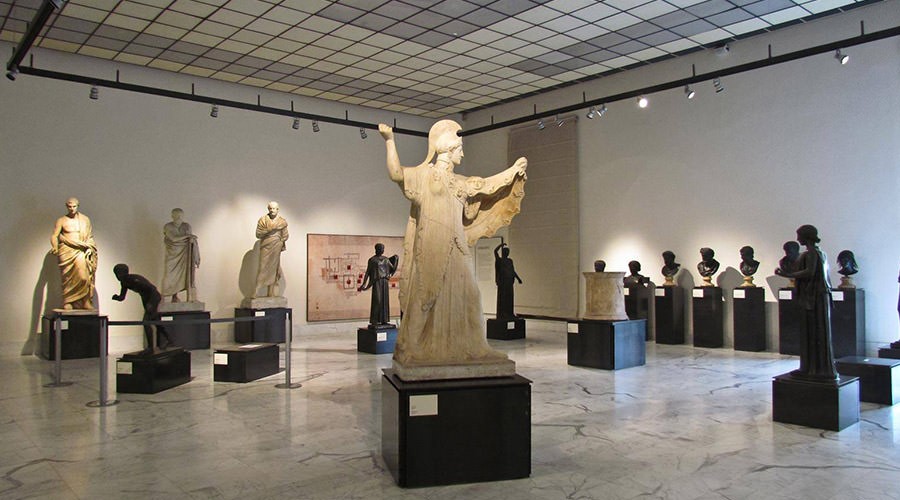 For the 2018 Museum Festival in Naples there will be extraordinary museum openings and various activities for everyone!
Saturday 19 and Sunday 20 May 2018, there will be the Feast of the Museums also to Naples, which includes a program with many activities, exhibitions and initiatives in the various participating structures.
As part of this initiative, Saturday evening will also take place European Museum Night, that is, theextraordinary evening opening at the price of only 1 euro for around 4 hours.
A great cultural festival that will give visitors the opportunity to spend a day and get to know some of the most important city museums that will organize this special initiative guided tours, conferences and activities that will also involve children.
Here is the program.
Program of the Festival of Museums
National archeologic museum
Piazza Museo, 19
Look up at the sky
Guided tour - From 19 May 2018 to 20 May 2018 Time: 10.00; 12.00; 20,30
"Raise your eyes to the sky", a path to discover the beauty that is hidden between the ceilings and vaults of the National Archaeological Museum of Naples.
Price: € 12
Tel: 081 4422149
National Museum: yesterday and today
Meeting / Presentation - 19 May 2018 Schedule: 17.00
One like me Didactic Workshop of Creative Expression
Teaching activity - 20 May 2018 Schedule: 9.00
The project involves 80 migrants between the 18 and the 35 years, coming from various African countries and currently living in the Sanità district of Naples, guests of the Samira Cooperative.
Price: free by reservation
Tel: +0814422328
Museum in celebration!
Teaching activity - 20 May 2018 Schedule: 11.00
Visit-game for children from 4 to 6 years
Price: free for children | a free ticket for one companion only. From the second companion, entrance with museum ticket 12 euros
Tel: reservations required 0814422328
Museum of ceramics Duca di Martina in Villa Floridiana
Via Domenico Cimarosa 77 and via Aniello Falcone 171
The Floridiana trees are told
Guided tour - 19 May 2018 Schedule: 11.00
The walk in the ancient park will lead to the discovery of information contained in trees and plants
Price: free
Tel: 0815788418
Forms and decorations in nineteenth-century earthenware
Guided tour - 20 May 2018 Schedule: 10.30
Price: € 4
Tel: 0815788418
Gyrokinesis
Meeting / Presentation - 20 May 2018 Schedule: 11.00
In the Teatrino di Verzura it will be possible to participate in the lesson of gyrokinesis, a holistic discipline that brings together elements of yoga, dance and tai chi.
Price: free
Tel: 0815788418
Yoga for children
Teaching activity - 20 May 2018 Schedule: 17.30
In the Teatrino di Verzura, there will be a Yoga class dedicated to children with different methods and times adapted to their age.
Price: free
Tel: 0815788418
Hypogeum in Healthcare
Santa Maria Antesecoula, 126
Il Mann connects with the territory - Hellenistic Hypogea of ​​the Health district
Naples, Hypogeum health district
Guided tour - 20 May 2018 Schedule: 10.30
Guided visit to the Hellenistic Hypogens of the Health district
Price: access with Extramann discounted ticket
Tel: 3475597231 reservation required
Museum Center of Natural and Physical and Natural Sciences
The five science museums open for free on Sunday 20 May. It will be possible to participate, by reservation and with a small contribution, in a wide range of activities for adults and children.
From 9.30 to 13.00 there will be:
Fun educational activity for younger visitors who can turn into little scientists to discover the wonders of zoology and physics.
Multimedia activity "Dig and learn" to live a day as a paleontologist
Virtual journey to the fantastic dinosaur world of the Museum of Paleontology
Guided tours: from the theory of human races to the value of diversity: a journey of the Museum of Anthropology between collections and films
Guided tours: discover the biodiversity of the Animal World that the Zoological Museum holds
Guided tours: the scientific instruments of the Royal Collection of the Museum of Physics
Guided tours: the colors of nature, a fascinating journey through the minerals of the Real Mineralogical Museum
Price: € 2,50 per person for a single activity, as an amount for museum operators. Activation will be carried out upon reaching at least 7 participants.
Tel: bookings for individual activities must be made to the 081.2537587 number, from Monday to Friday (9.00 - 13.00 hours) by May 18.
The program is constantly updated, visit the Site of the MiBACT to consult all events.
Information on the Festival of Museums
When: 19 and 20 May 2018
Where: museums of Naples
Prices and times: depending on the events (consult the program)