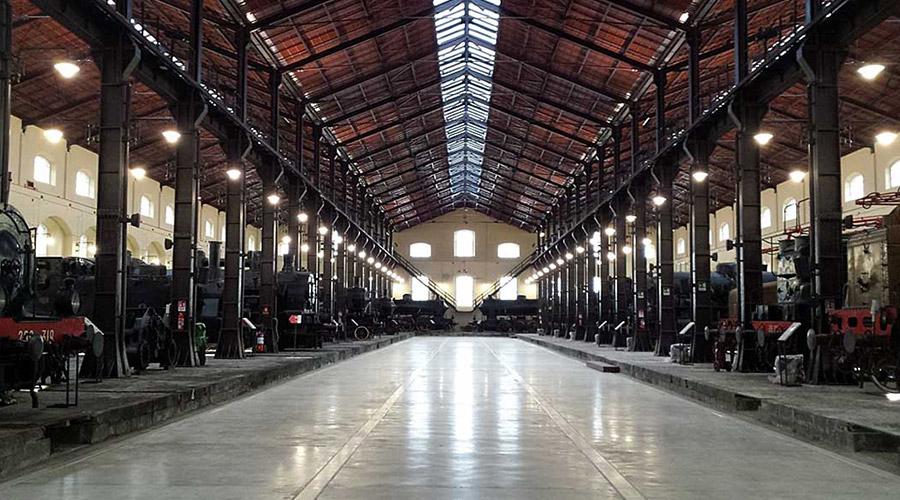 The Museum of Pietrarsa
The visit to Pietrarsa Museum allows visitors to undertake a journey into the past between the trains and the locomotives they represented the Italian Railways in the last 170 years and it is one of the symbolic places of the history of the Ferrovie dello Stato.
Il Real Opificio Meccanico, Pyrotecnico and for Locomotives was founded in 1840 by the will of Ferdinand II of Bourbon to indicate the place where to build the first railway workshops of the Two Sicilies and the entire Peninsula, an area called "White Stone" and later "Pietrarsa" after an eruption of Vesuvius that brought the lava up to that point of the coast.
The Pietrarsa Museum was inaugurated in the 1989 in one of the most important Italian industrial archeology complexes and today represents one of the most important railway museums in Europe. Developed on an area of ​​36 thousand square meters, of which 14 thousand covered, the museum is located in a picturesque position between the sea and Mount Vesuvius, with a spectacular view of the Gulf of Naples.
In this museum visitors can also perform the virtual journey, with augmented reality, with the first train of the Naples - Portici: the legendary locomotive Bayard.
Information on the National Railway Museum of Pietrarsa
Opening time
Thursday: from 14: 00 to 20: 00
Friday from 09: 00 to 16: 30
Saturday, Sunday and holidays from 09: 30 to 19: 30
The other days by reservation for groups (minimum 10 people)
Entrance to the Museum is allowed up to 30 minutes before the indicated closure
price tickets
Free visit: € 6 (full), € 4.50 (reduced for under 18 and over 65)
Guided tour: € 8 (full), € 6 (reduced for under 18 and over 65)
Free tour and projection in augmented reality: 6,00 € full - 4,50 € reduced (under 18 and over 65)
Free: for children up to 6 years and for disabled people with a guide
Every Thursday from 14: 00: adults 3 € - boys (between 6 and 18 years) 2 €
Every Saturday from 14: 00: 10 family unit €. It must be composed of two adults, of any kind, and two boys.
Guided tours start at fixed hours on Saturdays, Sundays and holidays (at 11: 00, 12: 30, 15: 00, 17: 00). The other days of the week are on reservation
€ 1,50 discount dedicated to those who reach the Pietrarsa Museum by regional train
Address
Traversa Pietrarsa, Portici (Naples)
How to reach us
By car
Exit Napoli Centro - Via marittima towards Portici, at the end of Via San Giovanni a Teduccio turn right into Traversa Pietrarsa. It is not recommended to use the private vehicle to reach the museum due to lack of parking spaces.
By bus
From Piazza Garibaldi take the 254 and 256 buses towards San Giorgio a Cremano; from Via Marina / Viale Amerigo Vespucci the buses 157, 254, 255 and 256 direction San Giorgio a Cremano.
Contact us
Phone: 081472003
E-mail: museopietrarsa@fondazionefs.it
Official site of the National Railway Museum of Pietrarsa