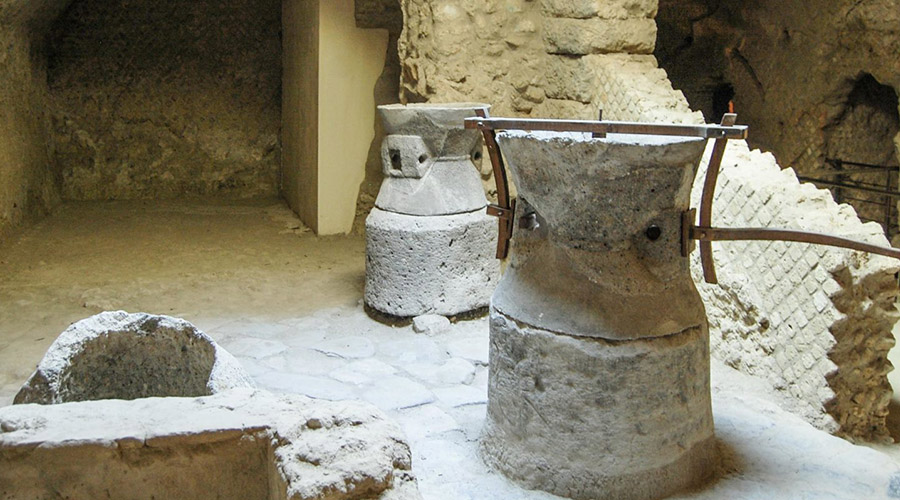 Extraordinary guided tour of the underground archaeological trail of the Rione Terra in Pozzuoli for the 2018 New Year.
For the day of New Year 2018, the Municipality of Pozzuoli provides forextraordinary opening of the underground archaeological route of the Rione Terra so both tourists and citizens will be able to visit this fantastic site.
The 1 January, in fact, you can participate in the itinerary from hour to hour 9.40 13.00, but it will be need to call to be able to book the visit which will take place with a minimum group of people. The numbers to contact are 081 19936286 and 19936287 (Monday to Sunday from 9.00 to 17.00) or you can go directly to the infopoint of the Rione Terra on Saturdays, Sundays and public holidays at the same times.
The archaeological itinerary of the Rione Terra
The guided tour will lead you to the ancient Roman colony of Puteolli, which was founded in 914 BC and which was transformed into a thriving commercial port by the Romans. In the underground path you can admire the particular architecture of the various buildings, including the grain stores, and you will discover the ancient ovens where the pistrinum, that is bread, but also the millstones that are still intact today.
Among the various streets you will find yourself also admiring shops, shops, crypts and there will be some multimedia installations that will show the activities that gave life to the ancient Pozzuoli.
Information on the archaeological itinerary
When: January 1 2018
Where: Rione Terra, Pozzuoli
Schedule: from the 9.40 13.00
Prezzi:
whole: 5 euro
reduced for groups of at least 15 people, for young people between 18 and 25 years, for teachers of state schools: 2,50 euro
categories exempted from the payment of the ticket for visiting the monuments, young people under the age of 18, the residents of Pozzuoli aged under 25 and over 65 years, the disabled and one of their companions, school children up to a maximum of 75 bookings per day: free
Booking: 081 19936286 and 19936287 (from Monday to Sunday from 9.00 to 17.00) or to the Infopoint of the Rione Terra on Saturdays, Sundays and public holidays from 9.00 to 17.00
[Votes: 0 Media Rating: 0 / 5]