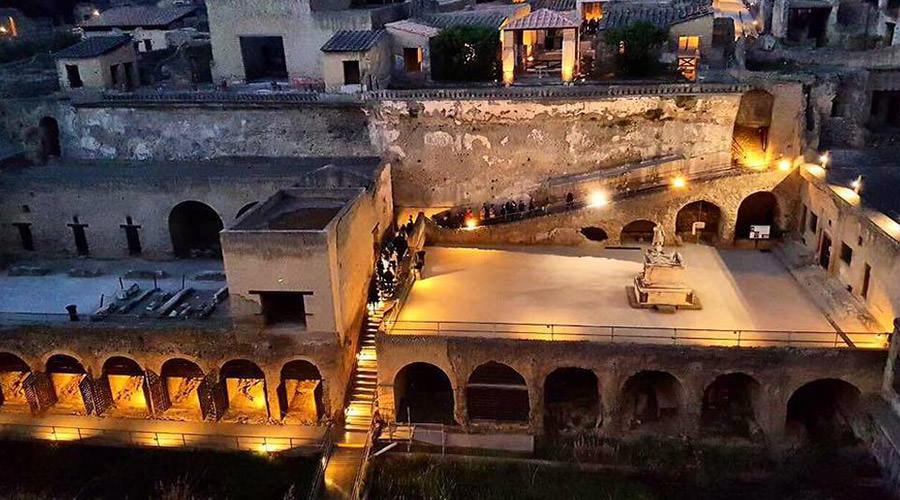 At the White Night of Herculaneum there will be many events, music, exhibitions, free admission to the Virtual Archaeological Museum and walk to the Excavations at 2 euro!
Friday October 6 2017 you can participate in the White night of Ercolano, organized by the Virtual Archaeological Museum (MAV), now known and loved by citizens and tourists because it allows you to make a real virtual journey to Pompeii and Herculaneum at the time of the eruption of 79 AD
The events will be free, as well as admission to the museum throughout the evening. Instead, to visit at night Excavations of Herculaneum si will pay a ticket of only 2 euros.
On Friday evening, in the halls of the museum and on the streets of the town, there will be many free events suitable for adults and children who will entertain you, sing, taste very special food and discover more the history of the municipalities on the slopes of Vesuvius.
Stands will be organized with street food, but there will also be the opportunity to taste typical dishes of ancient Rome and there will be a space for craftsmanship. The little ones can have fun with theplayground dedicated to them, there will be several concerts, including that of the white voices of the Teatro San Carlo and events of itinerant music.
But it does not end here, because exhibitions will not be missing. Here is the whole program!
Schedule of the white night in Ercolano
18.00 pm
Volcanic workshops for children from 5 years / Museum Mav / Area J Mav
Street food and Mediterranean craftsmanship. Children's playground / Via IV Novembre 1º and 2º Market Cross
18.30 hours
At table with the ancient Romans. Food tasting of ancient Rome Vesuvian archaeological group / Mav Museum / Space Gallery
19.00 hours
Traveling music by Conturband / Via IV Novembre, Corso Italia
19.30 hours
"Invention and recreation, the different worlds of music" Concerto by Luigi Caramiello / Pugliano / 167 courtyard
"Towards the Myth Edith Piaf" Concert by Francesca Marini with Massimo Masiello / Museo Mav / Auditorium
20.15 hours
Sanitansamble and Choir of the White Voices of the Teatro San Carlo in concert / Church of Santa Caterina VM, Corso Resina
21.00 hours
Antonella Morea in concert / Pugliano / 122 courtyard
22.00 hours
Marco Zurzolo 3io in "Intimate concert" / Pugliano / Gradoni S. Maria delle Grazie
Throughout the evening, in the Space Gallery of the MAV, you can visit the photo exhibition "BENE, BIS" dedicated to Carmelo Bene with the performances of Lidia Papoto and Federico Polacci.
The "Film Noir, l'éruption" by Clay Apenouvon will be exhibited in the foyer.
Information on the white night in Ercolano
When: October 6 2017
Where:
Virtual Archaeological Museum of Herculaneum, Via IV Novembre 44 - 80056 Ercolano (Naples)
Excavations of Herculaneum, Via Mare 75 - 80056 Ercolano (NApoli)
Schedule: by 18.00
Prezzi:
events and admission to the MAV: free
night walk to the Herculaneum Excavations: 2 euro