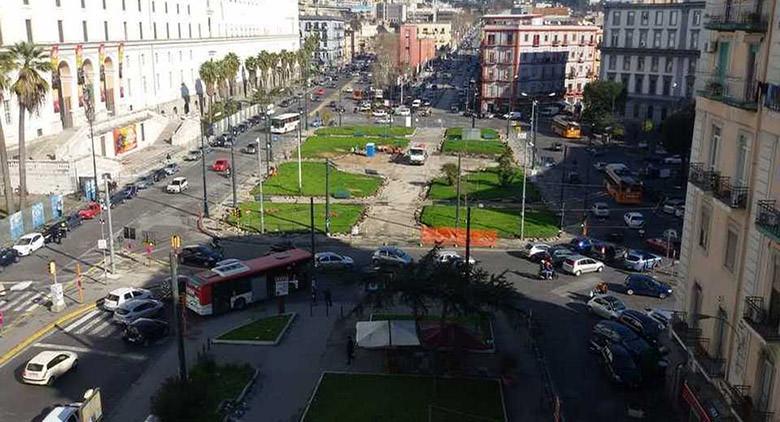 The gardens of Piazza Carlo III in Naples have been reopened and the next step will be the redevelopment of the Real Albergo dei Poveri.
After about a year of work, i gardens of Piazza Carlo III have been redeveloped and, during the Christmas holidays, they were also inaugurated by the mayor Luigi de Magistris. The. Was built anti-slip flooring and comfortable benches of green color were placed, to stay in theme with the Botanical Garden in via Foria, not far from the Piazza.
In addition, the councilor for culture Giovanni Parisi has declared that will also be organized events to revive the area of ​​Piazza Carlo III. Finally, in the future, the 10 subway line will be built, which would link Piazza Cavour to Via Foria, Piazza Carlo III, Piazza Ottocalli and arrive at Tav di Afragola passing through Capodichino, Casavatore and Casoria.
The Real Albergo dei Poveri
The redevelopment of the gardens is just one of the many steps that will also lead to the redevelopment of the paving of the area and of important works that will affect the Real Albergo dei Poveri. The costs for its relaunch, however, are very high and the involvement of national institutions will also be necessary. Meanwhile, the mayor has stated that already in the 2017 there will be important news and the intention is to make sure that one becomes soon day care center for the homeless.
Meanwhile, the City Council has approved a resolution to create a space showers in the structure, as part of the project "Restitution of dignity" of the Rotary Club Napoli Nord Est, done in agreement with the Administration. Thus, we want to redevelop the north-east wing of the hotel and a project is also planned in the project deposit, a Laundry, two areas for services divided by men and women with 6 wc, 6 washbasins e 6 shower trays and a service for the disabled