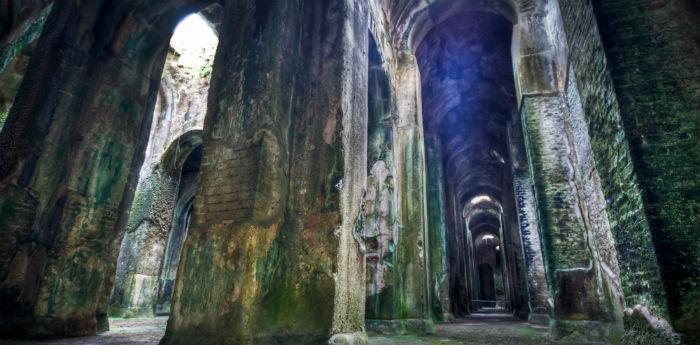 An evocative guided tour to discover the Mirabilis Pool, the largest drinking water cistern built by the ancient Romans
La Piscina Mirabilis It is one of the many wonders of the Neapolitan territory. It is the largest cistern of drinking water built by the ancient Romans in the Augustan age a Miseno, entirely excavated in the tuff of the hill overlooking the port, with a capacity of 12.000 cubic meters of water.
This cistern was built to supply water to the men of the Classis Misenensis, the most important fleet of the Roman Empire, which moored in the port of Miseno. It was the terminal tank of the Augustan aqueduct (Aqua Augusta) which, from the sources of Serino (AV), with a distance of 100 kilometers, brought water to Naples and the Phlegraean Fields.
The Cultural Association Curiocity re-proposes, after the success of the last edition, one exclusive guided tour inside the Mirabilis Pool, which will begin in the historic center of Bacoli, the ancient Bauli, then arrive at the cistern. The tour will continue with the visit of one of the vineyards of the Phlegrean area, the Azienda Agricola Piscina Mirabile, for one tasting of some local wines.

Information on the guided tour of the Mirabilis Pool
When: Sunday 12 October 10 hours: 00, appointment in the parking lot located after the Villa Comunale of Bacoli.
Price tickets:
full price: 10 €
reduced price: 9 € (members with Curiocity card, affiliated, socicral and groups starting from 15 people)
Reservations required: + 39 3334256705 / 3288447450; curiocitytour@libero.it; Official website of Curiocity