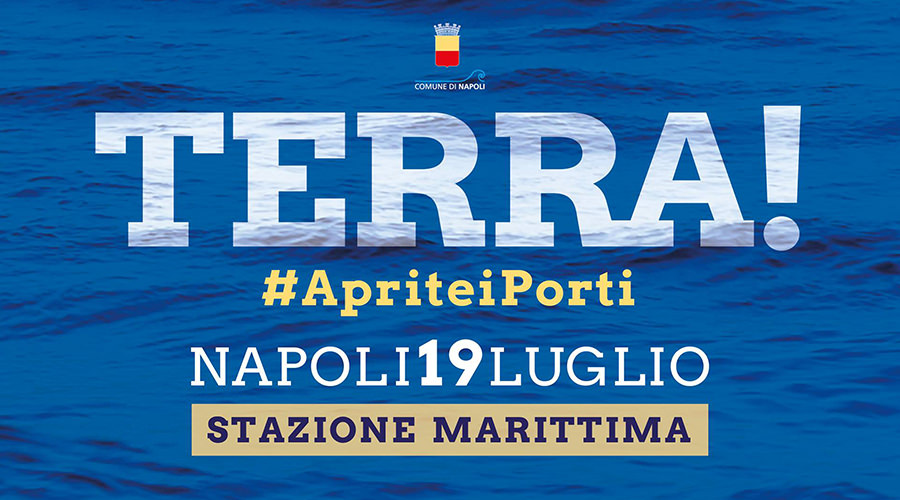 In the Maritime Station of Naples the "Porti Aperti" day with a dialogue on the management of migratory flows in a program with music and street art.
Thursday 19 July 2018 Naples will dedicate a whole day to discussion and dialogue on the theme of Open Ports and migratory flows, thanks to the event "Land! # Open the ports". It takes place in the Port of Naples Maritime Station and is organized by the City of Naples, which has thought of this important initiatives to raise awareness and inform with the presence of numerous guests. Among these, representatives of the Municipality of Barcelona, Emergency, S and the Community of Sant'Egidio.
During the day, from morning to evening, there will be many guests and we will discuss especially the management of migratory flows, Of 'welcome and convivenza. This is a forum that will involve trade unions, associations, administrations, the third sector, movements, NGOs and private citizens.
The program throughout the day, which wants to lay even more solid foundation for a more just, multicultural and supportive world, also foresees events of street art it's a concert al Maschio Angioino.
To participate in the thematic tables, it is necessary to register for the site indicated in the information at the end of the article.
Program of the day "Open the Ports"
Starting at 9,00
Participant Registration / Press Accreditation
Pm at 10,00 13,00
Thematic tables:
National legislation: practice, collateral damage and prevention and contract instruments on the management of migratory flows, reception, recognition of citizenship rights, asylum and international protection, repatriation, health protection, integration and social-work integration;
Cohabitation "that we like!": Good community practices, welcome and interculturality in comparison;
Communicating complexity: methods, techniques and tools for building a common language able to promote a healthy and free narrative of migratory and intercultural processes
Starting at 12,00
StreetArt Opera along Via Marina
Pm at 14,30 16,30
Thematic tables
Restitution of the work done in the morning and definition of the programmatic documents to be shared and confirmed during the plenary discussion.
Pm at 17,00 18,00
"Open ports and minds. Laws and legends on migration "by Danilo De Biasio, Director of the Human Rights Festival. Speakers Elly Schlein, Farid Adly, Fulvio Vassallo Palaeologus, Salvatore Palidda, Tiziana Barillà
Pm at 18,30 21,00
Public Assembly / Plenary
Sharing of work done during the thematic tables
Information and comparison on: international and European law, search and rescue operations at sea, revision of the Dublin Regulation, violation of Human Rights
Conclusions: sharing the manifesto of commitment for the construction of processes of intercultural coexistence and protection of human rights in Mediterranean solidarity cities.
Starting at 22,00
at Maschio Angioino: Mujeres Creando and Yara Bravo in concert
The guests of the day "Open the Ports"
Click the button to expand the list.
the list of international and national participants
Municipality of Barcelona, ​​Municipality of Reggio Calabria, Municipality of Palermo, Municipality of Procida, Municipality of Amorosi, Municipality of Chiusano, MSF - Doctors Without Borders, Emergency, Save the Children, EDI, Amnesty International, Action Aid, Oxfam, Proactiva Open Arms , Sea Watch, Sea Eye, Mission LifeLine, Mediterranean Hope_Federation of Evangelical Churches in Italy, SOS Méditerranée, InterSOS, ASGI, Terres des Hommes, GVC, Melting Pot Europe Project, Welcome to Europe, Welcome Refugees, Let CIEntrare, Alarm Phone, Watch the Med, Cidis Onlus, Associazione3febbraio; Associazione Giuristi Democratici, Cooperativa Mafalda, LESS Social Enterprise Onlus, Social Cooperative Dedalus, LTM Group Lay Third World, Community of Sant'Egidio, DemA, Ex OPG Je so 'Pazz, Islamic Community, Insurgencia, CGIL, Association Thomas Sankara.
Information on the day "Open the ports"
When: 19 July 2018
Where: Naples Maritime Station (final event at the Maschio Angioino)
Time: from the 9.00 24.00
Price: participation | to participate in the thematic tables is necessary register on the site
[Votes: 0 Media Rating: 0 / 5]