Another new stage dedicated to homemade chocolate of "Choco Italia" which will take place in Gragnano from 24 March Sunday 26 March. As always, the entrance is free from 10 to 24. This fair offers the opportunity to promote the handmade chocolate production by various Italian companies, in fact, there will be a food area with the famous local Panuozzo.
The main objective of the event is to highlight the work of Italian chocolate artisans, the quality of the raw material used, the creations in high quality chocolate and the sweet specialties, an expression of craftsmanship and local traditions.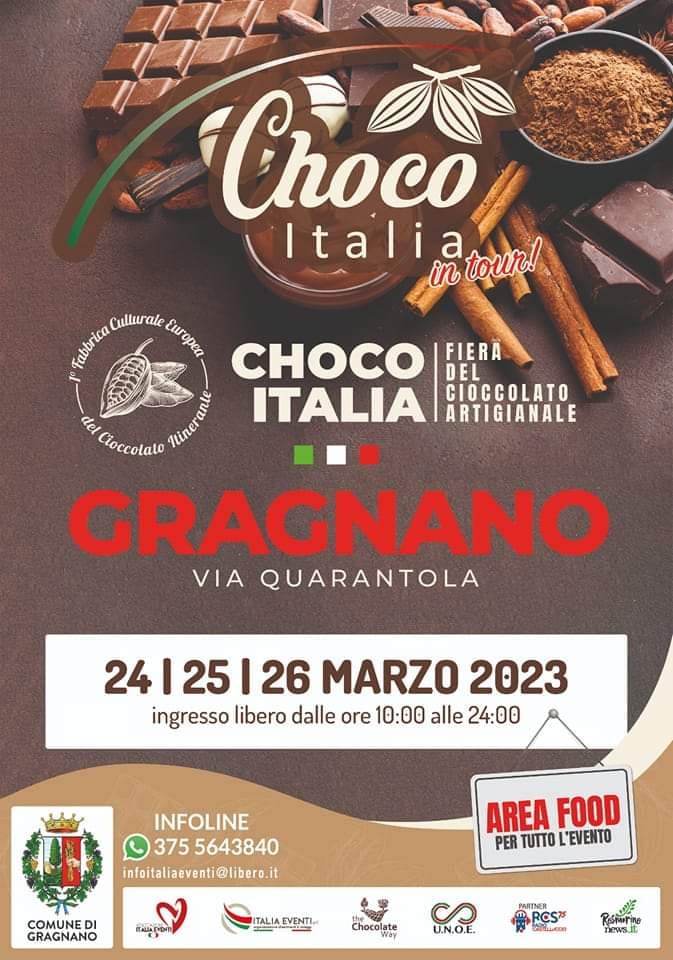 Not only chocolate, but also Panuozzi
During the chocolate fair, fans of gastronomy will have the opportunity to discover and taste the typical delicacies of Gragnano. The food area offers a wide variety of traditional dishes and flavours, curated by various local associations and establishments.
The Pizza and Panuozzo Association will present the famous Panuozzo from Gragnano, a tasty and inviting dish that will surely conquer the palate of visitors. Also, for wine lovers, the Sorrentine Peninsula Wine Doc Association will offer Gragnano wine tastings, allowing you to appreciate the excellent wines of the area.
The Osteria Sorrentino, together with Gragnano traders, will instead propose a dedicated menu to local specialties, accompanied by a selection of delicious fried foods, to satisfy the tastes of all visitors.
What Choco Italia of Gragnano offers
An event dedicated to homemade chocolate it is the ideal opportunity for lovers of sweetness. Here you can discover the finest chocolate creations of master chocolatiers from all Italy.
The Best Artisanal Chocolate
The Creations in very fine Chocolate of the Master Chocolatiers from all over Italy
Gluttony in the well-equipped Food Area
Ciokofabbrica, the First European Cultural Itinerant Chocolate Factory
Sweets and Italian Specialties in Chocolate
Pralines, Cremini, Nougats, Chocolates for all tastes
Chocolate lessons with the "F. de Gennaro" hotel school in Vico Equense
Tastings of Artisan Colombe and Chocolate Eggs by Antonio Cascone of the Giardini Dei Cesari
Shows and entertainment for adults and children
Contacts and information
Social : Choco Italy Facebook page
Information about the event
Where:

Gragnano, Via Quarantola

When:

from Friday 24 March 2023 to Sunday 26 March 2023, from 10:00 to 00:00

Prezzi: