In a "vicariello" set up like a nativity scene, an initiative of very young people from Mugnano del Cardinale continues to grow, including dishes that are already iconic, live and local music and us from Il Trono di Sagre!
A nice thing, besides the magnà, that we do thanks to the Throne, is to know new places, and this is how we arrive for the first time in Mugnano Del Cardinale, the occasion is that of the Autumn Fest, which is an anagram of Mugnano himself!
And this is the first lie of the day.
The Autumn Fest, organized by the very young people of Mugnano, is in its 9th edition, it is still young but growing fast.
It started out simple, like a local party based on sandwiches and chips, a very classic in short, and quickly managed to get educated and to come up with, indeed to make his own, all the culinary traditions of the country.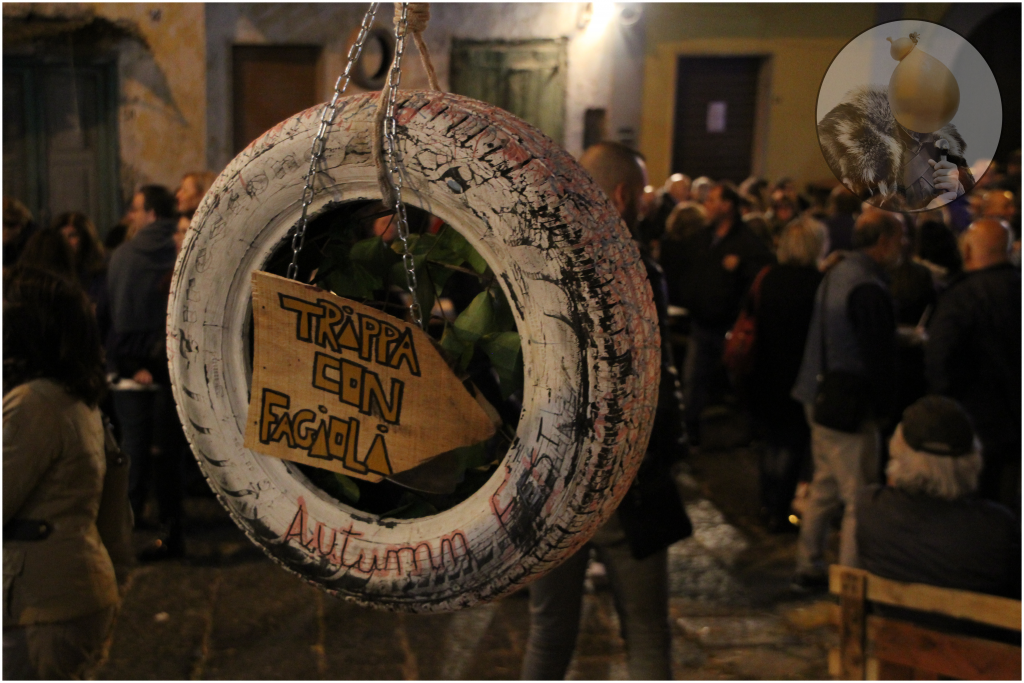 What's typical in Mugnano? I tell you that I ate a lot and I carry 2-3 things inside me, literally because at the end I just have time to say hello, holding my breath, to give the idea of ​​a line that is no longer there, before losing every semblance of dignity and let go of belly, buttons and belts.
It is Anna, whom Homer would define as "with the eyes of light", who gives us the right smattering.
The climate is always that very nice of the siege of Stalingrad, the poor fellow organizers give up their positions in the trenches to explain to us how everything works and in the meantime the Krauts break the banks.
He does not have time to list the 400 dishes on the menu that is recalled to order: "Anna, Von Paulus has crossed the pasta and beans counters and is heading threateningly towards the roasted chestnuts, plus we need more rind!".
Anna is forced to leave us, but gives us advice, greetings and tickets ("One takes the tickets, the other lines up! One takes the tickets, the other lines up!") And goes back to the front where to make up for the lack of the harrowing wailing of the Stuka in dive they obviate the great number of joyful infants.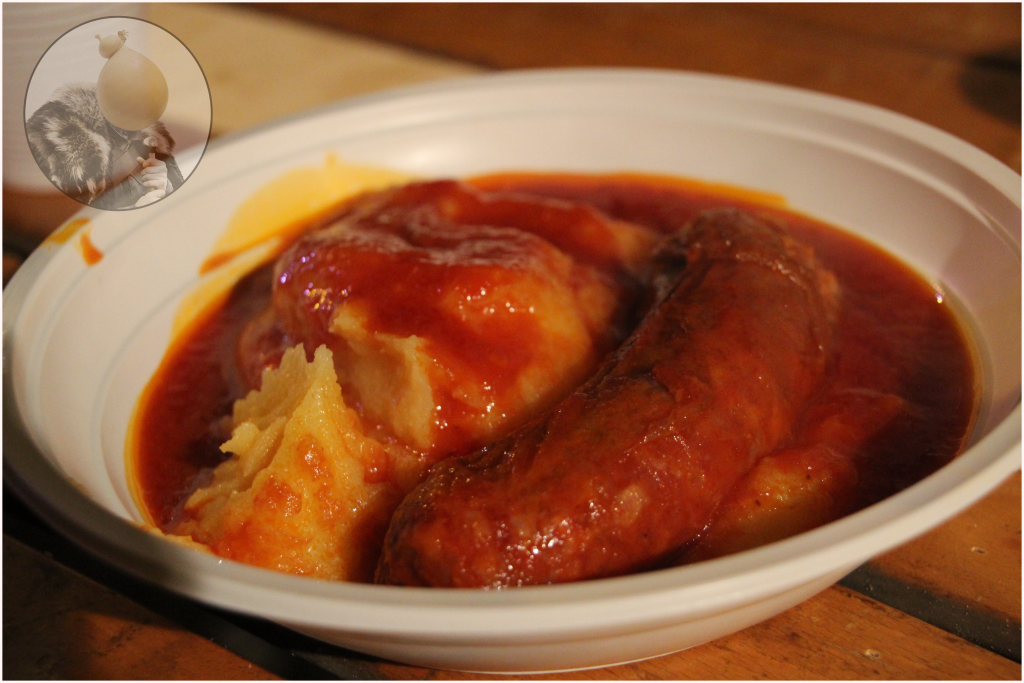 Removed my senseless references to the eastern front, the Autumn Fest is located in a glimpse of the town, in a long alley, which perfectly decorated with lights, hanging clothes, foliage, small kitchens (which are really small kitchens!) and tables perfectly gives the idea of ​​a successful nativity scene.
In which we will tend to devour everything.
The gifts to us!
Let's start with the shortest row, that of the Pizza Raurinio, an inevitable typicality of the Mugnano culture, made with white cornmeal (increasingly difficult to find) and a fair amount of nzogna!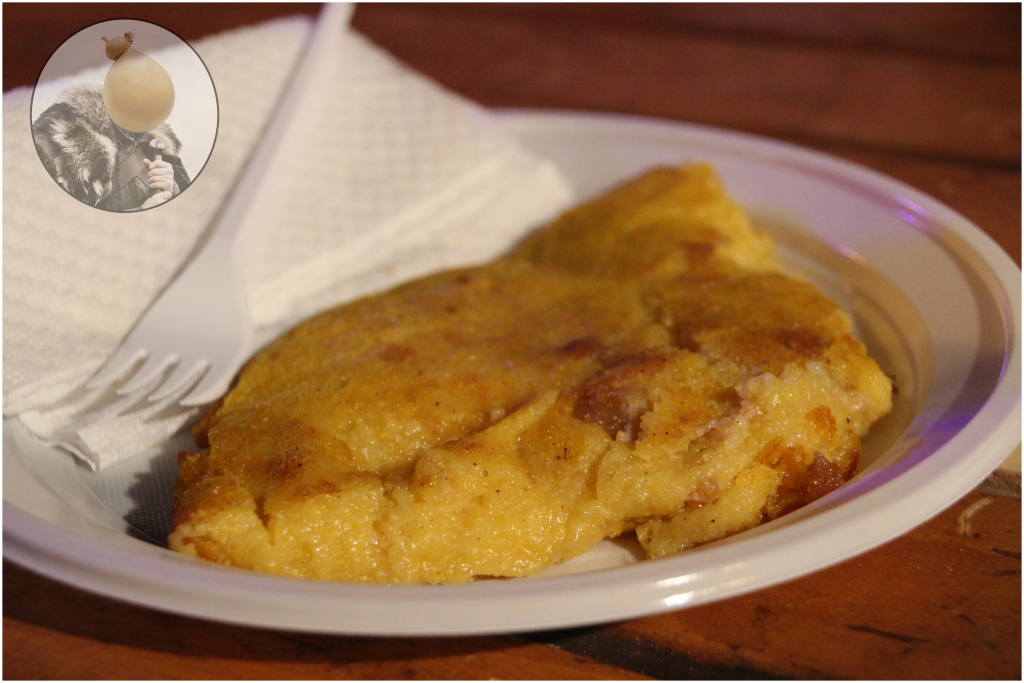 Soon after (so to speak) Typical local sausage, which I was dreaming of since I read the 20 preview menu days ago, on a double bed of polenta and sauce.
A bomb! Very good!
Polenta is spectacular, said by a non-lover of the same, it perfectly absorbs the fats and sauces of the sausage both by softening them and making the bite uniform.
It was truly a surprise.
No time to enjoy it, every time a row collapses we go through the cracks, with a move that is accustomed I get Soffritto and Pasta, fagioli e cotica in one go.
Here I don't know where to start, on pasta I recommend giving us pecorino, but be careful, there is a trick!
Pasta is served in a Leonardian dish.
Unbeknownst to many, the Italian genius of Vinci created a dish with a double bottom! In fact, you will realize that the dish, which already starts with a modest 300/400 gr of pasta, hides another 200 gr approximately in its depths.
You think that you have finished, you rearrange the whole a little and you realize that there is another whole portion.
In short: the portion is really abundant.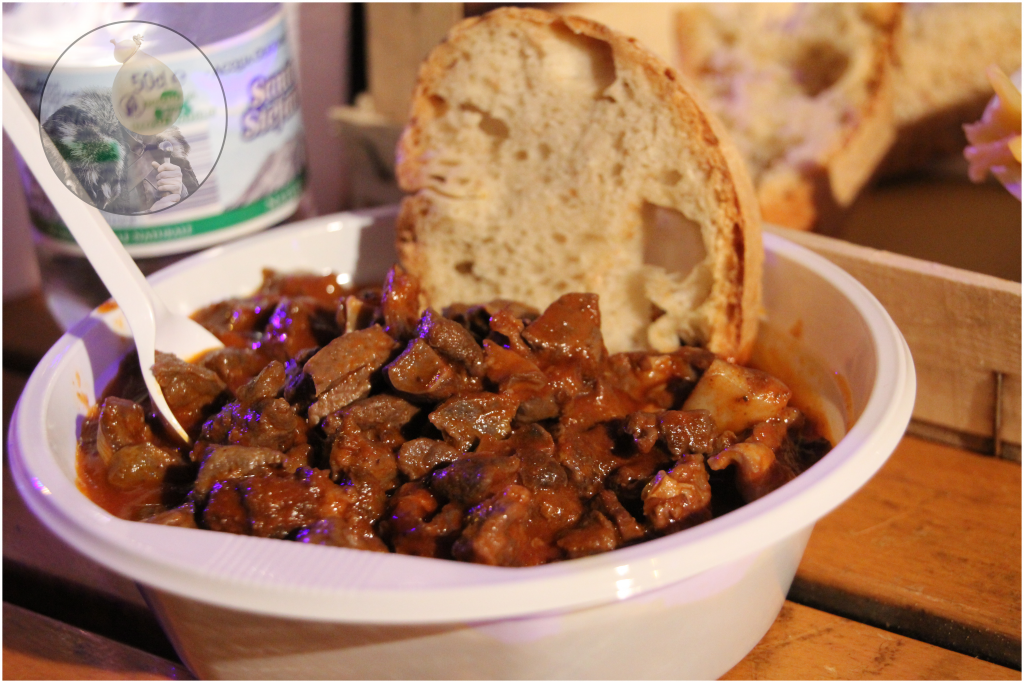 And the sauté? The sauté is a gem.
The comparison with sausage does not win but only because I fell in love with sausage (yes, it is wanted) but has an authentic and traditional taste.
Cut into chunks, again really abundant, served with croutons, just the right flavor, sometimes soft sometimes callous, a perfect sauté. Great.
Here we were now verging on the Ko (also because we had watered everything with local wine) but obviously we didn't miss the hung cheese.
Just to stay light we take it with bacon fettona.
This is not the finest cut of the Conad, my boys, it is a fettona from Vecchio dell'Alpe, cut with the ax.
Grassy, ​​buttery, practically impossible to chop off with your teeth but who cares, it's typical, local, sweet, it's good!
After this we are really finished, there is no room even for a Vigorsol, with the handkerchief we say goodbye to Anna and we head home, once again we have exaggerated.
But that sausage? Mado.
Are you looking for something in particular?