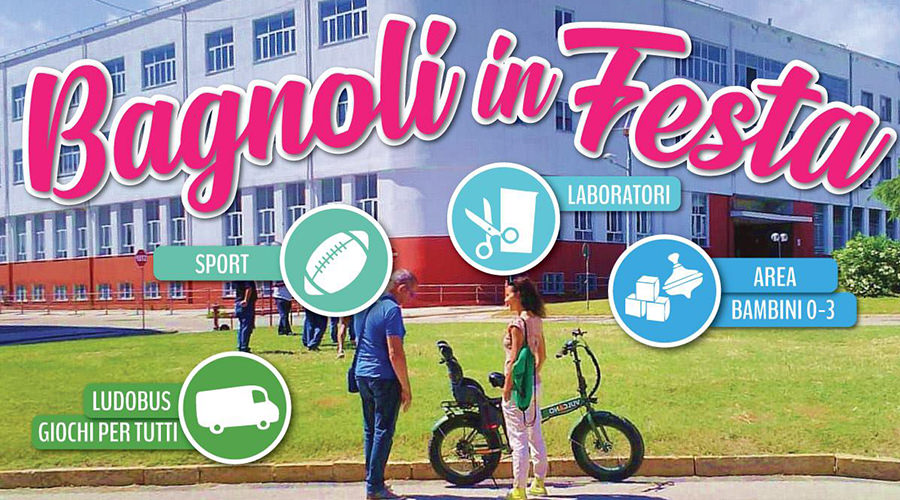 In the former Base Born in Naples arrives "Bagnoli in Festa", a great event with workshops, sports, puppet show and many games for children.
Saturday October 13 2018 back a grante event for adults and children former Nato di Bagnoli a Naples with the "Bagnoli in festa" initiative. These are some activities within the San Laise Park who want to say goodbye to summer in style, through a party that includes events, laboratories, games, sport, puppet show, ludobus, ecoarredi cotruzione, good food and a children's area from 0 to 3 years.
We want to give also the welcome to autumn activities and, for this reason, many associations, Third Sector organizations, schools, public bodies and other protagonists who will animate the morning will be involved.
Recall that in May, after a long time, the Park of Knowledge and Free Time was opened with a Spring Festival that saw the participation of more than 50 subjects. Also the This Saturday's program will be interesting and entertaining, especially for the little ones. We remember that everything is organized by Banco di Napoli Foundation for Child Care.
Bagnoli's party program
9.00 hours: start of the event with games, sports, workshops and activities
11.00 hours: greetings and awards for summer activities organized by the Funiculà Association
12.30: Private Place - show of puppets of the Neapolitan popular tradition by maestro Roberto Vernetti
14.00 hours: end of the party
Information about Bagnoli in party
When: 13 October 2018
Where: San Laise Park, are former Nato, via della Liberazione
Time: from the 9.00 14.00
Price: free
[Votes: 0 Media Rating: 0 / 5]