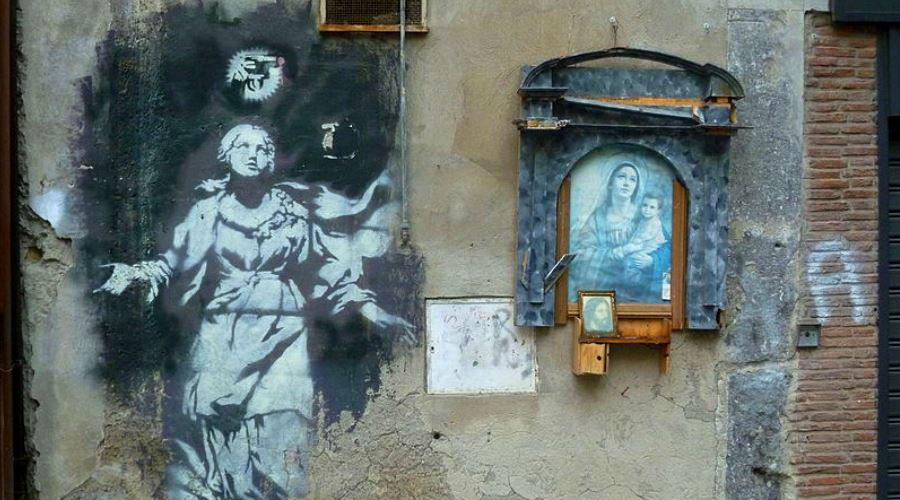 Banksy at the PAN Museum in Naples will be put in relation to other big names in street art to answer the question: how do you interpret what is happening today on the walls of the world?
Banksy and the (post) Street Art is the exhibition set up at PAN from 23 December 2019 at the 16 February 2020 which will involve, in addition to the works of the famous Banksy, also those of Mr. Brainwash, di Obey of Mr. Savethewall.
Can street art enter the museum?
The aim of the exhibition curated by Andrea Ingenito is to provide visitors with all the interpretative tools to answer a question that has gripped the art world for years: is street art in all respects art? And if it is, street art can be in museums without losing the deeper meaning of his message?
Banksy
Bansky is certainly the most famous street artist of this decade: elusive, mysterious but with an absolutely unmistakable trait, Bansky was the first to force the limit between museum art and street art, proposing works of street art on display, for sale, banned at auction.
Obey
Obey, pseudonym of Shepard Fairey, has become famous for the official portrait of Barak Obama in three colors that accompanied the election campaign of the American President and that gave the artist a heartfelt thanks from Obama.
Mr. Brainwash
Mr. Brainwash is a street artist who has a very close relationship with contemporary art museums, since he has already produced many modern installations, colorful and dramatically conceptual.
Mr. Savethewall
The only Italian present in the rose, he will close the exhibition itinerary with his colorful works that have already become meta - art, since they contain Banksy quotes and artists who have made the history of world art, such as Caravaggio and Michelangelo.
Information on Banksy and (post) street art
Where: PAN Museum, Via dei Mille 60 (Naples)
When: from 23 December 2019 to 16 February 2020
Inauguration: 23 December 2019 from 17:00 to 21:00
Price: Full ticket 10 Euros, Reduced ticket 6 Euros
Time: from 9: 30 19 to: 30
In the days of Christmas and New Year the hours may vary