Big Brother is about to return to the air with one new episode, the eighteenth of this edition, which promises to be full of twists and turns. Alfonso Signorini, together with Rebecca Staffelli and Cesara Buonamici, will guide us through these emotions.
Il televoting will be one of the focuses of this episode. Tonight 9 November 2023, after witnessing the elimination of Giselda Torresan last Monday, competing for the title of favorite and There will be 8 at risk of elimination. Who will come out? Here are all the details on forecasts and surveys!
Big Brother, who are this evening's nominees
I nominees of tonight's Thursday 9 November 2023 episode of Big Brother I'm:
At the moment it is Greece Colmenares to be able to stay calm because the polls put her at the top of the preferences with a percentage that exceeds 30%. Also for Victor Menozzi (which settles at around 23%) there should be no surprises.
What do the Big Brother Forum polls say for today 9 November 2023?
Taking a look at the very popular Big Brother Forum it is possible to get an idea of ​​what they are audience trends regarding this important vote.
Ad be ahead, on the other tenants, is Greece Colmenares. This is the situation at the moment: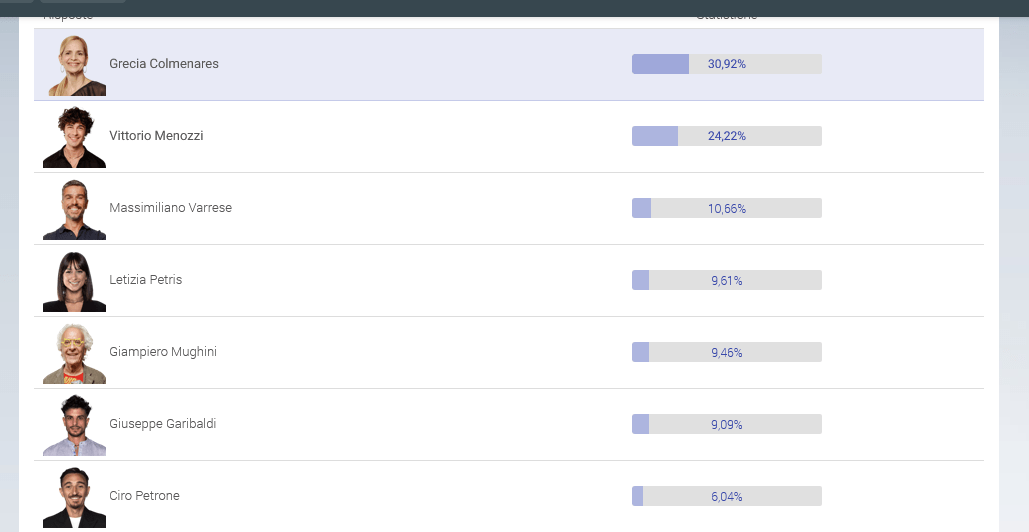 Big Brother, who will be the public's favorite on November 9, 2023?
The surveys relating, however, toelection of the favorite by the general public they seem to confirm the trend of recent weeks with absolute certainty. There are on the podium Beatrice Luzzi, Victor Menozzi e Greece Colmenares, respectively in first, second and third place.
The location of Beatrice, in particular, wanders around around 42,51%. An achievement indeed unsettling given that the woman alone gets almost half of the votes while all the others share the other half.
Who will be eliminated tonight on Big Brother?
We remember that tonight's televoting does not provide for immediate elimination from the Big Brother house. The least voted, in fact, it will "simply" of right to nominations who, next Monday, will decide the next person to be eliminated from the most spied on house in Italy. Who will be? The latest televoting verdict!