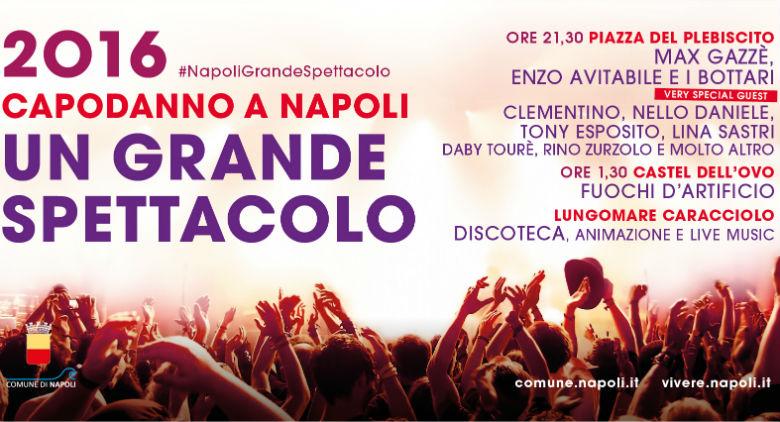 Concert by Max Gazzè, Enzo Avitabile and Clementino in Piazza del Plebiscito, fires in Castel dell'Ovo and disco on Lungomare!
The countdown to the beginning of the 2016 has officially begun! IS Naples, What will be one of the most chosen destinations for tourists to spend the 2016 New Year according to Trivago, prepares to welcome the new year by offering an exciting New Year's Eve between fun, fireworks, music and dance!
That of 31 December 2015, and the early hours of 1 January 2016, will be "A great show", just as the Municipality of Naples announces through the slogan chosen for this 2016 New Year. Yes, because the events that will involve one of the city's most evocative locations, ithe route that goes from Piazza del Plebiscito to the Rotonda Diaz, passing through Castel dell'Ovo and the Lungomare, they will all be "spectacular".
21 hours: 30 | Concert in the Piazza del Plebiscito
we will start at 21: 30 with the traditional megaconcerto in piazza del Plebiscito during which they will perform Enzo Avitabile & Bottari, Max Gazzè and many other guests including Clementino, Nello Daniele, Lina Sastri, Daby Tourè, Rino Zurzolo and Tony Esposito. During the evening there will also be a tribute / tribute to the great Pino Daniele.
00 hours: 30 | Disco on the Lungomare
We will continue, as usual, with the outdoor disco on the seafront which will provide four stages in four different locations, based on the different musical genres:
Piazza Vittoria - Showcase
Capone, Gnut, Nelson, Daniele Sepe, Andrea Tartaglia, Aldolà Chivalà, Alessio Sollo (The collective)
very special guest:
Tueff and Lucariello
Rotonda Diaz - Ibiza Dancefloor
Cerro Testarossa, Mark William's, Gianpiero xp, Marta Martinez, Timo Suarez
Switch Party
Gianni Romano, Lexa Hill, Kriis
Via Partenope - Latin

Gino Latino, El Fenomeno, A. Barbato
Borgo Marinari - Revival 70, 80

Ivano Petagna, Marco Pesacane
1 hours: 30 | Fires in Castel dell'Ovo
At 1: 30 all with their noses upwards to admire the splendid fireworks display that will illuminate Castel dell'Ovo, to welcome the new year immersed in enchantment and magic.
The new visual communication of the New Year 2016 in Naples also foresees the choice of a beautiful hashtag, #NapoliGrandeSpettacolo, which is well understood that it can be used on social media, such as Facebook, Instagram and Twitter, to share the exciting moments experienced by everyone in this magical night of the end and the beginning of the year.
No-stop transport during New Year's Eve in Naples
We remind you that the subway line 1, the funiculars Centrale and Chiaia, some buses and parking lots of interchange, they will be active all night.
All that remains is to wish everyone and our wonderful Naples a happy new year!