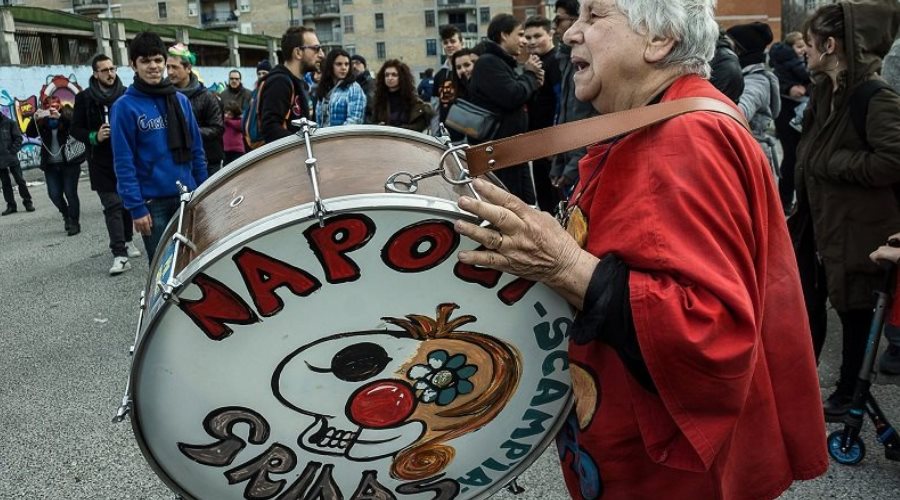 The Carnival of Scampia 2020 touches the themes of the environmental emergency and the care of the territory: colors, music and masks of the GRIDAS.
Il Scampia 2020 Carnival will culminate with the traditional masked parade with allegorical wagons that this year will be held on February 23 starting from 10: 00.
The event, like every year, is Free subscription and is primarily intended for the involvement of children.
Carnival preparation activities
The organization of the parade and the creation of the many allegorical floats that animate the Gridas every year has already begun: after a day of discussion and coordination which, as always, involved schools and citizens, i creation workshops which are based primarily on the creativity of children and teachers of the Scampia schools.
The theme of the Carnival of Scampia 2020
Each year the Carnival of Gridas is awarded a main theme around which all the creations and masks created for the edition will rotate. For the XNUMXth Carnival of the Gridas the very current theme of theenvironmental emergency and the need for recycling.
All the Gridas masks and floats are always made with recycled materials and, precisely in the sign of a long tradition of recycling and sensitivity towards environmental issues, Gridas has once again decided to take the front line in the environmental battle.
The official title of the event is: "THE RESCUE OF THE POPES, that is, ALL TOGETHER THAT THERE IS NO MORE TIME"
The path of the 2020 fashion show
After the gathering of the participants at 10:00, the Scampia 2020 Carnival parade will move to 10:30 from the Gridas Social Center and will follow the following path:
Monte Rosa, piazza Libertà, via Monte Rosa, via Monte S. Gabriele, via del Gran Sasso, via Monte Rosa, ISES district (via Aldo Fabrizi, via Marcello Mastroianni), via Pietro Germi, via Bakù, via A. Ghisleri, Lotto P.
After this first phase, the participants will proceed to the allegoric destruction of negative symbols represented by the sculptures on the floats and the various associations that participated in the event will be divided.
The path of the bands
Le music bands instead they will follow a path through lot W (via Ghisleri, via Luigi Pareyson, Largo Nicola Abbagnano, Via Luigi Pareyson, via Enzo Paci, crossing via Fratelli Cervi, via Hugo Pratt) up to Large Battle, where the final party of the Scampia 2020 Carnival.
For the occasion it will be rearranged the ASIA flowerbed of the Garden of the Five Continents and of Non-Violence, recently vandalized by unknown persons. In all, the Scampia 2020 Carnival will last approximately 4 hours.
Information on Carnival of Scampia 2020
Where: Gridas Social Center, Via Monte Rosa, 90 / b, Ina Casa, Scampìa, Naples.
When: 23 February 2020
Price: Free Event
Timetable: from 10: 00