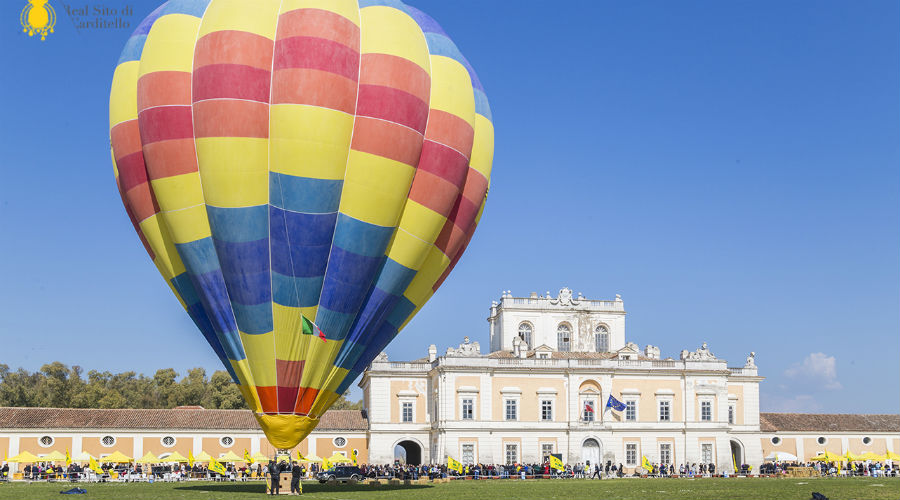 Carditello celebrates the 2020 Carnival: scheduled theatrical guided tour and a fantastic hot air balloon flight!
On the occasion of the celebrations for Carnival 2020 the foundation Real Site of Carditelloas part of the review Carditello Spring organizes the event for Sunday 23 February Two Ferdinands at the Bourbon court.
It will be an interesting theatrical guided tour that will take place inside the Royal Palace of Carditello, which was the seat of the Bourbon royal house.
Carnival 2020 in Carditello
Not only historical re-enactments but also shows for children, music, floats and masked groups. In fact at 11:00 there will be the show written and directed by Febo Quercia, will be played by different actors and all will wear elegant period clothes.
There is also a very impressive royal parade that will start from Palace of Carditello and will reach the nearby Capua, with the "King Nasone" driving four horse-drawn carriages.
There will be fun with the fantastic flight bound in a hot air balloon, organized by the Res Balloning association of Fragneto Monforte (BN). The day will end with a fascinating masked ball edited by the association Passi e Note.
Program
09: 30-13: 00: Tied flight in a hot air balloon, cost 3 euros
10: 00-12: 00: "Carditello ... court masks", cost 7 euros
10: 30-11: 30: Alfonso Brandi guitar concert
11:00 am: "Two Ferdinands at the Bourbon court", 10 euros
11: 30-13: 00: O 'Cafè do Re
16:00: Animation for children, cost 3 euros
17:00: Historical masked ball
Information on Carnival in Carditello
When: 23 February 2020
Where: Reggia di Carditello, Via Carditello, San Tammaro CE
Timetable: from 09: 30