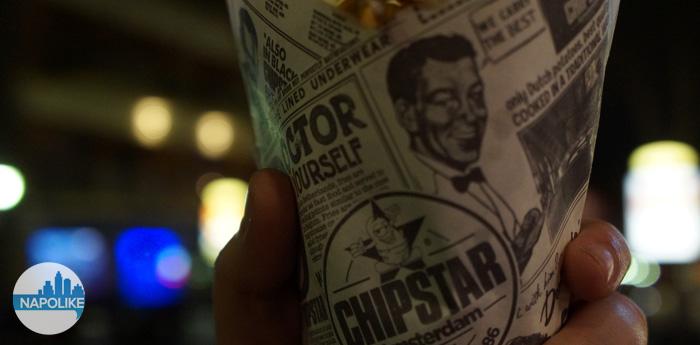 Chipstar at Vomero, one particular patatineria which is having incredible success.
Directly from
Amsterdam
a new culinary fashion strikes
Naples
. Neapolitan citizens do not yet have the opportunity to walk in the company of the famous Starbucks cup, but they can tighten the now famous
"Cuch" of Chipstar chips
. The small shop, definable as "
patatineria
", Rises in the district of the
Vomero
, with precision in Via Scarlatti and deals only and exclusively with fries served in nice, and cool, cartocci.
Le fresh potatoes of Chipstar are imported directly from the Netherlands, so it is a particular and interesting product to taste. Moreover, the tasty chips can be accompanied by some sauces, we have well available 16 types.
Sauces
Mayonnaise simple: simple mayonnaise.
Mayonnaise with Pepper: mayonnaise-based sauce with black pepper granules added.
Frite Sauce: a lightly flavored mayonnaise sauce Recommended for those who like a light taste.
Tomato Ketchup: normal ketchup.
Curry Ketchup: the tomato meets the spices of the Curry to give birth to a slightly sweet and spicy ketchup.
Curry: the classic Curry recipe, allows you to taste oriental flavors, a refined sauce ideal for chips.
BBQ: the classic BBQ recipe. It has a rather sharp and sour taste, and is recommended for this to those who love strong tastes.
Samurai: a pink sauce with a dry and spicy taste.
Hot Shot: the hot par excellence, a very flavored sauce that ends in spicy.
Cocktail: Whiskey based sauce.
Andalouse: lightly spicy refined sauce that has accompanied the potatoes served throughout Spain for years.
Tartar: sauce with onion parsley and other spices. Suitable for delicate palates.
Pitta: the pitta is par excellence the sauce used in the famous Greek "pita" sandwich. The taste is aromatic but delicate, very similar to the yougurt sauce.
Snack Sauce: fresh sauce with a pinch of mustard. It has a sweet taste given by small pieces of onion. Sweet taste to your chips.
Algerian: sauce that contains the intense taste of oriental spices, the mahal line, without animal fats and alcohol suitable for vegetarians and Muslims.
Moroccan: sauce that contains the intense taste of oriental spices, the mahal line, without animal fats and alcohol suitable for vegetarians and Muslims.
As you can see, therefore, the choice is very wide and each sauce will give a different flavor to the fries. Particular also the same paper that is nothing but a sort of newspaper which includes various writings, including the Chipstar brand.
Prices
But how much do these famous chips chips cost? Here are the prices of these chips:
Chips: € 2.
Small (230gr): 2,50 €.
Large (400gr): 3,50 €.
KingSize (900gr): 5 €.

Drinks
It is also true that being a patatineria, Chipstar sells only this product, but there is no shortage of drinks that will accompany the famous "cuoppo". Besides the normal non-alcoholic drinks, Coca Cola (normal, zero, light), Fanta (normal, lemon), Sprite, Fruit Juice and Water, Chipstar also offers a vast amount of beers. Not only the classic, such as Heineken, Corona, Beck's, Blue Ribbon, Ceres, Tennent's, but there are also less commercial variants, such as the Du-Demon, Leffe Blonde, Desperados, Adelscott, Bulldog P.Strong and the Easy Toz .
La fila it is undoubtedly one of Chipstar's negative notes. At any time of the day, in fact, you will find a lot of crowd that will try to buy the famous "cuoppo" of potato chips.
And you, have you tried the Chipstar package?
Chipstar address and timetable
Address: Via Scarlatti 186 - Vomero (Naples).
Days of Operation: Open every day.
Schedule:
- every day from 11: 30 to 00: 30.
- Friday and Saturday the closing is at 02: 30.
[Votes: 0 Media Rating: 0 / 5]