From 1 to 18 December 2022 there will be a special appointment with the event Christmas Village, a magical Christmas village will be set up inside the Mostra d'Oltremare in Naples for the joy of adults and children.
The event is organized by the company Eventitalia srl ​​chaired by Martina Ferrara.
The attractions of the Christmas Village
The Christmas Village will develop on well 5000 square meters, outdoors in the avenue of the 28 fountains ofThe Mostra d'Oltremare in Naples.
To recreate the magical Christmas atmosphere there will be the classics wooden houses, entertainment areas, games, a music stage, christmas scenery, decorations, multicolor trees, ice skating rink and much more.
There will also be areas dedicated to decoupage workshops and food, with lots of Christmas delicacies and food products that are typical of Christmas. In short, a special place where dreams can come to life. Don't miss the appointment!
In summary, in the village there will be:
Christmas market
Skating ring
Playground
workshops
Food area
Events stage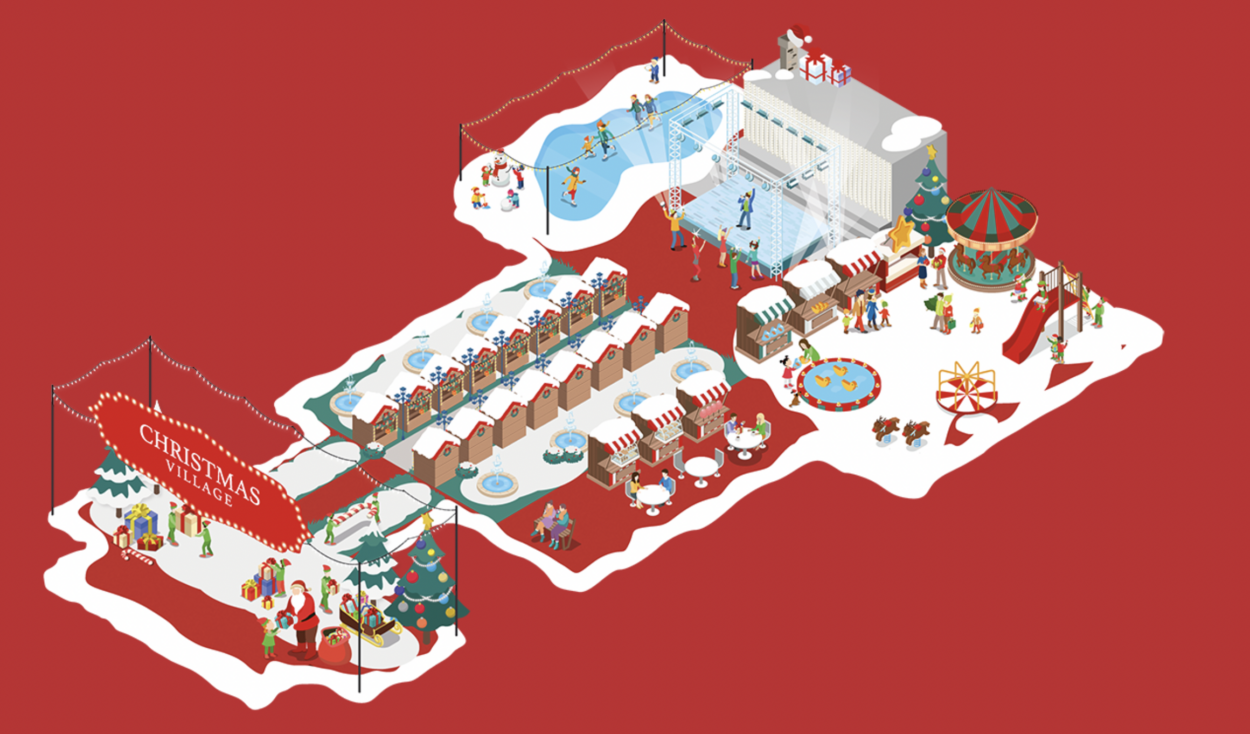 Christmas market
We will find approx 80 wooden houses which will form the unmissable Christmas Market and we will find ourselves catapulted into a fairy-tale world full of products and gift ideas. There will also be a chance to taste the traditional products.
The houses are in perfect Nordic style.
Skating ring
The area of 300 square meters, inside the Christmas Village, will entertain us all, young and old, on the ice skating rink. Between lights, Christmas music, snow-capped mountains and glittering glaciers, we can do pirouettes or simply skate with our partner on the free access rink. There is the possibility of rent skates.
Playground
The Play Area of ​​the Christmas Village is perfect for all the children who will see the parades of the most beautiful characters from fairy tales, they will play on the colored carousels, they will have fun with the elf circus and with puppet shows. Not only that, because there will also be babydance and the area face painting.
Workshops for children
Area dedicated to decoupage and other activities that aim to stimulate the creative abilities of the little ones. They will be able to do auditory experiences with music; olfactory, with perfumes; tactile, with drawings on Christmas balls, but writing letters to send to Santa Claus.
Food area
An area of 2000 square meters dedicated to food. There will be desserts, products of excellence Campania and you can taste many specialties. An area dedicated to Christmas street food.
Events stage
Shows, events, musicals and live music, all on this stage designed specifically for these appointments. Indeed there will be dancers e acrobats on weekends and Thursday 8 December, but also parades with fairy tale characters. They will not be missing guests of honor such as Beatrice Valli (influencer), Aurora and Ludovica, Alyssa (youtuber).
The complete program of events
From Monday to Friday
9:30 Opening of educational workshops for school visits (Except Thursday 8 December)
Scheduled attractions:
Skating ring
Christmas market
Christmas Circus Show
Santa's House: Santa Claus welcomes children into his home, in the company of little elves, to post the Christmas letter and participate in the "There's mail for Santa" contest. Up for grabs is a trip to Disneyland Paris
Christmas shows
Christmas Photoboot: to take souvenir photos
Light show
Face Painting
Multicolor mobiles
Babydance
The village of magical elves
Creative workshop for the little ones ‒ Write a letter to Santa Claus
Food area
Saturday, Sunday and Thursday 8 December
12: 30 - 15: 30 - 17: 30 Christmas Musical with final parade
Scheduled attractions:
Skating ring
Christmas market
Christmas Circus Show
Santa's House: Santa Claus welcomes children into his home, in the company of little elves, to post the Christmas letter and participate in the "There's mail for Santa" contest. Up for grabs is a trip to Disneyland Paris
Christmas shows
Christmas Photoboot: to take souvenir photos
Light show
Face Painting
Multicolor mobiles
Babydance
The village of magical elves
Creative workshop for the little ones ‒ Write a letter to Santa Claus
Food area
Thursday December 1
16:30 inauguration

Ribbon cutting with institutions and special guests Beatrice Valle
Inaugural toast
Visit the Christmas Village

17:30 Christmas Musical with final parade
Sunday December 4
15:30 Special guest show the youtubers Aurora and Ludovica
Thursday December 8
15:30 Special guest the baby-influencer Alyssa meet the fans
Sunday December 11
18:00 Special guest show of the singer LDA
Final parade with the most loved fairy tale characters
Information on the Christmas Village
When
1-18 December 2022
Where
Mostra d'Oltremare, Viale John Fitzgerald Kennedy, 54, 80125 Naples
Preferred Time
Monday - Friday: 16.30 - 21.30
Monday – Friday: schools from 9.30
Saturday, Sunday and 8 December: 11.00 – 23.30
Price
adults euro 15,00
children from 2 to 8 years: Euro 12,00
free for children up to 2 years old
Presale: Christmas Village
Contacts