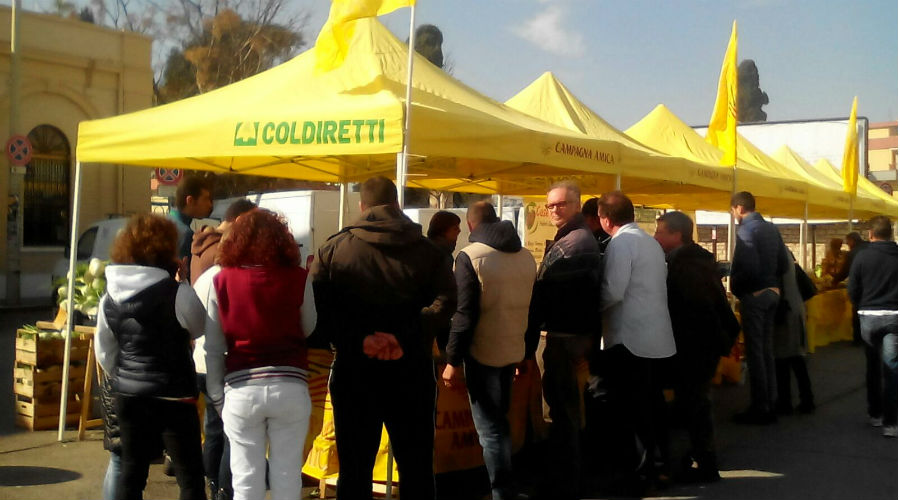 Here is where the agro-food markets of the Coldiretti association in Naples will be for the entire month of November 2020!
From Sunday 1st November to Sunday 29th November 2020 the agro-food markets of Coldiretti, the largest association representing agriculture in Italy, will be set up in various squares in the city of Naples.
In particular, the markets will be open to visitors on Wednesday, Saturday and Sunday, then three weekly appointments. Visitors will find excellent products including wine, oil, cheeses, cold cuts, fruit and vegetables and then again artisanal pasta, honey, spices and much more.
We also remember that in Naples, in San Paolo Park of Fuorigrotta, in June 2020 the largest covered farmer's market in Southern Italy, thanks to the Coldiretti and Campagna Amica association.
Coldiretti markets: here are the squares in Naples
Here are the days and the squares of Naples where the agro-food markets will be set up for the month of November 2020:
Sunday November 1
Italy Square
Piazza Quattro Giornate
Piazzetta Toto '
Viale Del Poggio
Covered Market San Paolo Via Guidetti 72 - (Parco San Paolo) from 09:00 to 15:00
Wednesday November 4
Via Cervantes
Covered Market San Paolo Via Guidetti 72 - (Parco San Paolo) from 08:00 to 15:00
Saturday November 7
Salvatore Di Giacomo Square (Posillipo)
Piazza Saverio Mercadante
Covered Market San Paolo Via Guidetti 72 - (Parco San Paolo) from 09:00 to 15:00
Sunday November 8
Viale Campi Flegrei
Piazza Dante
Piazza Immacolata
Villa Comunale
San Paolo Covered Market Via Guidetti 72 - (Parco San Paolo) from 9.00 to 15.00
Wednesday November 11
Via Cervantes
Business Center - Largo Kagoshima
San Paolo Covered Market Via Guidetti 72 - (Parco San Paolo) from 8.00 to 15.00
Saturday November 14
Salvatore Di Giacomo Square (Posillipo)
Piazza Saverio Mercadante
San Paolo Covered Market Via Guidetti 72 - (Parco San Paolo) from 9.00 to 15.00
Sunday November 15
Italy Square
Piazza Quattro Giornate
Piazzetta Toto '
Viale Del Poggio
San Paolo Covered Market Via Guidetti 72 - (Parco San Paolo) from 9.00 to 15.00
Wednesday November 18
Via Cervantes
Business Center - Largo Kagoshima
San Paolo Covered Market Via Guidetti 72 - (Parco San Paolo) from 8.00 to 15.00
Saturday November 21
Salvatore Di Giacomo Square (Posillipo)
Piazza Saverio Mercadante
San Paolo Covered Market Via Guidetti 72 - (Parco San Paolo) from 9.00 to 15.00
Sunday November 22
Viale Campi Flegrei
Piazza Dante
Piazza Immacolata
Villa Comunale
San Paolo Covered Market Via Guidetti 72 - (Parco San Paolo) from 9.00 to 15.00
Wednesday November 25
Via Cervantes
Business Center - Largo Kagoshima
San Paolo Covered Market Via Guidetti 72 - (Parco San Paolo) from 8.00 to 15.00
Saturday November 28
Salvatore Di Giacomo Square (Posillipo)
Piazza Saverio Mercadante
San Paolo Covered Market Via Guidetti 72 - (Parco San Paolo) from 9.00 to 15.00
Sunday November 29
Italy Square
Piazza Quattro Giornate
Piazzetta Toto '
San Paolo Covered Market Via Guidetti 72 - (Parco San Paolo) from 9.00 to 15.00
Information on markets in Naples
When: from 1 to 29 November 2020 (Wednesday, Saturday and Sunday)
Where: several squares in Naples
Timetable: starting at 08: 00
Price: free admission