As we know, a few days ago there was a severe structural collapse in the Poggioreale Cemetery in Naples, a collapse that damaged a large 3-storey building and caused the destruction of hundreds of coffins, niches and tombstones.
Not just a structural damage, but also emotional and existential for family members of the deceased whose remains were involved in this collapse.
For this reason, the Municipality of Naples, in agreement with the Curia and the Entities holding the census of the niches, has activated the following telephone number to guarantee assistance to families: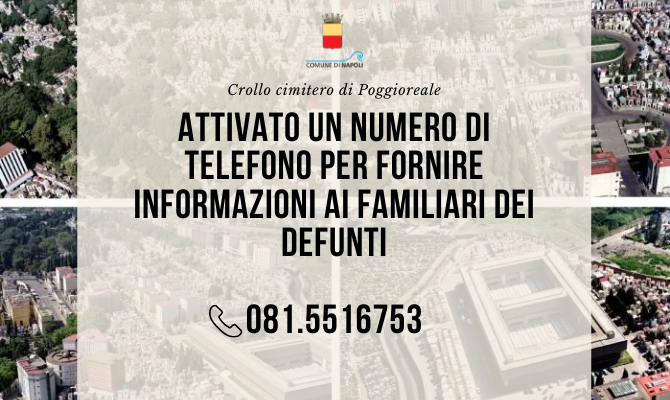 When the phone number is active
Il number 0815516753 is active as follows:
since Friday 7st January 2022;
from hour to hour 9.00 17.00
You can call for receive information relating to deceased loved ones and burial niches that have been lost or destroyed.
This is an important initiative, even if unfortunately hundreds of families will no longer be able to recognize or visit their loved ones due to this tragedy.
Active email boxes
The following email boxes have also been activated to request information:
Closure of the Cemetery
The Cemetery will be closed until a later date. It was initially decided to close until January 19, but was then extended without a new definitive date at the time. Mortuary police operations were suspended until Saturday 8 January.
The damaged covens
The covenants that suffered the damage of the collapse are:
Bianchi dei Dottori of Maria degli Angeli and St. John the Baptist of the discipline (Limoncello);
Immaculate Conception and S. Gioacchino above the wall at Carmine 1.
30% of the structure of the two buildings was damaged, especially the area at the main entrances on the south side.
The work of recognizing the corpses
L'Aiccn, the Association in charge of Confraternity Cemeteries of Naples, joins the pain of families and has declared that all its members will always be available to help operators of the cemetery in all those activities aimed at recognition of the remains.
Little by little we will try to recognize as much of it as possible and to ensure that we return to restoration of the decor that the deceased and the whole monumental structure deserve.
Cover photo source: Repubbica
Are you looking for something in particular?