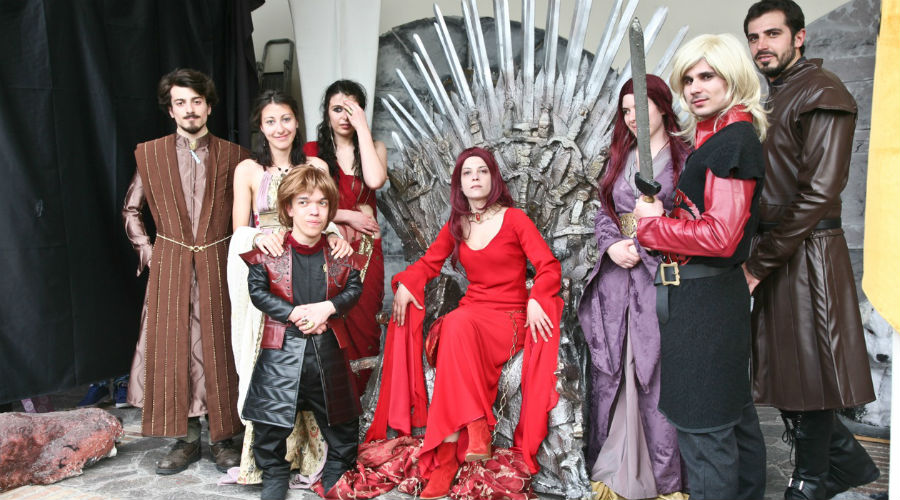 All the Comicon 2019 events at the Mostra d'Oltremare in Naples in the complete program of the fair!
Finally the moment that so many awaited arrived: the was published complete program of the Comicon 2019 which takes place in the Mostra d'Oltremare of Naples.
The calendar, divided into times on the days that go by 25 28 to April, is rich and well articulated and gives space to many events, meetings with cartoonists and youtubers, movie previews and documentaries, tournaments of board games e Games and much more.
We remember that, among the most anticipated appointments among the fans, there are the meeting with Bronn of Game of Thrones, the one with two actors from Gomorra and the preview of Pet Semantary, film based on Stephen King's horror.
To know, instead, the locations of each section, you can consult the map of the Comicon, while if you are looking for the thrill of adventure and strategy, you can choose one of many Escape Room.
Moreover, we remember that the This year's Magister is Gipi.
Here is the complete program. It is constantly updated, therefore also consult the official website for variations.
25 April - Click to open events
10:00 - 11:00
Treasure Hunt: inscriptions
Play Area [pad. 5] Game
1000- 1030
Strike a pose!
Kids Kids area
1030- 1130
The non-Harry Potter book
Kids Kids area
1030- 1100
Light as a bubble!
Kids Kids area
1050- 1150
Falegnomi
Kids Kids area
1100- 1200
Lives by Peter Pan traces the career of Leiji Matsumoto
Sala Italia TV and Cinema Series
1100- 1300
UNFRIENDED: DARK WEB. Italian preview - Scary Comicon
TV and Cinema Series Auditorium
1100- 1200
Welcome to COMICON Video Games!
Stage Videogames Videogame
1200- 1300
Focus on Mortal Kombat XI
Stage Videogames Videogame
1200- 1300
Cartoon Junior
Kids Kids area
1200- 1300
Star Comics presents: dreams, ghosts, spaceships and ... vacuum cleaners
Sala Andrea Pazienza Fumetto
1200- 1300
Redrawing stories from the past #2
Sala Dino De Matteo Fumetto
1230- 1300
Forced as the Hulk
Kids Kids area
1250- 1350
Caretta caretta, the turtles of our seas
Kids Kids area
1300- 1400
Goodbye Marilyn: the short film
TV and Cinema Series Auditorium
1300- 1400
Is the future of video games streaming?
Stage Videogames Videogame
1300- 1400
Shinobi no michi
Meeting Hiroba Asian
1300- 1400
STOP! Comic trips
Sala Dino De Matteo Fumetto
1300- 1400
Fists and kicks. The big sport shots, which can be drawn
Sala Andrea Pazienza Fumetto
1310- 1410
We draw a superhero
Kids Kids area
1330- 1400
K-Pop Crew Battle
Main Stage Asian
1400- 1500
The first previews of the film Diabolik
TV and Cinema Series Auditorium
1400- 1500
Basics of Wig Styling. Tools, materials, and methods
Hiroba Cosplay Meeting
1400- 1600
Playing in Yellow. Meeting with crime
Play Area [pad. 6] Game
1400- 1600
Days Gone: live review and preview of the game
Stage Videogames Videogame
1400- 1500
Mirka Andolfo's feminine universe
Sala Andrea Pazienza Fumetto
1400- 1500
Samuel Stern. Newsstand horror BUGS Comics
Sala Dino De Matteo Fumetto
1400- 1500
Dave McKean
Cartoon Autographs Point
1420- 1520
Art & Emotion
Kids Kids area
1430- 1500
Bim Bum Band in concert
Main Stage Live
1430- 1530
Mr. Fantastic, the Molleggiato
Kids Kids area
1500- 1910
Voodoo tournament
Play Area [pad. 6] Game
1500- 1800
Momir with Cosplay Light
Play Area [pad. 5] Game
1500- 1600
Gashapon Mania Show
Andrea Pazienza Room Game
1500- 1600
Pizzofalcone's bastards, from books to comics, through fiction
Sala Italia Fumetto
1500- 1600
Animeclick presents: how a digital comic book is born
Meeting Hiroba Asian
1500- 1600
Gipi presents: five talents of the new Italian comic
Sala Dino De Matteo Fumetto
1510 - 16101h
We build Games from the book Family is fun
Kids Kids area
1530- 1630
We design Teen Titans Go!
Kids Kids area
1530- 1900
Pet Sematary Previews and Stephen King Documentary: Horror Master
TV and Cinema Series Auditorium
1530- 1800
Quiz Guess Who
Play Area [pad. 5] Game
1600- 1700
Marghe and Giulia - Growing live.
Sala Dino De Matteo TV and Cinema Series
1600- 1700
Junior cartoon
Kids Kids area
1600- 1630
Hyx in concert with the XX404 dance crew
Main Stage Live
1600- 1800
Dario Moccia. Povery's Late Show, with Tanzen
Stage Videogames Videogame
1600- 1700
Matteo Barretta and Lorenza Di Sepio
Cartoon Autographs Point
1600- 1730
Special GDR Session
Play Area [pad. 5] Game
1600- 1700
Parallelisms between Star Wars and Japanese culture
Meeting Hiroba Asian
1600- 1700
Epoxy. The most copied cartoon (sexy) ever
Sala Andrea Pazienza Fumetto
1615- 1815
Special "The Art of Pugni". Dario Moccia presents One Punch Man and Megalo Box
Sala Italia TV and Cinema Series
1630- 1700
Busking Science
Kids Kids area
1630- 1700
Loverin Tamburin
Main Stage Asian
1640- 1740
Build giant glasses
Kids Kids area
1700- 1800
Road to wig
Hiroba Cosplay Meeting
1700- 1800
Until the last game. Fun quiz
Play Area [pad. 6] Game
1700- 1800
Hideyuki Furuhashi and Betten Court
Cartoon Autographs Point
1700- 1800
70 years together: TOPOLINO, a story that continues
Sala Andrea Pazienza Fumetto
1700- 1800
Going up the China
Sala Dino De Matteo Fumetto
1730- 1800
Bardomagno in concert
Main Stage Live
1730- 1830
BabaLab
Kids Kids area
1750- 1850
Animal Mask
Kids Kids area
1800- 1900
Video Games Triple A: a model in crisis?
Stage Videogames Videogame
1800- 1900
Lottery
Play Area [pad. 5] Game
1800- 1900
Worldbuilders. Imagine worlds with Dave McKean
Sala Andrea Pazienza Fumetto
1800- 1900
Riae: my life in comics
Sala Dino De Matteo Fumetto
26 April - Click to open events
10:00 - 10:30
Strike a pose!
Kids Kids area
10:00 - 11:00
Treasure Hunt: inscriptions
Play Area [pad. 5] Game
10:30 - 11:30
Tinkering Lab: Build a drawing machine
Kids Kids area
10:50 - 11:50
Stop Motion
Kids Kids area
11:00 - 12:00
Wig Styling. Video Tutorial + Q&A
Hiroba Cosplay Meeting
11:00 - 12:00
Ignorance on video games, is it time to learn more about the subject?
Stage Videogames Videogame
11:00 - 12:00
BabaLab
Kids Kids area
11:00 - 13:00
Draft of the War of the Spark: first play!
Play Area [pad. 5] Game
11:00 - 12:00
La sedia del diavolo
Sala Dino De Matteo Fumetto
11:00 - 12:00
Worldbuilders. Imagining worlds with Lorenzo Pastrovicchio
Sala Andrea Pazienza Fumetto
11:00 - 12:00
Mattia Labadessa
Cartoon Autographs Point
12:00 - 13:00
Let's play with words and colors of Hervé Tullet
Kids Kids area
12:00 - 13:00
Concept Art and Graphics 3D for video games
Stage Videogames Videogame
12:00 - 13:00
Mickey Mouse and Canova
Sala Dino De Matteo Fumetto
12:00 - 13:00
Claudio Castellini
Cartoon Autographs Point
12:00 - 13:00
SaldaPress Presents: Italian new wave
Sala Andrea Pazienza Fumetto
12:10 - 13:10
Learn to draw Comics with Pasquale Qualano!
Kids Kids area
12:30 - 13:30
Forced as the Hulk
Kids Kids area
12:30 - 15:00
Sagrada Tournament
Play Area [pad. 6] Game
13:00 - 14:00
DIY Japanese cuisine Meeting Hiroba Asian
13:00 - 13:3
K-Pop Crew Battle
Main Stage Asian
13:00 - 14:00
Worldbuilders. Imagining worlds with Giulio Rincione
Sala Andrea Pazienza Fumetto
13:00 - 14:0
Narration and Pathos
Sala Dino De Matteo Fumetto
13:10 - 14:10
Build giant glasses
Kids Kids area
14:00 - 15:30
Will the exclusives still make the difference in the next generation?
Stage Videogames Videogame
14:00 - 15:00
Fantastic makers and where to find them
Hiroba Cosplay Meeting
14:00 - 15:00
Lorenzo Pastrovicchio
Cartoon Autographs Point
14:00 - 15:00
Bernardo Cavallino. The return of the bird-man of Labadessa
Sala Andrea Pazienza Fumetto
14:00 - 16:00
Playing in Yellow. Meeting with crime
Play Area [pad. 6] Game
14:15 - 15:00
Hoshi & Forward Crew
Main Stage Live
14:20 - 15:20
Cartoon Junior
Kids Kids area
14:30 - 15:30
The carpentry workshop
Kids Kids area
14:30 - 15:15
The Friends of AntMan
Kids Kids area
15:00 - 19:00
Ticket to ride tournament
Play Area [pad. 6] Game
15:00 - 16:00
They are short because it's cold. A videohow by Gipi and Gero Arnone
Sala Italia TV and Cinema Series
15:00 - 16:00
DIY Japanese cuisine
Meeting Hiroba Asian
15:00 - 16:00
Loverin Tamburin in concert
Main Stage Live
15:00 - 16:00
The Caravaggio of Milo Manara
Sala Andrea Pazienza Fumetto
15:00 - 16:00
Future Perfect. The new talents of Italian comics
Sala Dino De Matteo Fumetto
15:00 - 16:00
Fabiana Fiengo
Cartoon Autographs Point
15:00 - 16:00
Giulio Rincione
Cartoon Autographs Point
15:30 - 16:30
Animal Mask
Kids Kids area
15:40 - 16:40
The First Book of The Master Noah
Kids Kids area
16:00 - 17:00
pow3R - Povery Late Show with Tanzen
Stage Videogames Videogame
16:00 - 17:30
Special GDR Session
Play Area [pad. 5] Game
16:00 - 17:00
5 is the perfect number: an absolute preview of the first minutes of the film
TV and Cinema Series Auditorium
16:00 - 17:00
Odessa: when the worlds meet
Sala Andrea Pazienza Fumetto
16:00 - 17:00
Coffee and Comics
Sala Dino De Matteo Fumetto
16:00 - 17:00
Quiz Nerd
Meeting Hiroba Asian
16:00 - 16:30
Flash Mob K-Pop
Main Stage Asian
16:30 - 17:00
Nanowar of Steel in concert
Main Stage Live
16:30 - 17:00
The NanoKit
Kids Kids area
16:40 - 17:40
We design with Franky and Mare
Kids Kids area
16:50 - 17:50
The Non-Book of Harry Potter
Kids Kids area
17:00 - 18:00
Until the last game. Fun quiz
Play Area [pad. 6] Game
17:00 - 19:00
TED BUNDY. The preview - Scary COMICON section
TV and Cinema Series Auditorium
17:00 - 19:00
Cosplay Challenge Videogames
Stage Cosplay Video Games
17:00 - 18:00
Meeting with Cosplay Light
Play Area [pad. 5] Game
17:00 - 18:00
Lorenza Di Sepio and Marco Barretta: fall into the world of Daisy
Sala Andrea Pazienza Fumetto
17:00 - 18:00
Panini Comics presents: Marvel & Panini - a quarter of a century together
Sala Dino De Matteo Fumetto
17:00 - 18:00
40 years of Gundam
Meeting Hiroba Asian
17:50 - 18:50
Express 999
Kids Kids area
18:00 - 19:00
Caretta caretta, the turtles of our seas
Kids Kids area
18:00 - 19:00
Lottery
Play Area [pad. 5] Game
18:00 - 19:00
Worldbuilders. Imagine worlds with Akihito Tsukushi
Sala Andrea Pazienza Fumetto
27 April - Click to open events
10:00 - 11:00
Strike a pose!
Kids Kids area
10:00 - 11:00
Treasure Hunt: inscriptions
Play Area [pad. 5] Game
10:00 - 11:00
Yes, Aiken. The manga according to BAO
Sala Andrea Pazienza Fumetto
10:30 - 11:15
Tinkering Lab: Build a drawing machine
Kids Kids area
10:50 - 11:50
Art & Emotion
Kids Kids area
11:00 - 12:00
Pixel Art and 3D: graphic styles compared
Stage Videogames Videogame
11:00 - 12:00
POLAROID. Italian preview - Scary Comicon section
TV and Cinema Series Auditorium
11:00 - 13:00
Draft of The War of the Spark
Play Area [pad. 5] Game
11:00 - 12:00
The Game Designer credo
Sala Dino De Matteo Game
11:00 - 12:00
Paolo Mottura
Cartoon Autographs Point
11:00 - 12:00
EVA IMPACT presents Blood Type: Blue Water - Nadia for Evangelion
Meeting Hiroba Asian
11:00 - 12:00
Live Sketch Academia
Sala Andrea Pazienza Fumetto
11:30 - 12:30
War of the Spark prerelease: registrations
Play Area [pad. 5] Game
12:00 - 13:00
The great Mazinga vs Jeeg Robot: the forty year old
Sala Italia TV and Cinema Series
12:00 - 13:00
Great little stories by Mario Ramos
Kids Kids area
12:00 - 13:00
Let's find out behind the scenes of a manga publisher: J-POP Manga.
Meeting Hiroba Asian
12:00 - 13:00
Steam, Gog, Epic, Origin and many others: the fragmentation of PC stores
Stage Videogames Videogame
12:00 - 12:30
K-Pop Crew Battle
Main Stage Asian
12:00 - 13:00
From Micheluzzi to Ferrandino: Erik and Zampino in the Edizioni Allagalla
Sala Dino De Matteo Fumetto
12:00 - 13:00
SIO
Cartoon Autographs Point
12:00 - 13:00
Unreal Gipi. Dreams, futures, ghosts: a conversation
Sala Andrea Pazienza Fumetto
12:30 - 13:00
The NanoKit
Kids Kids area
12:30 - 15:00
Carcassonne Tournament
Play Area [pad. 6] Game
13:00 - 14:00
Don Alemanno and Boban Pesov
Cartoon Autographs Point
13:00 - 13:30
The Neapolitan tattoo and the link with Japan
Meeting Hiroba Asian
13:00 - 13:30
HITT in concert
Main Stage Live
13:00 - 14:00
Annalisa Leoni and Lorenzo De Felici
Cartoon Autographs Point
13:00 - 14:00
Worldbuilders. Imagine worlds with Charlie Adlard
Sala Andrea Pazienza Fumetto
13:00 - 14:00
Shockdom: new releases, meeting with the authors
Sala Dino De Matteo Fumetto
13:10 - 14:10
Build giant glasses
Kids Kids area
13:30 - 13:30
Let's find out behind the scenes of a manga publisher: J-POP Manga
Meeting Hiroba Asian
14:00 - 16:00
Videogame streaming: present and evolution of the consoles
Stage Videogames Videogame
14:00 - 16:00
Playing in Yellow. Meeting with crime
Play Area [pad. 6] Game
14:00 - 15:00
GOMORRA 4: meeting with Cristiana Dell'Anna and Arturo Muselli
TV and Cinema Series Auditorium
14:00 - 14:30
X-35 in concert
Main Stage Live
14:00 - 15:00
Licia Troisi and Arianna Rea
Cartoon Autographs Point
14:00 - 15:00
Cosplay, profession and fusion 360
Meeting Hiroba Asian
14:00 - 15:00
Dragonero: multimedia fantasy
Sala Andrea Pazienza Fumetto
14:00 - 15:0
It's a mad Planet!
Sala Dino De Matteo Fumetto
14:20 - 15:20
Stop Motion
Kids Kids area
14:30 - 15:00
The world that I wouldn't want
Kids Kids area
14:30 - 15:30
Alessandro Bilotta
Cartoon Autographs Point
14:30 - 15:30
Form
Cartoon Autographs Point
15:00 - 16:00
Naples in manga and anime
Meeting Hiroba Asian
15:00 - 16:00
Luca Enoch
Cartoon Autographs Point
15:00 - 19:00
Azul Tournament
Play Area [pad. 6] Game
15:00 - 15:30
Giancarlo Soldi presents a preview of the new documentary on Valentina and Crepax
TV and Cinema Series Auditorium
15:00 - 16:00
Stefano Vietti
Cartoon Autographs Point
15:00 - 16:00
The Super Universal Judgment
Sala Andrea Pazienza Fumetto
15:00 - 16:00
Italy in the globalization of comics
Sala Dino De Matteo Fumetto
15:00 - 16:00
Giovanni Ticci
Cartoon Autographs Point
15:30 - 16:30
Super friendships for super heroes
Kids Kids area
15:30 - 16:30
Meeting with Jerome Flynn. The last season of the Throne of Swords, with Bronn!
TV and Cinema Series Auditorium
15:30 - 19:00
Pokemon Go Tournament
Play Area [pad. 6] Game
15:30 - 19:00
Table Football Tournament
Play Area [pad. 6] Game
16:00 - 17:00
Meeting with ProFumatoTk
Play Area [pad. 5] Game
16:00 - 18:00
Sabaku. Povery Late Show with Tanzen
Stage Videogames Videogame
16:00 - 17:30
Special GDR Session
Play Area [pad. 5] Game
16:00 - 17:00
The mystery of the Isolina. A case of femicide in the first Italian graphic journalism
Sala Dino De Matteo Fumetto
16:00 - 17:00
Dampyr in Naples and Tex in the Southwest
Sala Andrea Pazienza Fumetto
16:00 - 17:00
The past, the present and the future of cartoon theme songs
Sala Italia Asian
16:00 - 18:00
Prototype design corner. Game Design Laboratory
Play Area [pad. 6] Game
16:30 - 17:15
PlayDecide. Nanotechnologies
Kids Kids area
16:40 - 17:40
Art-Coloring Terapy
Kids Kids area
17:00 - 19:00
Jerome Flynn
Autographs for TV and Cinema Series
17:00 - 19:00
Cosplay Challenge PRO 2019
Cosplay Auditorium
17:00 - 18:00
Until the last game. Fun quiz
Play Area [pad. 6] Game
17:00 - 18:00
K-Pop Show
Meeting Hiroba Asian
17:00 - 18:00
The Italian School of Comix
Sala Dino De Matteo Fumetto
17:00 - 18:00
70 years of covers
Sala Andrea Pazienza Fumetto
17:30 - 18:30
Immanuel Casto. The age of consent
Main Stage Live
17:50 - 18:50
Art-Coloring Terapy
Kids Kids area
18:00 - 19:00
Lottery
Play Area [pad. 5] Game
18:00 - 19:00
Violin & Dragons - Music for good gamers
Live Video Game Stage
18:00 - 19:00
GG Studio presents 2 emerging artists: Silvana Di Somma and Josephine Montella
Sala Dino De Matteo Fumetto
18:00 - 19:00
The Doctrine
Sala Andrea Pazienza Fumetto
28 April - Click to open events
10:00 - 11:00
Treasure Hunt: inscriptions
Play Area [pad. 5] Game
10:00 - 10:3
Strike a pose!
Kids Kids area
10:00 - 11:30
Conquest Qualifier: registrations
Play Area [pad. 5] Game
10:00 - 11:00
My cartoon library
Sala Andrea Pazienza Fumetto
10:30 - 11:30
Light as a bubble!
Kids Kids area
10:50 - 11:50
Cartoon Junior
Kids Kids area
11:00 - 12:00
The future of video games: towards the unique console?
Stage Videogames Videogame
11:00 - 18:00
Magic war between influencers
Play Area [pad. 5] Game
11:00 - 13:0
ZOMBIE AGAINST ZOMBIE - "Scary Comicon" Section
TV and Cinema Series Auditorium
11:00 - 18:00
Worldbuilders. Imagining worlds with Claudio Castellini
Sala Andrea Pazienza Fumetto
11:00 - 11:30
K-Pop Crew Battle
Main Stage Asian
11:00 - 12:00
Comics in Augmented Reality - Shockdom, reading the future
Sala Dino De Matteo Fumetto
12:00 - 13:00
Draw with Gud
Kids Kids area
12:00 - 12:30
Stefano Bersola in concert
Main Stage Live
12:00 - 16:00
Bang!
Play Area [pad. 6] Game
12:00 - 15:00
Made in Abyss: preview of the film and meeting with Akihito Tsukushi
Sala Italia TV and Cinema Series
12:00 - 13:00
Otakulogia
Meeting Hiroba Asian
12:00 - 13:00
Multi-Level Comics
Sala Andrea Pazienza Fumetto
12:00 - 13:0
The DC Multiverse expands!
Sala Dino De Matteo Fumetto
12:30 - 13:30
Scientific Quiz!
Kids Kids area
12:30 - 14:30
Sabaku no Maiku explains Sekiro: Shadows Die Twice
Stage Videogames Videogame
13:00 - 14:00
Illegal Show
Sala Andrea Pazienza Fumetto
13:00 - 14:00
The future in the balance. Journey in dystopia in the comic strip, from V for Vendetta to Give Me Liberty
Sala Dino De Matteo Fumetto
13:10 - 14:1
Build giant glasses
Kids Kids area
13:30 - 14:0
HITT in concert
Main Stage Live
14:00 - 15:0
Tailoring, accessories and customers in cosplay
Hiroba Cosplay Meeting
14:00 - 16:00
Playing in Yellow. Meeting with crime
Play Area [pad. 6] Game
14:00 - 15:00
Fumettibrutti
Cartoon Autographs Point
14:00 - 15:00
Talk: the Cup of Cup of Pino
Sala Dino De Matteo Fumetto
14:00 - 15:00
Stories of migrants. Four looks from the Mediterranean cartoon
Sala Andrea Pazienza Fumetto
14:20 - 15:20
Art & Emotion
Kids Kids area
14:30 - 15:00
2019 Cosplay Challenge
Main Stage Cosplay
14:30 - 15:3
Whistling!
Kids Kids area
14:30 - 15:30
Dr. Why Scientific!
Kids Kids area
15:00 - 16:00
Too many video games = risk boredom?
Stage Videogames Videogame
15:00 - 16:00
How to create a manga character
Meeting Hiroba Asian
15:00 - 16:00
90 by Popeye
Sala Italia TV and Cinema Series
15:00 - 17:00
Knightfall - Meeting with Tom Cullen. With preview of the pilot of the 2a season
TV and Cinema Series Auditorium
15:00 - 16:00
Licia Troisi and Arianna Rea present the new Monster Allergy
Sala Andrea Pazienza Fumetto
15:00 - 16:00
VeneziaComix among Italian captains, new releases and the TV series challenge
Sala Dino De Matteo Fumetto
15:00 - 16:00
Tanino Liberatore
Cartoon Autographs Point
15:00 - 16:00
Massimo Mattioli
Cartoon Autographs Point
15:30 - 16:30
Falegnomi
Kids Kids area
16:00 - 17:00
PS5, Xbox Scarlett and the next-gen - Powered by IGN italia
Stage Videogames Videogame
16:00 - 17:30
Special GDR Session
Play Area [pad. 5] Game
16:00 - 17:00
Shonen protagonists
Meeting Hiroba Asian
16:00 - 17:00
Indie Comics: Italy VS the World
Sala Andrea Pazienza Fumetto
16:15 - 17:15
RT Poop presents: Poop Squad 3. The exclusive preview of the final chapter
Sala Italia TV and Cinema Series
16:30 - 17:30
Whistling!
Kids Kids area
16:30 - 17:00
Busking Science
Kids Kids area
16:30 - 17:30
Playdecide - Nanotechnologies
Kids Kids area
16:40 - 17:40
Animal Mask
Kids Kids area
17:00 - 18:00
Until the last game. Fun quiz
Play Area [pad. 6] Game
17:00 - 18:00
The haiku and the zen
Meeting Hiroba Asian
17:15 - 18:45
Tom Cullen
Autographs Game Point
17:30 - 18:30
Violin Café - Exciting video game music
Live Video Game Stage
17:30 - 18:15
GODZILLA II - KING OF THE MONSTER. An exclusive preview of Kaijū due out in late May
TV and Cinema Series Auditorium
18:00 - 19:00
Lottery
Play Area [pad. 5] Game
Information on the Comicon 2019
Where: Mostra d'Oltremare, via JFKennedy 54 - via Terracina 197 - Via A.Usodimare - Piazzale Tecchio
When: from 25 to 28 April 2019
Timetables:
Ticket office: 09: 00 - 18: 00
Comicon: 10: 00 - 19: 00
Comicon entrance fees:
4 subscription days: 25 € (sold out)

day ticket: 12 €

reduced under 12 and over 65: 8 €
[Votes: 0 Media Rating: 0 / 5]