The most beautiful churches in Naples will host numerous free concerts during the months of November and December 2014
Sun, pizza, spaghetti and mandolin: this is the Neapolitan stereotype par excellence. But among these elements the mandolin is probably the most forgotten, especially by young people.
To give light, therefore, to the traditional, popular and cultured Neapolitan musical heritage, will be 7 classical music concerts from November 1st to December 13th 2014 ancient churches of the Neapolitan historical center will be held free in 6.
Every weekend, important orchestras and musical complexes they will play in wonderful and evocative sacred places to offer a unique show that is the result of the union of art, culture, music and history. An idea born from the project "Sing, play and walk" realized thanks to the contribution of the Campania Region and the Archdiocese of Naples, implemented by Scabec SpA and the Fare Chiesa e Città Foundation.
A way to understand where we come from, to know our roots, to appreciate the enormous artistic and intellectual heritage that belongs to us. An opportunity for social and cultural growth aimed above all at the very young and especially at those young people who live and grow up in popular neighborhoods, those "at risk".
In fact, this initiative involves the participation of 350 guys aged between eight and fifteen years from disadvantaged areas and chosen by churches and associations of Naples and surroundings to start them to legality through ptraining and entertainment rograms.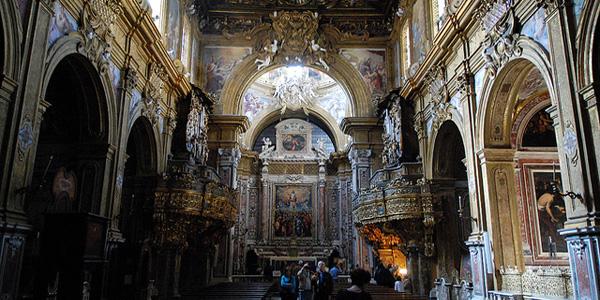 An experience that will satisfy the eyes and the ears, delighted by the impeccable notes played by extraordinary complexes like i Turchini by Antonio Florio, Ketonic Percussion, the Baroque Ensemble of Naples and many others. All concentrated in the heart of Naples with its smells, its flavors, its colors ... not to be missed.
Concert program
November 01, 2014 - I Turchini by Antonio Florio in San Gregorio Armeno— at 20:30
November 08, 2014 - Naples Vocal Ensemble in Sant'Anna dei Lombardi - 20:30 pm
November 14, 2014 - Ketonic percussion in San Lorenzo Maggiore - 20:30 pm
November 22, 2014 - Baroque Ensemble of Naples in Sant'Anna dei Lombardi— at 20:30
November 29, 2014 - Dissonanzen in San Gennaro Extra Moenia— 20:30 pm
December 05 2014 - Project Sonora Network & Performing Arts in Carmine Maggiore - 20 pm
December 13 2014 - Mysterium Vocis in Santa Maria Donnaregina New-hours 20: 30
Information on concerts in the churches of Naples
When: from Saturday 1 November 2014 to Saturday 13 December 2014
Where: Churches in Naples
Price: free entry
Information: reservation is compulsory until available seats are available toll free campania> artecard 800 600 601 from mobile phones (from abroad +39 06 39 96 76 50)
Are you looking for something in particular?