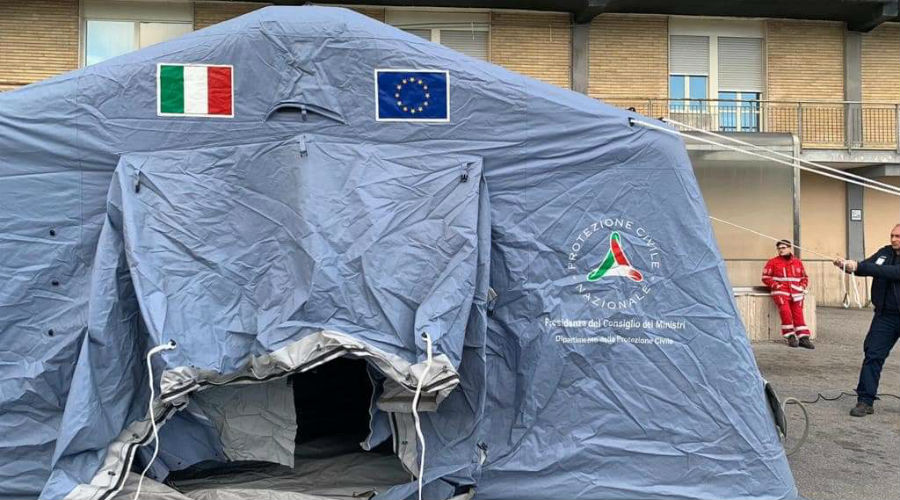 To better manage coronavirus prevention in Naples, triage tents have been set up in front of Cardarelli and other hospitals in the city.
La Civil protection decided to mount, in front of the hospital Cardarelli di Naples, three field tents useful to manage the emergency coronavirus.
Despite the Cardarelli does not have an infectious disease ward if a patient shows up in the emergency room typical respiratory symptoms of the virus, would be diverted by the competent staff to the tents that have been prepared for observation.
It also tends to the San Paolo and San Giovanni Bosco hospitals
Tensile structures will also be set up on Thursday in front of theSan Paolo hospital, and by Sunday also at St. John Bosco andhospital of the sea.
  tends have air filter and sanitation systems and they all have a system of heating.
One of the three tents will be used for it disposal of various suits, masks and visors used.
Hospitals ready for an emergency
They are in total 200 beds that have been used to accommodate patients with coronavirus.
40 seats have been set up in the ASL of Salerno, 70 al Cotugno, another 10 in the various health agencies of Caserta, Pozzuoli and Eboli and 6 al Ruggi.
Al Cardarelli instead currently no beds have been prepared.
Tests for Coronavirus
As regards the samples and samples made for Covid-19, the points where i will be distributed will be multiplied diagnostic kits.
In the city of Naples among the places where you can take the test in addition to Cotugno will also be used on San Paolo from Thursday 27 February.
In the rest of the region, however, hospitals will be equipped with kits starting today San Sebastiano in Caserta, Moscati in Avellino and Ruggi in Salerno.
Plan B
La Civil protection and military health they might, in case of emergency, continue to set up real ones field hospitals for any forties or checks.
Photo source: 2anews.it