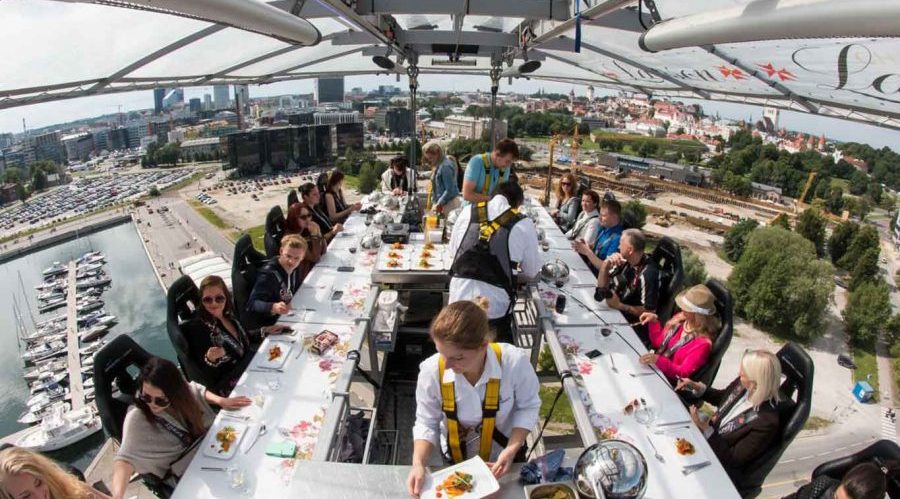 Dinner in the Sky arrives in Benevento, for a romantic dinner suspended 50 meters high!
A beautiful novelty arrives in Campania and in particular in Benevento, Or the Dinner in the sky, a very special gastronomic project, which in a very short time has spread all over the world.
Between 9 and 11 July 2021 you can book a breakfast, a lunch or a romantic dinner in this special place suspended 50 meters from the ground.
Dinner in the Sky in Benevento
If you want to live a suggestive experience together with your partner for a romantic dinner or if you are a lover of news, then you absolutely cannot miss the Dinner in the Sky. Defined by the US magazine Forbes as the most unusual and particular restaurant in the world, will allow you to eat your meal at 50 meters in height.
This is a special restaurant built with chairs connected to a table of 5 tons and held up by a crane with 16 steel cables. The maximum capacity for the table is 22 people.
The restaurant will deliver brunch, aperitif, lunch and dinner and the menu will be edited by Luciano Vigliotti, a young chef from Samnium Resort Et Suites.
The prices of Dinner in the Sky
here are the Costi for brunch, aperitif, lunch and dinner from Dinner in the Sky in Benevento:
Brunch: 89 euros for a duration of 45 minutes
Appetizer: 129 euros for a duration of 50 minutes
Lunch: 139 euros for a duration of 1 hour
Price: 159 euros for a duration of 1 hour and 15 minutes
Information Dinner in the Sky
When: 9, 10 and 11 July 2021
Where: Piazza Castello, Benevento
Image source: Cronache del Sannio