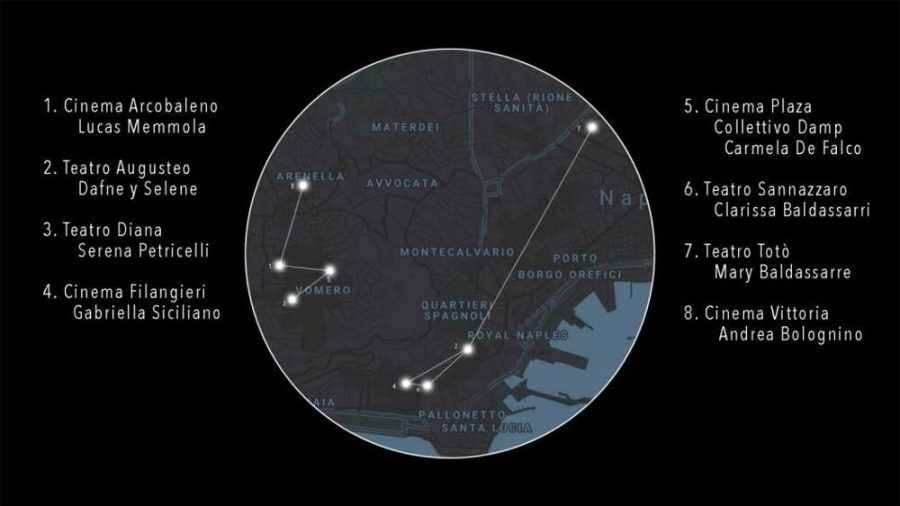 The cinemas and theaters of Naples become exhibition places: here are the exhibitions conceived by young Neapolitan artists with the Exit Strategy!
Eight between cinemas and theaters in Naples reopen to give life to a new project called Exit Strategy. It is the idea of ​​reconverting your spaces and making them become display cases for exhibitions of some Neapolitan artists: a way to give a strong response and react to the crisis that is gripping the world of entertainment.
20 from February to March 21 2021, they will be nine Neapolitan artists who will exhibit their works in the 8 cinemas and theaters of the city, in their outdoor spaces. They are some among the most talented and promising artists of Naples who take part in this project curated by Lucas Memmola, just one of them, and with the coordination of Matteo Mirra.
The works of artists in cinemas and theaters
Their works want to propose a dialogue about our present, crossed by a terrible pandemic that is also leading to the identity crisis of our society, in addition to the already known health and economic crisis.
The facades of these places, ie theaters and cinemas, to exhibit the visual works of our artists. In this way, the Exit Strategy project ensures that, despite the restrictions, artistic production does not stop and can be experienced.
In addition, they will be used even the windows of closed rooms, which in themselves are excellent exhibition places.
All the works can be admired 24 hours on 24, without limitations and for free.
The exhibitions and the artists involved
Lucas Memmola (Bari, 1994) - Rainbow Cinema - via Consalvo Carelli, 13
Dafne y Selene (Naples, 1993) - Augusteo Theater - piazzetta Duca d'Aosta, 263
Serena Petricelli (Naples, 1989) - Diana Theater - via Luca Giordano, 64
Gabriella Siciliano (Naples, 1990) - Filangieri Cinema - via Gaetano Filangieri, 43
Collective DAMP and Carmela De Falco (Avellino, 1994) - Cinema Plaza - via Michele Kerbaker, 85
Clarissa Baldassarri (Civitanova Marche, 1994) - Sannazzaro Theater - via Chiaia, 157
Mary Baldassarre (Avellino, 1993) - Totò Theater - via Frediano Cavara, 12
Andrea Bolognino (Naples, 1991) - Cinema Vittoria - via Maurizio De Vitto Piscicelli, 8/12
Information on the Exit Strategy
When: from the 20 February to the 21 March 2021
Where: cinemas and theaters of Naples (see the article)
Hours: 24 hours a day
Price: free