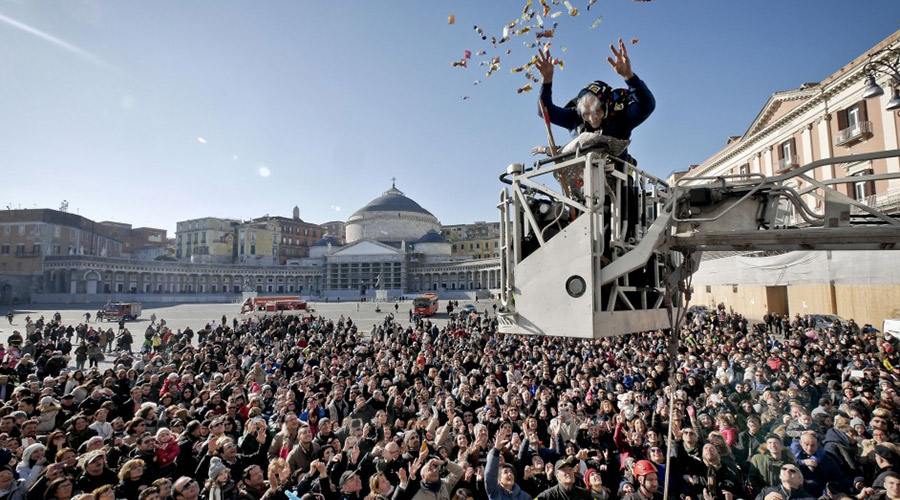 La Befana arrives in Piazza Plebiscito in Naples for Epiphany 2020 coming down from above with lots of candies! There will also be free pizzas!
Monday January 6 2020 the traditional appointment with the Befana festival in Piazza el Plebiscito in Naples where all the children will be happy to meet the old woman who will give them many sweets.
As usual, it will take place all morning and the path "Pompieropoli" by the Fire Brigade who, with their own special vehicles, will educate those present to safety, together with a playful-educational path on safety road with the voluntary association "Asso is ..."
The arrival of the Befana from above
Of course there will be the descent from the top of the Befana who will throw candy to all children and to all the others present in the square, for the collective joy of citizens and tourists. It will do it to the rhythm of tammorra music of the Paranza groups of Romeo Barbaro and the Guarracini Salvatore Totaro and Erna Muto.
The mayor Luigi de Magistris will also be present.
Free pizzas
During the morning many will also be distributed free pizzas offered to children thanks to the pizza maker Vincenzo Varlese.
Information on the Befana Festival
When: 6 January 2020
Where: Piazza del Plebiscito
Time: from the 10.30 13.30
Price: free