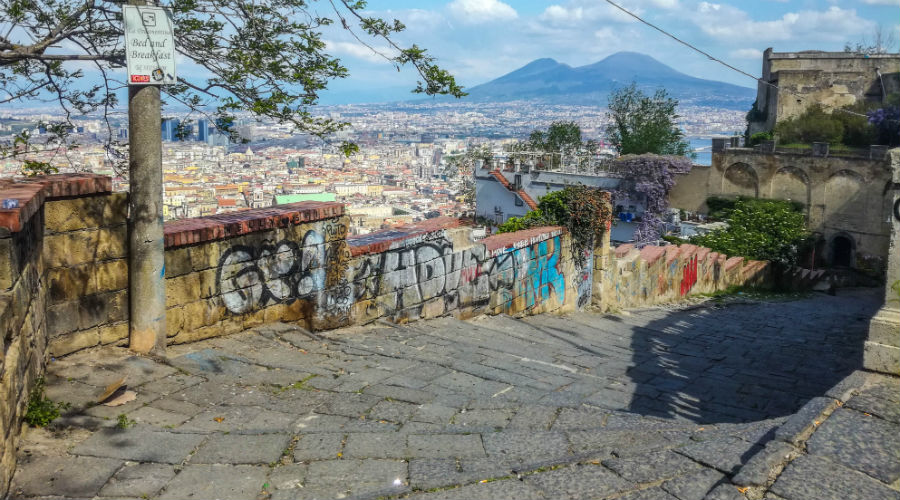 Seventh edition of the Naples Stairs Festival 2018: scheduled urban trekking, music, walks and meetings along the stairs of Naples.
From Saturday 8 to Sunday 30 December 2018 the appointment with the Naples Stairs Festival, now in its seventh edition, to promote the historic stairs of Naples.
An event organized by the Coordination for the Recovery of Stairs in Naples and that arises from the meeting with the Center of Popular Culture, thanks to the collaboration between the Department of the Environment and the Department of Tourism and Culture of the Municipality of Naples.
The program of events is really rich and provides for the 22 days of December urban trekking, walks to visit the 200 natural pedestrian paths of the city of which 135 scales and 69 steps, music and lots of fun for everyone.
Here are some of the main events.
2018 Festival of Scales program in Naples
Musical scales
8 December - 16 hours: 00
GRADINI FRANCESCO D'ANDREA (Via Filangieri)
Song Theater - "The lovers of the stairs ...
a tribute to Peynet "
with "I Gatos do mar"
directed by Guido Liotti and Anita Pavone
9 December - 16 hours: 00
GRADINI FRANCESCO D'AQUINO
(Via Partenope)
The colors of sound - "SaxArt"
with the sounds of Gaemaria Palumbo e
the colors of Arteinscala
10 December - 17 hours: 00
SANTA MARIA APPARENT SCALE
(adjacent to the church of the same name)
Café Chantant - "La sciantosa"
with Anna Landinetti and Franco Gaetano
directed by Gege Monica
Royal Stairs
9 December
SCALE PIAZZI AND DEL MOIARIELLO
The stairs of the Gentile Hill.
11: 00 ex Caserma Garibaldi in via Foria
349.4597997
15 December
SCALE DEL PETRAIO
The Stairs tell Naples: from the Hill to the Sea.
From Petraio to Piazza del Plebiscito to tell the vertical city between seductive landscapes and great historical-artistic presences. Guided walk by: Gabriella Guida - Neapolitan Cultural Heritage Association
10: 30 Piazza Fuga (Central Funicular), 335.8236123
16 December
NICCOLINI SCALE
AT THE ROUND OF CAPODIMONTE
Musical Walk to Capodimonte.
Walk through the area with the "Popolo Vascio" band. Guided walk by:
Maria Settembre - Cittadinanzattiva Campania 10: 15 Porta Piccola Capodimonte (Bar "Varriale") 329.4310601
Information on the Festival delle Scale
Where: various historical stairs of Naples of Naples
When: from 8 to 30 December 2018, various appointments
Timetable: starting from 10: 15
Prezzi:
[Votes: 0 Media Rating: 0 / 5]