Francesco Facchinetti is the son of Pooh's keyboard player, Roby. Since he entered the entertainment world we have seen him more News including singer, DJ, host and manager. His success starts from smash in the summer of 2003 entitled "The captain's song" and since then his career has always been downhill. Also known for his sympathy was the focus of interest, especially a few years ago. Let's get to know it more closely.
Origins and family of Francesco Facchinetti
Francesco Facchinetti was born on 2 May 1980 in Milan and is the son of the keyboardist of Pooh, Roby Facchinetti and Rosaria Longoni. Francis lives for some time in Mariano Comense with his mother. When he was only 3 years old he was diagnosed with a bad one dyslexia with all the related consequences, such as the difficulty of writing and reading. As he himself told in those years, they did not know exactly how to treat this disorder and for the parents it was not at all simple.
In 1989, during the Christmas period, the mother decides to abandon the family to retire in prayer and assist drug addicts, the sick and the disadvantaged. As a child, Francesco is a lot complicated and is expelled from several schools he attended. He then decides to enroll in the classical high school where he will be postponed already to the first year. At 15 he decides to abandon this path to try to graduate from high school and in the meantime he starts working as a deejay.
This time too, however, he will not be able to graduate and in order to obtain a title, he falls back on school as a surveyor.
The relationship with his father Roby Facchinetti
Be a family tradition it doesn't have to be simple at all for various reasons. Francesco Facchinetti has never had a problem telling what the relationship with his father Roby, especially during the most critical moments, namely childhood and adolescence.
For the keyboardist as well as being his work, music has always represented his life and consequently always had short while to devote to everything else. So Francesco grows up too quickly and above all without the support of a father. So when he was young he lived his parent's career as one total absence, but over the years, they have come closer and closer to share great television experiences.
Francesco Facchinetti's career as a singer
La career by Francesco Facchinetti was incredible, starting from scratch unlike what one might think. In fact, although he is a son of art, he is rolled up my sleeves and he has created his own space in this fascinating and complex world. Let's retrace his career from its origins.
The first years as Dj Francesco
His career as Dj Francesco was born in 2003 when Claudio Cecchetto together with Alberto Rapetti and Davide Palmieri noticed it. The three, listening to the theme song of a broadcast, decide to ask Francesco to transform it into a sang and this is how "The Captain's Song" was born. The song is the first single by Facchinetti becoming the hit of the summer 2003.
In 2004 he decided to participate in the Festival of Sanremo, at that time conducted by Simona Ventura, and in the same year "Bella di pan", her first album, was released. On Valentine's Day she has the honor of duet with Luciano Pavarotti and in that summer his tour touches 60 dates. In 2005 she returns to the Festival with the song "Francesca" and her second album is released in April.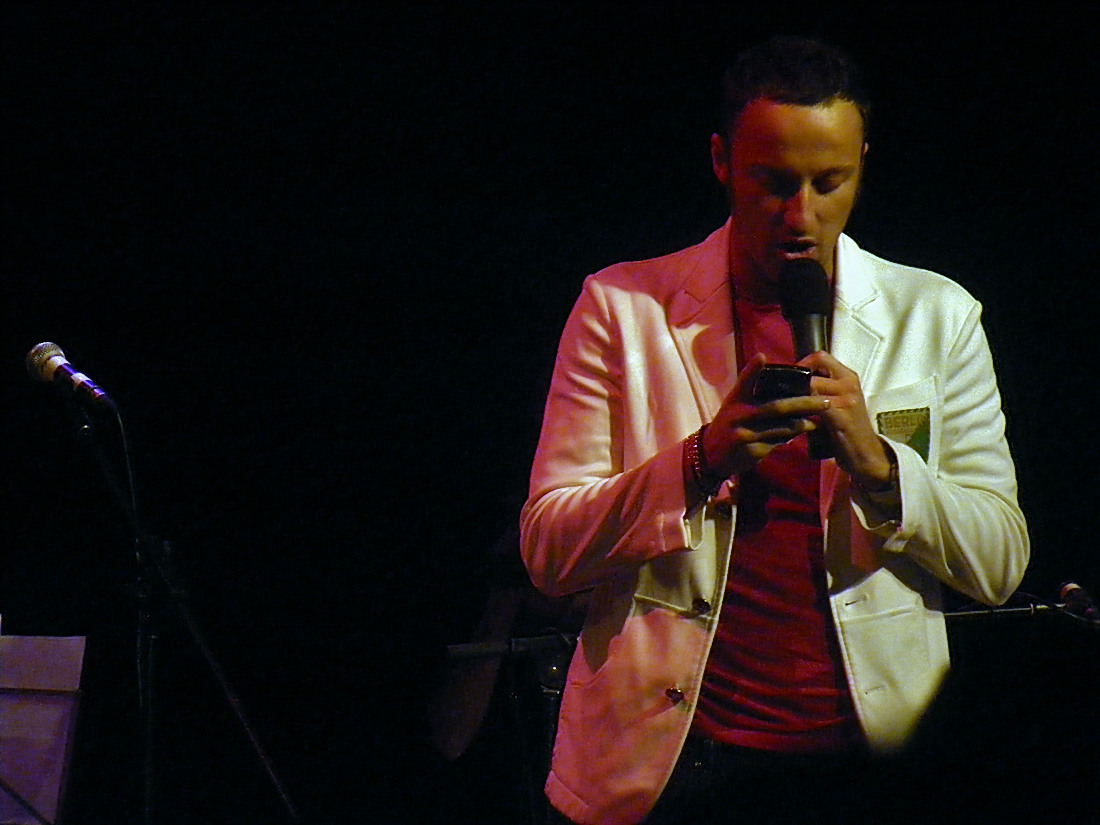 The abandonment to Dj Francesco and the birth of the trio Dance
In 2012, after having left the producer Claudio Cecchetto, Francesco creates a trio together with Manuel Bella and Paolo Paone. In this dance group Francesco calls himself Oz in which the music will be mainly electronic and house with pop influences. The group was born bringing back to origins Francesco Facchinetti, therefore as deejay, and will perform mainly in the discotheques.
Experiences as a conductor
After his career as a singer, Francesco Facchinetti appears on the small screen as conduttore and in 2007 he leads the "Venice Music Awards" and in the autumn of the same year he is chosen as sent of "The Island of the Famous".
For four editions he leads the talent show "XFactor". Francesco Facchinetti is not satisfied with television and also becomes a radio mainly on RTL 102.5. In 2015 he was chosen to fill the role of coach in the program "The Voice of Italy", broadcast on Rai2.
In April 2020 we find him at the helm of "The Facchinettis", broadcast on Real Time, in which said his past and that of his family.
The company, the career as an entrepreneur and the fraud allegations
Francesco Facchinetti, in addition to being a successful singer and conductor, has become a very successful one entrepreneur of success.
He has in fact founded several company including Bitsugar, Goonies and NewCo.
As far as we know it owns rate in more than twenty open companies around the world. His . estimated to be around 50 million euros.
In 2005 he ranks as the XNUMX-year-old plus ricco of the two provinces of Brianza and Monza.
The problems with Stonex One
In 2014 Stonex One had to revolutionize the smartphone market according to the manufacturers, a top of the range smartphone totally made in Italy.
The disappointment came soon: negative reviews on the camera, autonomy and numerous software bugs left many very disappointed. The exit from the group of Vanni Casari, the lead developer, decreed the end of the project.
In fact, the problems, according to Facchinetti in a 2020 live, mainly arose from the choice of Amoi as a supplier, which failed, leaving them without assistance or spare parts.
There were many criticisms and some were very critical of Facchinetti, but no lawsuit ever followed.
The cryptocurrency Catge and the inexorable collapse
On the wave of the most sought-after cryptocurrencies such as DogeCoin, Facchinetti promoted, together with other Italian influencers, the crypto "Catge" which had a ... cat as its logo.
The coin eventually resulted in a more classic "shitcoin", one of the many cryptocurrencies that didn't make it by plummeting miserably in value with -80% overnight.
This time the rumors were much more heated, there were many talking about scams, but absolutely not directly against Facchinetti.
In fact, what happened is that owners of large Catge wallets emptied them overnight, leading to a collapse in the price of the coin the next morning.
Francesco Il Talent Scout and the management agency
Francesco Facchinetti enjoys a career which, probably, few believed. Not everyone knows she has discovered numerous talents who in a very short time entered the world of entertainment.
Thanks to his management agency, Francesco is considered one of the best managers and talent scouts in our country. Newco is the name of his company and among more names known discovered by him we find Frank Matano, Fedez, Selvaggia Lucarelli, Giulia de Lellis and many others.
How much money does Francesco Facchinetti have with his businesses
Francesco Facchinetti for a long time was in the spotlight of the small screen and behind the radio microphones, but his success at the level economic has it thanks to company opened and managed by him.
Newco was founded by him and Niccolò Vecchiotti in 2014 and supplies consulting professional and represents many well-known faces in the entertainment world.
Already in 2017 the turnover was of around 3 million euros and has exceeded the 7 million only two years later. It is estimated that his . total wandering around around 50 million euros.
The private life of Francesco Facchinetti
of vita privata by Francesco Facchinetti there is not much information, as it has always been confidential. We do know though that he has had some relations important such as the one with Aida Yespica, Alessia Marcuzzi and the current wife Wilma Helena Faissol. Let's find out more in detail.
The relationship with Alessia Marcuzzi
Francesco Facchinetti and Alessia Marcozzi they met by chance in Ibiza, when he went to visit friends and she was there on vacation. For them it was Love at first sight, but hardly anyone believed it could last. Still, their romance lasted more than ten years. From their love a splendid one was born child called Mia, but only two months after her baptism the couple broke out. It seems to put the word out end was the host.
Marriage with Wilma Faissol
December 11, 2014 was a very long day special for Francesco Facchinetti who has married Wilma Helena Faissol. The couple met by chance during one holiday in Marrakech and between the two there was an immediate love at first sight. The wedding took place in great secrecy in 2014 and the following year they organized a bigger one. Wilma and Francesco had the two children, Lavinia and Leone, but they both have other children with previous companions.
Francesco Facchinetti is a lot active on social media, especially on Instagram and Twitter. On the former it boasts more than a million of followers in which he loves to post moments of both his private and working life. On the second, however, we overcome 1.2 million of users who follow it daily.
Are you looking for something in particular?