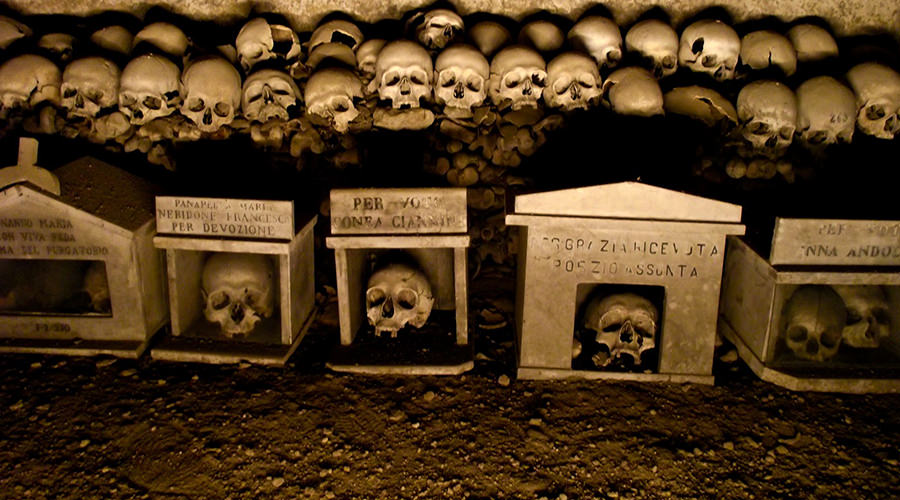 At the Cemetery of the Fountains in Naples there is a free guided tour to discover the capuzzelle, the pezzentelle souls and the legends of the place.
Update: reservations are sold out.
***
Saturday October 20 2018 there will be one free guided tour al Cemetery of the Fontanelle a Naples thanks to the organization of two historical associations in the area: "IRIS Fontanelle" and "I Care Fontanelle". These two associations offer a free visit a month so as to let citizens and tourists discover one historical and very suggestive place of the city.
You will know the legends that hide behind many of the capuzzelle present in the Fontanelle Cemetery, but also stories e devotions of the people who, with his rites, created traditions and superstitions. Among these, the most famous is the rite of the pezzentelle souls which provided for the adoption of a skull by a member of the people to receive protection in return. To each skull corresponded an abandoned soul (the so-called capuzzella) that needed, in fact, to be adopted and looked after.
The free guided tour will be a walk to discover these large spaces dug into the tuff and in which thousands of skulls and bones pile up, preserved in the three large galleries.
La reservation is mandatory specifying, to the contacts indicated at the end of the article, name, surname, number of participants and emails.
Information on the visit to the Fontanelle Cemetery
When: 20 October 2018
Where: Fontanelle Cemetery, Via Fontanelle 80
Price: free
Timetable: appointment at 10.30 in front of the Church of the cemetery (church of Maria Santissima del Carmine)
Booking: with SMS or WhatsApp to the 3401230846 number specifying name, surname, number of participants and mail. Or send an email to info@irisfontanelle.it, with the same data. Wait for the booking confirmation.
[Votes: 0 Media Rating: 0 / 5]