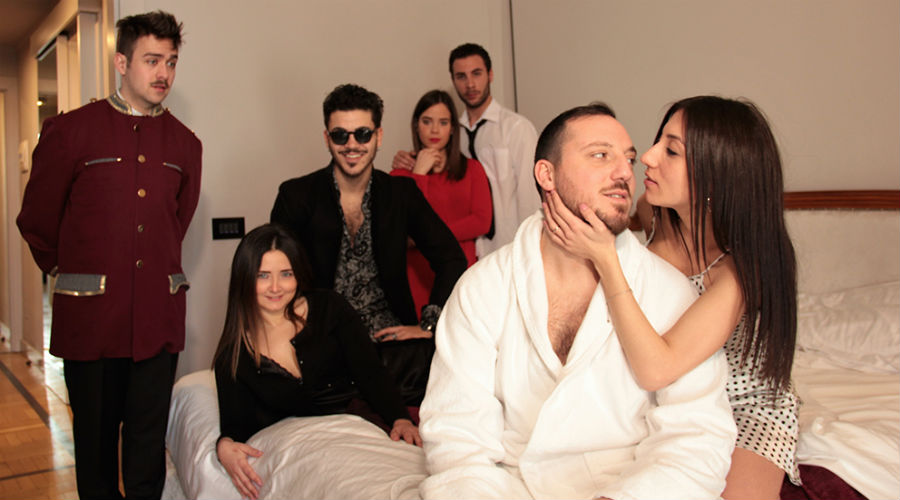 At the Grand Hotel Parker's back "Do Not Disturb", the theater in the hotel with three new theater rooms dedicated to love for Valentine's Day.
From the 14 16 2019 February, on the occasion of Valentine's Day, come back "Do Not Disturb", the now successful theatrical format, conceived by Mario Gelardi and presented by the Nuovo Teatro Sanità, which transforms hotel rooms into original theatrical stages.
To frame this special edition of "Do Not Disturb - Valentine's Day", will once again be the Grand Hotel Parker's, the historic Neapolitan hotel located in Corso Vittorio Emanuele, where in three of its rooms three love stories will be staged designed ad hoc for Valentine's day and reserved for a limited number of spectators.
Do Not Disturb - Valentine's Day, three love stories in three hotel rooms
The three love stories will revolve around the dramaturgical pretext of a marriage to celebrate that binds the characters of the three theatrical moments. Each episode, lasting twenty minutes, will make visible what usually happens only behind closed doors. Indeed maximum twenty spectators can attend that, like intruders, they will have the sensation of spying on the characters before they leave their rooms, penetrating their intimacy without being seen.
The leitmotif of theatrical rooms will, of course, be love, represented in different forms and situations but always through a brief affair that will see as a protagonist a couple of lovers.
The theme of the first episode "A special day" it is romantic love. Claudia and Marco retrace their relationship with their minds, from the first appointment to the daily routine that they have long shared. It is clear that soon this happy couple is about to take an important step, a choice that could, however, reserve a twist.
The passion, however, is the true protagonist of the second episode "Dancing in the room". Here prose gives way to contemporary dance, with the bodies of two actors who attract and repel each other, describing a parable of life that condenses into an intense erotic encounter.
In the last theater room, "Switch", evoke the atmosphere of the American comedy of the years' 90: two perfect strangers, meet by chance and decide to spend a night of love together. When they wake up for her it will be only the adventure of one night, while for him something more, in a real reversal of roles. In this last episode the public will play a decisive role in the determination of a surprise ending, variable according to the indications of the spectators throughout history.
Informazioni su Do not disturb - Valentine's day
When:
Thursday 14 February, 19.30 and 20.30
Friday 15 February, 20.30 hours
Saturday 16 February, 18.00 and 20.30
Where: Grand Hotel Parker's, corso Vittorio Emanuele 135, Naples
Price tickets:
Full price: € 15
Reduced (under 25 and over 65): 12 euro
Info and reservations: 3396666426
[Votes: 1 Media Rating: 5 / 5]