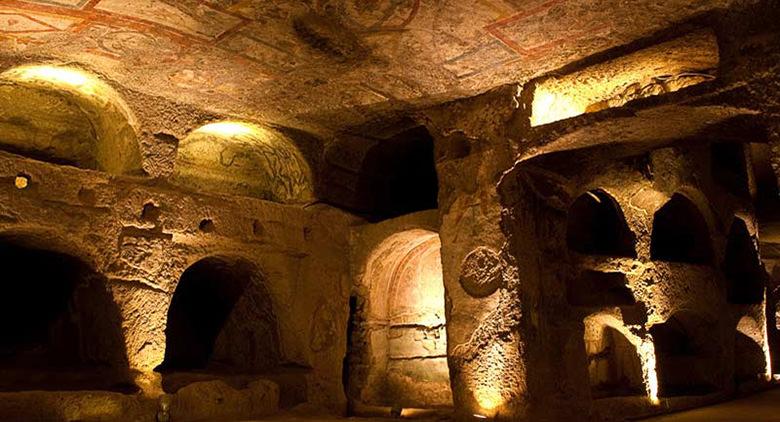 The catacombs
Le Catacombs of San Gennaro they are cemetery areas dating back to the 2nd century AD located in the subsoil of Naples, in correspondence with the Sanità district. It is a unique place to get to know the Christianity of the Neapolitan people through the ancient tombs of the first Neapolitan Christians and the bishops of the city.
The area of ​​the catacombs extends over 5600 square meters dug into the tuff of the Capodimonte hill and welcomes about 3000 burials.
The first nucleus of the Catacombs consists of the sepulcher of a noble family that later donated the spaces to the Christian community. From this first level a lower one was obtained but not superimposed where it was made the sepulcher of Sant'Agrippino, VI bishop of Naples and first patron of the city. In this vestibule dug into the tufa, in the Ipogea Basilica of Sant'Agrippino, mass is still celebrated.
In the upper catacomb it originated from an ancient sepulcher, dating back to the III century AD, which preserves some of the early Christian paintings of southern Italy. It began to expand when in the fifth century the translation of the San Gennaro's remains, patron of Naples. This catacomb, given the presence of the martyr, already became a place of pilgrimage and a cemetery for burial.
After the tomb of San Gennaro the Crypt of the Bishops, where the bishops of the city and the majestic were buried Basilica Adjecta, an underground basilica with three naves.
In addition to the burials of common bishops and deceased, the Catacombs of San Gennaro include a pictorial-mosaic heritage from the inestimable value as Byzantine paintings of the IX-X century AD and valuable mosaics of the V century.
The neighbors are also noteworthy Catacombs of San Gaudioso.
Information on the catacombs of San Gennaro
Opening time
From Monday to Saturday from 10: 00 to 17: 00
Sundays and holidays from 10: 00 to 13: 00
Departure guided tours every hour
For disabled, 25 December and 1 January by reservation
Evening visits too
price tickets
Full 9,00 €
Under 18 5,00 €
Students / Over 65 / Law Enforcement 6,00 €
Under 6 Free
Unlike Skilled Free and Accompanying 6,00 €
Groups (min 20 participants) from 6,00 €
Schools from 4,00 €
The admission ticket for the Catacombs of San Gennaro can also be used to visit the Catacombs of San Gaudioso within 12 months.
Address
Via Tondo di Capodimonte 13, 80136 Naples, Italy
The entrance is adjacent to the Basilica of the Good Council, Via Capodimonte 13
How to reach us
By bus
From National Museum: 168, 178, C63, R4 lines. Get off at the Basilica Incoronata - Catacombe San Gennaro stop
By car
Exit of the Naples Capodimonte ring road.
Turn right into via Capodimonte. The Basilica is on the right after 200 meters.
There is free parking.
By subway
Line Museum Station 1, take one of the bus lines: 168, 178, C63, R4. Get off at the Basilica Incoronata - Catacombe San Gennaro stop
Cavour station 2 line, arrive at the National Museum on foot and take one of the bus lines: 168, 178, C63, R4. Get off at the Basilica Incoronata - Catacombe San Gennaro stop
Contacts
Cell: +081 744 37 14 XNUMX.
Email: prenotazioni@catacombedinapoli.it