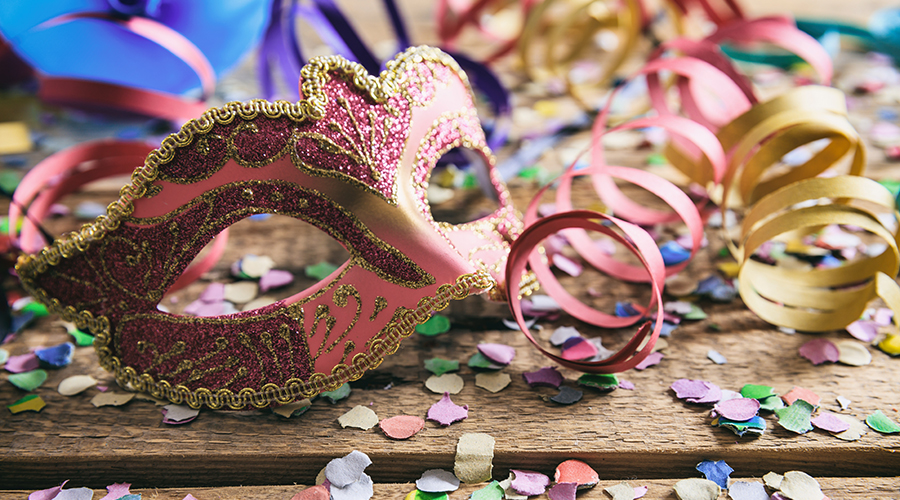 At Tenuta Astroni in Naples a great Carnival party with masks, music, shows and entertainment for children!
If you want to spend a fantastic Carnival in Naples, you can't miss the costume party which will be organized by Estate Astroni il February 22 2020, with events for both adults and children.
It will be an unforgettable day full of divertissement, music, confetti, cotillion and many themed masks for all tastes. Everyone is invited to show up in a mask or with a carnival accessory, such as a wig.
Recall that the reservation is mandatory.
The Carnival party between colors and music
It will start in the early evening and then continue until late at night with a great animated party, Coloured and full of life, music, confetti and carnival masks. There will not be a boring minute and every moment will be filled with joy and many activities and there will be an excellent self-service dinner with typical festive dishes.
Carnival dinner for adults and children
Below, you can consult the menus for adults and children.
Adult menu, self service
Mixed Italian Fried
Baked Lasagna
Chiacchiere and Sanguinaccio
A 33cl drink (Coca-Cola, Fanta, White or Red Wine, Mineral Water)
Children's menu, self service
Zeppoline and French Fries
Slice of Tomato Pizza
A 33 cl drink (Coca-Cola, Fanta, mineral water)
Brazilian themed show, DJ and award ceremony
The evening program includes not only the beautiful masked party, but also the prize-giving for the best costume among all present.
Furthermore, there will be the Dj Andrea Vocaturo at the console to offer music Carnivale Revival, and finally the Brasilian Show. A pair of talented Brazilians will involve the public in the room with many funny moments, of joy and accompanying music.
Animation and games for children
The little ones will have an area reserved for them in which to have fun with theanimation organized by Tenuta Astroni. Area, indoor and heated, will be set up with many inflatable games for all children.
Each child will receive one portion of popcorn and one will also be organized nice parade Carnival with the final prize-giving for the best costume.
Information on the Carnival Party
Where: Tenuta Astroni,
Via Sartania 49 - 80126 Naples
When: 22 February 2020
Timetable: 19.30
Prezzi:
adult menu 20 euros per person
children's menu 15 euros per child
Contact and booking: 0817266156 - 3313104964 | info@tenutastroni.it | Official site