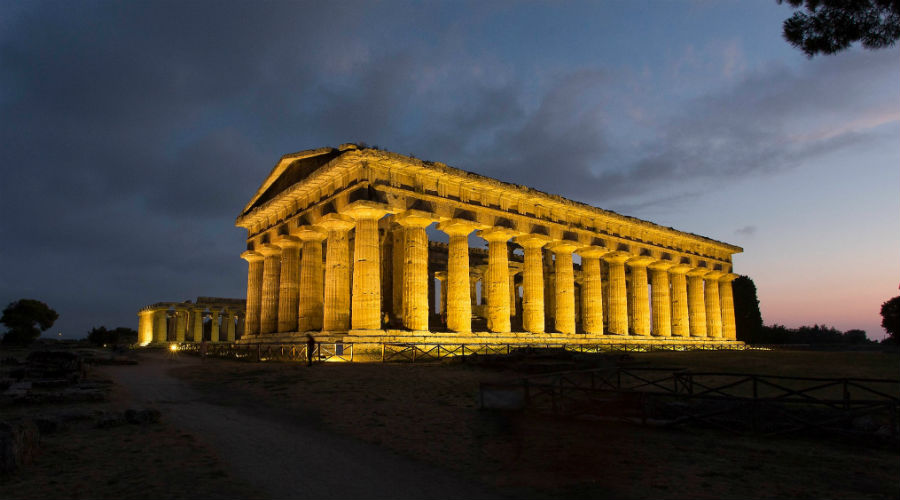 Among the Temples of Paestum concerts at night for the first edition of the Music Art Project!
Since 26 July at the 7 September 2019 the first edition of the MAPP-Music Art Project will be held in the magical and evocative atmosphere of the archaeological park of Paestum, in Salerno.
The exhibition organized by the Archaeological Park of Paestum together with the Cultural Association Amici di Paestum, in collaboration with Ariadimusica, foresees interesting Night concerts during the weekends, the ticket for which will be included in the one for night access to the archaeological area and for the event "Looking at the stars of the Greeks " will be alone 5 €.
Music, art and architecture will therefore be the protagonists of these evenings, and it will be an unmissable opportunity for you to let yourself be carried away by the music in one of the most suggestive places of Campania, or that of the Temples of Paestum.
Concert program
Friday July 26 - 21 hours: 00
Anna Elena Masini, soprano
Silvia Raia, flute
Antonio Maria Pergolizzi, piano
Saturday August 3 - 21 hours: 00
Himari Sugiura, piano
Saturday August 24 - 21 hours: 00
Giordano Fiorini, piano
Mario Filippo Calvelli, violin
Friday August 30 - 21 hours: 00
AER WIND QUINTET
Salvatore Terracciano, flute
Emanuela Signorato, oboe
Paolo Tomasello, clarinet
Andrea D'Aprano, bundle
Nicola Scarongella, horn
with the participation of Maestro Massimo Spada, piano
Saturday August 31 - 21 hours: 00
REVIEW PROCESS TO HISTORY - Process to democracy: Pericles, Cleone, Le Arginuse
Saturday September 7 - 18 hours: 00 inside the cd. Basilica
Pietro Tessarin, author of
THE MYTH AND THE SACRED IN RICHARD WAGNER
Sacrifice and redemption in the total art work - Zecchini Editore
presents Marcello Nardis.
Event information
When: Friday and Saturday from 26 July to 7 September
Where: Paestum Archaeological Park
Timetable: from 18: 00
Price: Entrance ticket to the archaeological area (starting from 19.00) full € 5,00 - reduced € 2,00 (from 18 to 25 years). The initiatives are included in the Park admission ticket, in the annual Paestum Mia ticket and in the card Adopt a Block
[Votes: 2 Media Rating: 3 / 5]