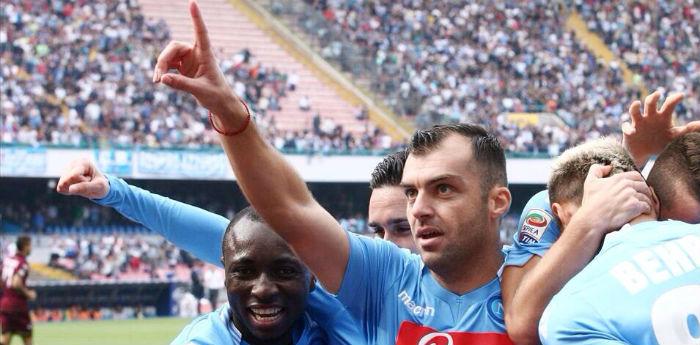 Napoli-Livorno decided by the blues with four sjutsons: team insensitive to the absences of Higuain, Albiol, May and Zuniga?
After the defeat this week against Arsenal, the Naples he was called to give demonstration on the field to have reacted. All this happened thanks to a great performance of the Benitez boys, pushed as usual by a always warm San Paolo, even against less noble teams.
The victory allows the club to maintain the pace of Rome and to grab second place. It is surprising how this Napoli has found the right harmony and precise geometries despite the illustrious absence of Higuain. The substitutes seemed to rise to the occasion. Pandev has unleashed a great performance, giving continuity after the double with Genoa, Mertens it seemed like a real crazy sliver, always unpredictable and alive in the game, just like Callejon.
Even the defense proved to be very safe, despite the lack of the very successful Albiol, Maggio and Zuniga, a symptom of maturity. Unique in the shade Hamsik, to which, however, a flicker is enough to write your name in the marker table.
Now all that remains is to wait for the super challenge of the next day Roma-Napoli, which will surely give spectacle and great emotions, an unexpected summit challenge between the representatives of the South and Center of Italy, scheduled for Friday 18 October at 20.45 pm.
Are you looking for something in particular?