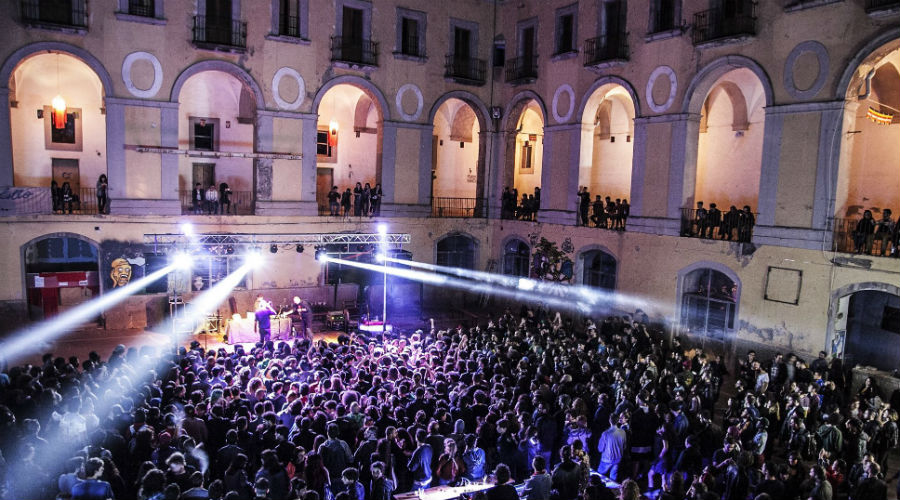 Here comes the NaDir 2018, Naples Opposite Direction Festival, the five-day event with independent music concerts and social gatherings.
From Wednesday 18 to Sunday 22 July 2018 the activities linked to NaDir, ie the Napoli Direzione Opposta Festival, will take place for five days, an event dedicated to music and social dialogue that will be held this year Soccavo Multipurpose Center.
The NaDir is a completely self-financed festival that arises from the desire to create an opportunity for reflection not only musical but cultural at 360 °: this year in fact the first two days of the festival will be entirely dedicated to meetings, debates, presentations, Assembly e exhibitions all free admission.
The remaining three days of the Festival will be dedicated to independent music, bell and national. For now, the names of only some of the participating bands and musicians have been revealed, including: Sula Ventrebianco, Fitness Forever, Soviet Soviets, La Famiglia and Enzo Gragnaniello.
The complete line up will soon be revealed, while we suggest you follow the tag #elealtrestelle the games offered by the facebook page of the festival to win a free entry!
2018 NaDir program
18 July
21 Hours: Open-air cinema: Grand Budapest Hotel by Wes Anderson. Following: popular and tammurriate music.
Free entry
19 July
from the morning: games and activities for children and girls with the Strummolo - Carnevale Centro Storico network, the Mammutbus of the Mammut Naples Territorial Center. Following: music.
Free entry
20 July
18: 00: Round table: 'Hack the city! Emerging common goods in the metropolis
Self-government, territories and social cooperation: concepts, narratives and technologies
18.30: Jam Session HipHop with battle of Rap by the Youth Space of Bagnoli
21: 00, on stage: Ultima Haine Oyoshe + PeppOh - The Family, full band live
Contribution: 8 euro up to 21 | 10 euro to follow
21 July
18: 00: Workshop: Make the city! Turistification of historical centers and abandonment of the suburbs: contents, tools and methodologies to map, narrate, propose, organize resistance and alternatives to the neoliberal city.
21: 00, on stage: Babël - Soviet Soviet - Ventrebianco Sula - A Toys Orchestra
Contribution: 8 euro up to 21 | 10 euro to follow
22 July
21: 00, on stage: Holidays - Fitness Forever - Enzo Gragnianiello - Vale Lambo
Free entry to free offer
About NaDir / Naples Destination Opposite 2018
When: from 18 to 22 July 2018
Where: Multipurpose building, Viale Adriano, Soccavo
Price:
8 euro up to 21 | 10 euros from 21 for the days of 20 and 21 July
free admission for the days of 18, 19 and 22 July
[Votes: 0 Media Rating: 0 / 5]