Everything is ready on the pitch for this second day of Napoli, still charged for the previous victory.
Will she be able to keep her mind clear and bring home another success, this time at home?
An important victory that can give the team the right boost for a strong start to the championship.
The premises, how the teams arrive at the match
After the victory againstGreece Verona for 2-5 on the first day of Serie A, Napoli back on the pitch at Diego Armando Maradona Stadium to face the Monza, newly promoted to the top Italian league. The team of Luciano Spalletti must do without the suspended Gaetano (last day) and the injured Diego Demme, which remedied a double ankle fracture in training for a fortuitous game clash with his partner Anguissa.
Different speech for the Monza, fresh from a defeat against the Torino indoors for 1-2. Stroppa's team, however, introduces itself to Napoli full.
The precedents between the two companies
Napoli e Monza they never confronted each other in A league, precisely because the Lombard club is making its debut in its history in the Italian top league. The two teams, however, have already found themselves against each other in Serie B and Coppa Italia.
The last clash dates back to January 30, 2000, in Serie B: Napoli-Monza then ended 2-2.
12 games played between Naples and Monza
4 wins for Napoli
2 wins for Monza
6 draws
Called up for Napoli
Goalkeepers
Defenders
By Lorenzo
Jesus
Kim
Mario Rui
Olive
Rrahmani
Zanoli
Midfielders
Anguissa
Elmas
Lobotka
Ndombele
Zerbin
Zielinski
Forwards
Kvaratskhelia
Lush
Osimhen
Ounas
politan
Breakers
Simeon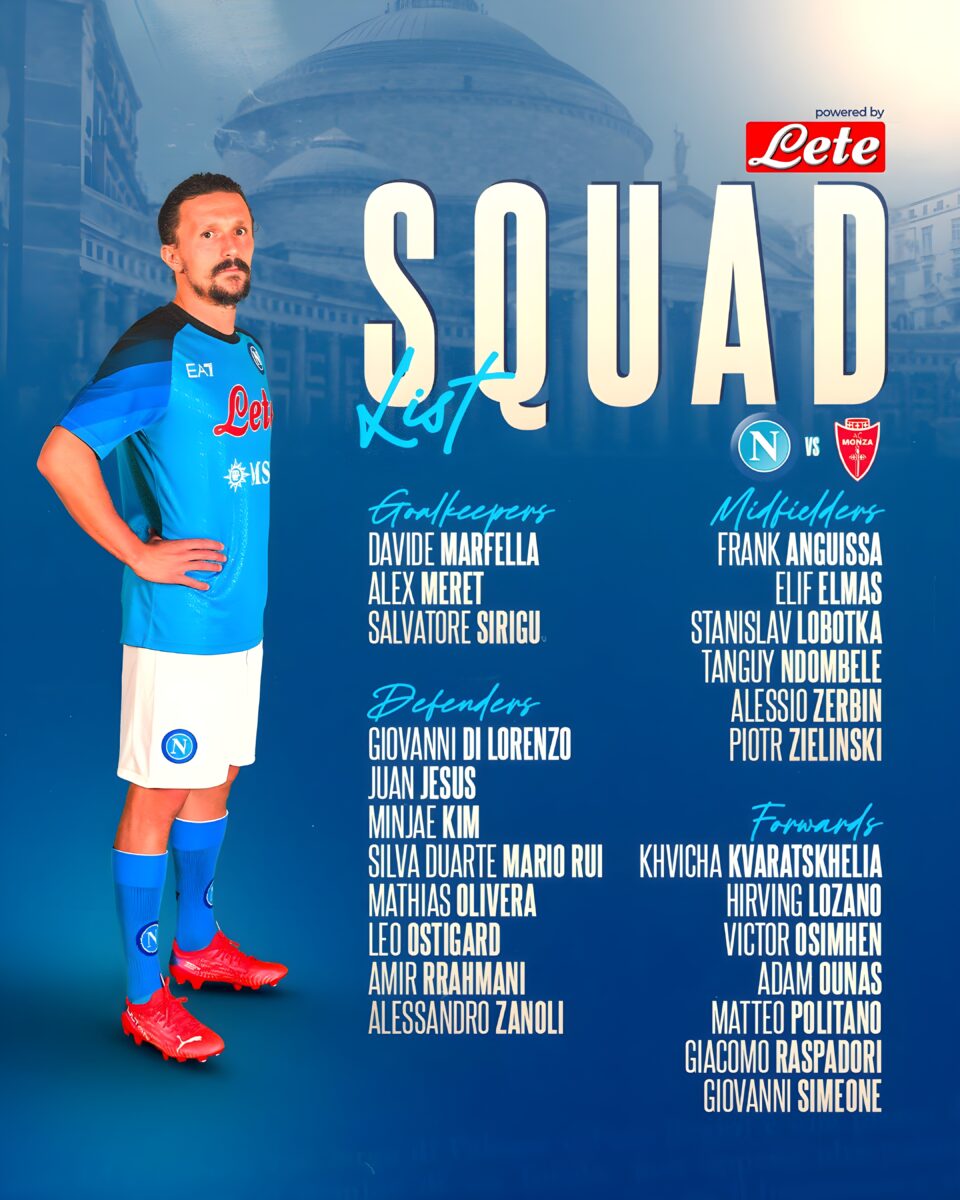 Squad of Monza
3 Pablo Marí
4 Marlon
5 Caldirola
7 Machin
8 Barberis
9 Gytkjaer
10 Valoti
12 Senses
13 A. Ranocchia
16 By Gregorio
17 Caprari
19 Birindelli
22 F. Ranocchia
26 Antov
28 Hit
32 Pessina
34 Brown
37 Petagna
38 Bondo
44 Coals
77 D'Alessandro
79 Molina
80 Vineyard
84 Ciurria
89 Cragno
91 Sorrentino
Are you looking for something in particular?