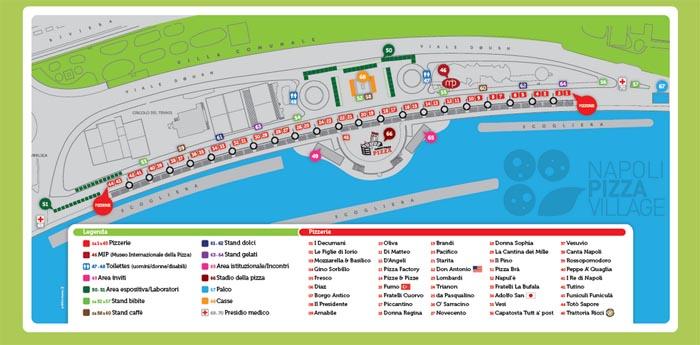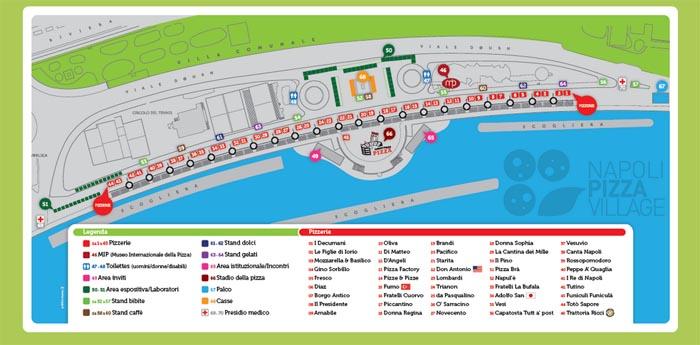 How to get there, where to park, menus for celiacs, initiatives for children: inside, these and other useful info on Naples Pizza Village 2013
Il Naples Pizza Village 2013 it will start at the beginning of September and will last about a week. Many days in which it will be possible to enter the biggest pizzeria in the world and enjoy a splendid view from the seafront of our city.
Let's see, however, how it is possible to get to the place of the event and what are all of them useful info to know.
Program events
Program
3 Settembre, 16-24 hours: Concert of classical music with the symphony orchestra of the Conservatory of San Pietro a Majella in Naples and World Championship of Pizzaiuolo (XII Caputo Trophy)
4 Settembre, 16-24 hours: Live music show with Rita Forte and Pizzaiuolo World Championship
5 September: Spectacle by Biagio Izzo with the monologue "What a sin is a sin"
6 September: Made in Sud show presented by Gigi and Ross.
7 September: Baccano Band music, swing and Neapolitan classics rearranged in a modern way.
8 September: Music with Kiss Kiss Napoli Show, presented by Gianluca Manzieri and Luca Sepe.
The shows are free and will start at 21 hours: 00.
At the fountains of avenue Dohrn there will be the International Museum of Pizza with meetings, 10 stands of creative workshops and 15 stands of crafts, in addition to the "beautiful things from the world" curated by Bidonville and the stands of the various sponsors.
Getting there and parking
Car
Who wants to get to the Pizza Village with their own car has various options. Who comes from tangential must take the Fuorigrotta exit and continue towards the center-Mergellina. Once in Piazza Sannazzaro, you must continue on Via Caracciolo, in the area open to traffic.
Who comes from Via Marina, must take the Galleria della Vittoria and head towards Piazza Vittoria. The Village will be there a few meters.
Who arrives from Corso Vittorio Emanuele must cross Piazza Amedeo and head towards Via Martucci.
Public transport
You can get to the Pizza Village with the funicular of Chiaia (P.zza Amedeo station, Margherita Park). The last race is at 0.30 on Tuesdays, Fridays, Saturdays and Sundays, while Wednesday and Thursday is at 22.00.
If you want to take the metro, the nearest stations are those of the 2 line: Mergellina and Piazza Amedeo stations.
As far as the bus, you can take advantage of the night runs of the Anm, so we advise you to consult the detailed pag of the am
Parking
For those coming from the ring road: the nearest car parks are at Viale Dohrn (behind the Villa Comunale) or at Viale Gramsci and via Giordano Bruno.
For those coming from Via Marina: you can park on the Riviera di Chiaia or at Garage Morellei, in via Domenico Morelli
For those coming from Corso Vittorio Emanuele: the nearest car parks are located at the Riviera di Chiaia and via Martucci.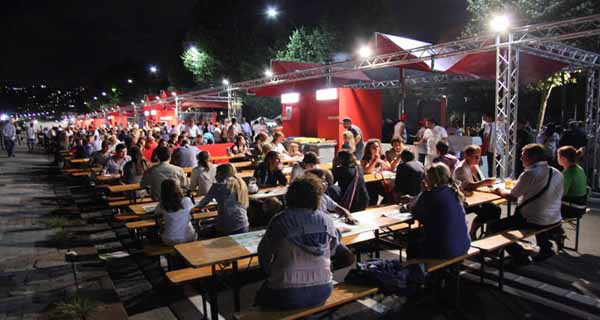 Other useful info
Within the various stands it will also be possible to order one gluten-free pizza for celiacs. The stand that offers this service is the n ° 45, the Pizzeria Trattoria Ricci, which is located at the Rotonda Diaz. Here it will be possible to compose a real gluten-free menu with gluten-free desserts.
For The smallest, from Thursday 5 to Sunday 8 for children there will be the "Little pizza-growers" workshop, where they will learn to knead, bake and taste Neapolitan pizza. In addition, the budding pizza chefs will experiment with the preparation and cooking of pizzas in specially made ovens. Naturally, they will always be followed by experts. However, it is necessary to book day by day at the pizza reception desk at the Rotonda Diaz. Children will have the Naples Pizza Village's shirt and cap as a gift. The schedules of the laboratories will not be predefined and will be held continuously.
Il complete menu costs 10 euro and includes:
margherita pizza or marinara (every pizzeria can also prepare its own specialty)
drink (water, coke or Peroni)
ice cream (Cucciolone Disc or Cucciolone Cooky) or sweet
coffee (espresso or grandfather's coffee)
Those who do not want the full menu can buy a drink or ice cream at 2 € and water, coffee and juice at 1 €.