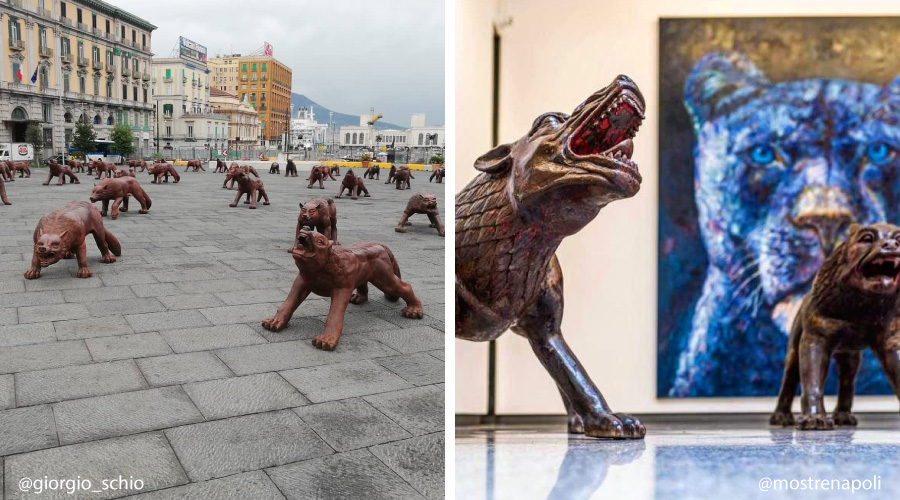 The 100 iron wolves made by the Chinese artist Liu Ruowang arrive in Piazza Municipio in Naples! Here is the great installation.
Updated: the exhibition was extended until May 31, 2020.
***
Between November 14 and the 31 March May 31, 2020 Piazza Municipio houses a giant conceptual installation by Liu Ruowang. The installation will be can be visited free of charge for all its duration and it is possible that subsequently some wolves remain in the city to celebrate the bond between the Chinese artist and the Neapolitan city.
Many years ago in Piazza del Plebiscito the so-called popped up "Capuzzelle" that baffled the Neapolitans during the Christmas period: small iron skulls surfaced from the pavement of the square that was transformed, for a long period, into an open-air version of the Camposanto delle Fontanelle. This year perhaps the city will again be pervaded by the same feeling of anxiety about the arrival of queststhe 100 wolves of iron, arrived from Germany, of almost the weight three quintals each that have been placed in Piazza del Municipio to represent a beautiful and ferocious herd.
In the intentions of the Chinese artist Liu Ruowang and the Neapolitan artist Milot, who collaborated closely with him, the gigantic installation intends to represent the dangers which threaten, from a natural and social point of view, the existence of the human race and consequently the work wants to encourage humanity to face adversity with courage and perseverance.
Information on Wolves Coming
Where: Piazza Municipio, Naples
When: from 14 November 2019 to 31 March 31 Maggio 2020
Price: Free Event