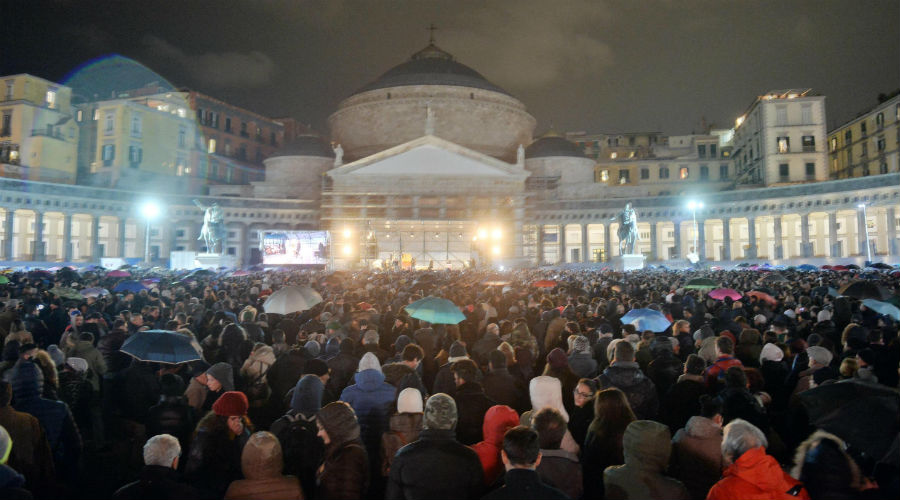 In Naples we celebrate the New Year 2019, scheduled an extraordinary concert in Piazza Plebiscito and disco on the Lungomare!
Naples is preparing to celebrate the New Year 2019 with an extraordinary concert in Piazza Plebiscito in which several important artists will perform.
In fact the first names of the singers who will perform to celebrate together the opening of the 2019, as the star dance, have been announced Amii stewart flanked by Gerardo Di Lella Dance O'rchestra The "Dance Era" (with 22 components), but still Sal Da Vinci and Neapolitan artists like Franco Ricciardi, Andrea Sannino, then again Rocco Hunt, Ivan Granatino e Ciro Limatola & The Bretella Brothers.
The evening will be opened by Patrik Rubino, Carlo Campanile, Federica Mendil and Giorgia Pedroni directly from the Camp Academy, the hub of high artistic training that gives skills to young artists. Among the young people there will be Andrea Radice, from X Factor 2017.
The conductors will be Radio Kiss Kiss, that is Max Giannini, Maria Silvia Malvone and Max Vitale. The show will be broadcast in live television on the terrestrial digital of Campania Kiss Kiss Italia TV (675 channel) and Kiss Kiss Napoli TV (674 channel)
It will not miss the fantastic nightclub on the waterfront of Naples with four stages active until dawn with music from the years '70 and' 80, Latin American, live music and animation and dance.
Finally, there will be i fireworks at the Castel dell'Ovo.
Disco stages on the Lungomare
Piazza Vittoria
Live Music:
Ivan Granatino Napule allucca
Samurai Jay
Bl4ir Paky G
Vincenzo Bless
Nicola Siciliano
Logan 5.3 - Danjlo
Largo Diaz / Viale Dohrn
Dance floor with Alex Colle and Gianpiero XP
Via Partenope
Latin - American with Gino Latino
Borgo Marinari (Piazzetta Marinari)
Revival 70 / 80 / 90 with Ivano Petagna and Marco Pesacane
Information about the event:
Where: Piazza Plebiscito and Naples Waterfront
When: 31 December 2018
Schedule:
from 21: 30 in Piazza Plebiscito
at 1: 30 fireworks at Castel dell'Ovo
from 2: 00 on the waterfront
Price: free
[Votes: 3 Media Rating: 3.7 / 5]