Among the many charitable initiatives organized in Naples as a gesture of solidarity towards Ukraine which is undergoing the invasion of Putin's Russia, there is also the one organized byPietrasanta Cultural Pole Association onlus which will be an appointment not to be missed.
We are talking about Peace concert which will take place on Thursday March 24 2022 at 20:00 at the suggestive Basilica della Pietrasanta, right in the heart of the city of Naples. Specifically, the concert will be dedicated to the population fleeing the war.
The program of the Concert for Peace in Naples
In the Basilica of Santa Maria Maggiore alla Pietrasanta, for the Peace Concert, the young Ukrainian soprano Yuliana Pylypiuk will perform with two pieces in Ukrainian and at the end of the evening there will be the performance of the 'O Sole mio set to music in 1898 in Odessa, on the Black Sea. To accompany the artist there will be the Discantus Ensemble Orchestra which will be conducted by the maestro Luigi Grima.
We remind you that it is a charity concert, therefore all the proceeds of the evening will be donated to women and children victims of war in Ukraine. In fact, the event is organized in collaboration with the Consulate General of Ukraine in Naples.
How to participate and contribute
In order to participate in the Peace Concert in Naples you can do the booking on the official website, or to the contacts indicated in the information mirror.
The minimum contribution for the event is 20 euros and you can make the donation to the following IBAN: IT46 J07110 03400 0000000 11117.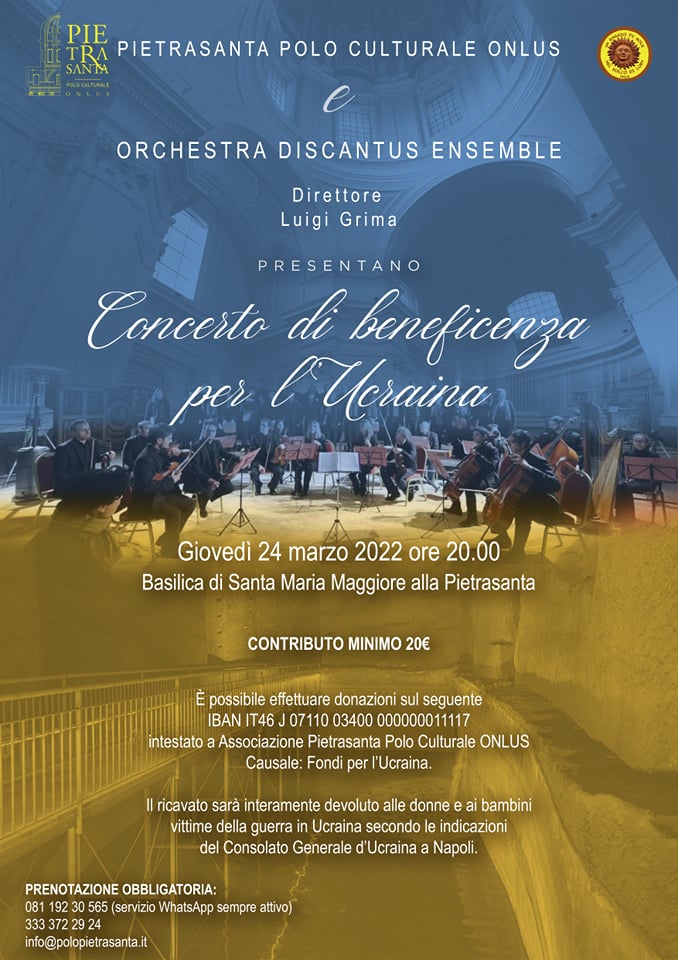 Information on the Peace Concert in Naples
When
March 24 2022
Where
Basilica of Santa Maria Maggiore at Pietrasanta
Preferred Time
20 hours: 00
Price
Minimum contribution 20 euros
Contact us
Official website | 08119230565 to 3333722924 [email protected]
Are you looking for something in particular?