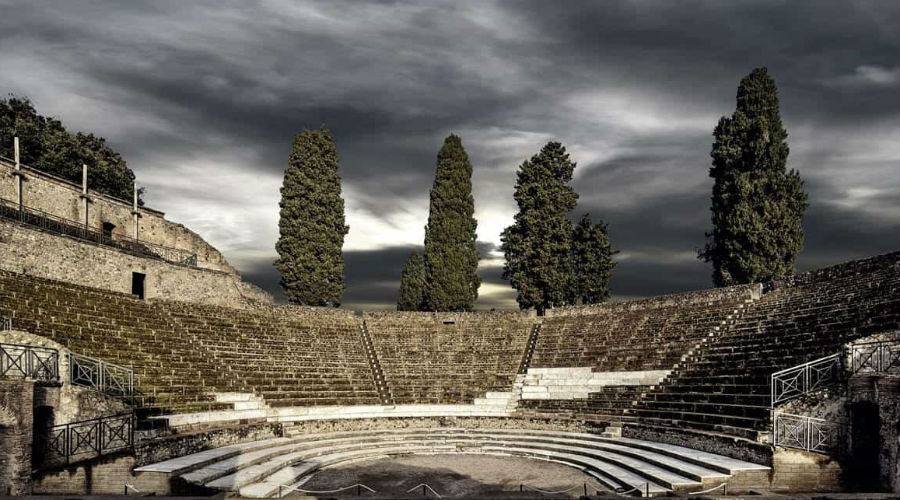 The third edition of Pompeii Theatrum Mundi, the summer drama festival with four shows, is staged at the Pompeii Grand Theater!
Back to the Great Theater of Pompeii, after the success of the previous editions, Pompeii Theatrum Mundi, the summer drama festival. The event will be held from 20 June at 13 July 2019 and is a four-year project promoted by Teatro Stabile di Napoli-National Theater and Archaeological Park of Pompei.
This year's program includes the broadcasting of four great works all in absolute first, which will allow guests to travel through the ancient theater in a fascinating and fascinating atmosphere of the excavations of Pompeii.
During the event there will also be space for the contemporary dance where the Israeli dancers of Vertigo Dance Company will offer the 11, 12 and 13 July Paradise Lost.
Program
20-22 June
The storm by William Shakespeare, in the staging of LucaDeFusco, starring Eros Pagni and Gaia Aprea.
27-29 June
Oedipus at Colonus writing by Ruggero Cappuccio from the work of Sophocles.
4-6 July
Satyricon by Francesco Piccolo inspired by Petronius
11-13 July
Paradise Lost. Leela, a creation of Vertigo Dance Company (Israel)
Event information
When: from 20 to 13 July 2019
Where: Teatro Grande di Pompei
Hours: 21 hours: 00
Price: ticket price from 15 to 30 euros
[Votes: 0 Media Rating: 0 / 5]