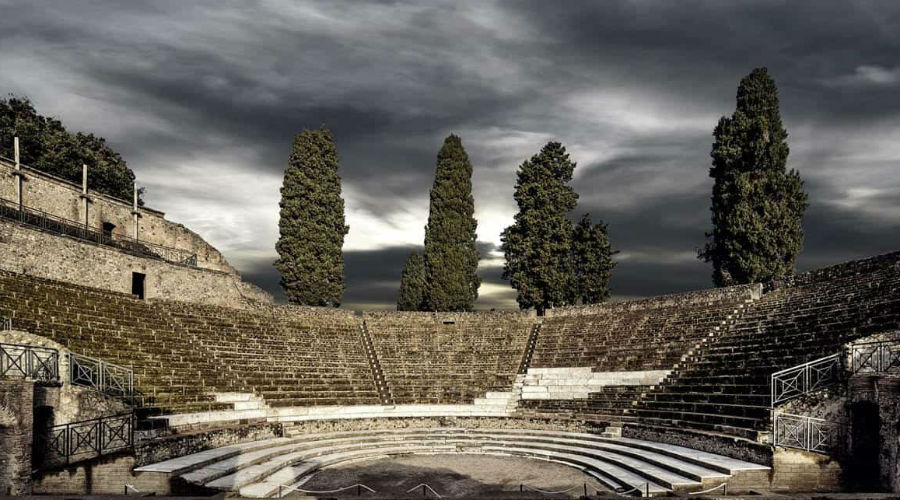 In the Teatro Grande of Pompeii a new edition of Pompeii Theatrum Mundi: great shows scheduled!
Al Great Theater of the Archaeological Park of Pompeii is renewed, from 24 June to 25 July 2021, a new and special edition of the event Pompeii Theatrum Mundi, the summer review of dramaturgy.
Like every year, the event, which is promoted by the Stable Theater of Naples-National Theater in collaboration with the Pompeii Archaeological Park, offers guests a really interesting program with five theatrical premieres, unpublished titles, adaptations and truly special rewrites.
An appointment that we advise you not to miss, for one fascinating journey in the history of the ancient theater, an experience that will be even more suggestive thanks also to the special location of the Ruins of Pompeii. Tickets will be on sale starting April 26, 2021.
The show program
June 24-26, 2021
Cassandra's Resurrexit: Sonia Bergamasco will be the protagonist of the show in the role of priestess Cassandra, the text is by Ruggero Cappuccio, concept, direction, scenography by Jan Fabre who also signs videos and lights, original music by Stef Camil Karlens.
July 1-3 2021
Purgatory, the night washes the mind: this show was made as a tribute to Dante Alighieri, 700 years after his death. A show that focuses on the song of friendship and art. Directed by Federico Tiezzi, produced by Teatro di Napoli - National Theater, Festival Theater Foundation, Pistoiese Theater Association, Lombardi-Tiezzi Company, Metastasio Theater Foundation.
July 8-10 2021
Sugar baby, the feast of the dead, a show inspired by Giambattista Basile's Lo cunto de li cunti, which tells the story of a lonely old man who invites the dead of his family to dinner. The scene takes place between one and two November. The show is curated by Emma Dante.
July 15-17 2021
Fifth season, a dramatic monologue by Franco Marcoaldi interpreted by Marco Baliani on a soundscape by Mirto Baliani and a scenic landscape signed by Mimmo Paladino.
July 23-25 2021
La Cerisaie ( the Cherry Garden), a special comedy about change by Anton Chekhov.
Information on Pompeii Theatrum mundi
When: from 24 June to 25 July 2021
Where: Teatro Grande di Pompei
Price:
Full ticket 15 euro
Reduced ticket for under 30, over 60, Feltrinelli card holders, season ticket holders of the 2019/20 season of the Naples Theater, Cral and conventions, 12 euro
University student ticket 10 euros
Theatrum Card 40 euros, to attend 4 shows or 2 as a couple
Promo Threatrum Card +, for Card 4 holders it will be possible to purchase up to a maximum of two other tickets at the reduced price of 10 euros each
Contacts: 081.5513396 - 338.2838931 from Monday to Friday from 10:00 to 18:00 | ticketetteria@teatrodinapoli.it | Official site