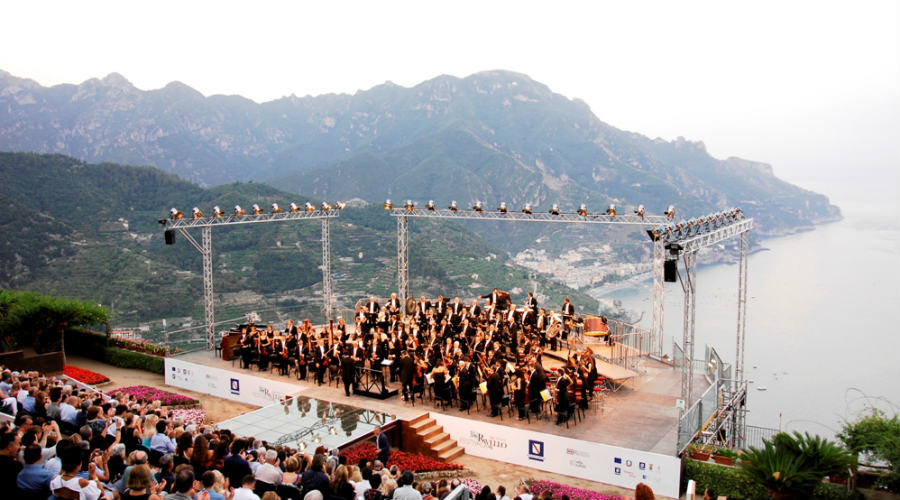 New appointment with music at the Ravello Festival 2019: in the splendid setting of the Amalfi Coast concerts and shows!
Also this year the fantastic summer appointment with music is renewed Ravello 2019 Festival, which will take place in the wonderful Amalfi Coast from 14 June to 20 October 2019.
The event now in its seventy-seventh edition will feature a vast musical program divided into two sections: "Orchestra Italia" which offers many of the best Italian symphony orchestras. In fact, the 30 June opening will be entrusted to the San Carlo Theater Orchestra with master Jueaj Valuha and will also open the 18 July concert. Instead the closing of the 31 August will be entrusted to the Scala Philharmonic Orchestra. The other section is "The best youth", which offers the big spotlight to the children of Italian conservatives
Il program is very rich divided into thirteen symphonic concerts at the Belvedere of Villa Rufolo, seven chamber music concerts "Midnight" in the Hall of the Knights of Villa Rufolo, four concerts in as many places and different hours of the day, five concerts of the Organ Festival at the Cathedral of Ravello.
Program
Click on the buttons to expand the program.
June
Friday June 14
The best youth
Hall of the Knights of Villa Rufolo, 19.00 hours
Music Conservatory 'Giuseppe Martucci' of Salerno
"Rhapsody in blue" for piano and orchestra
Entrance ticket to the villa
Saturday June 15
The best youth
Hall of the Knights of Villa Rufolo, 19.00 hours
Music Conservatory 'S. Pietro a Majella 'of Naples, admission ticket to the villa
Sunday June 16
The best youth
Gardens of the Monsignor, 11.30 hours
Music Conservatory 'S. Pietro a Majella 'of Naples
Neapolis Saxophone Ensemble
Free admission
Wednesday June 19
The best youth
Ravello Cathedral, 20.00 hours
Symphony Orchestra of the students of the Music Conservatory
Free admission
20 Thursday June
The best youth
Hall of the Knights of Villa Rufolo, 19.00 hours
Music Conservatory 'S. Pietro a Majella 'of Naples
Wind ensemble
Entrance ticket to the villa
Saturday June 22
The power of pleasure
Hall of the Knights of Villa Rufolo, 12.00 hours
European Music Festival
Entrance ticket to the villa
The best youth
Hall of the Knights of Villa Rufolo, 19.00 hours
Music Conservatory 'S. Pietro a Majella 'of Naples
"Rossini" Concert
Entrance ticket to the villa
Sunday June 30
Orchestra Italia
Belvedere of Villa Rufolo, 20.00 hours
San Carlo Theater Orchestra of Naples
Director Juraj Valčuha
Unique place € 50
July
Friday July 5
The power of pleasure
Hall of the Knights of Villa Rufolo, 17.30 hours
Salerno Festival
musical interventions of the choirs Coro Doria di Chiaramonti (SS),
The Youth Choir of Rauma Music School (Norway),
Polyphonic choir A vivavoce di Quarto (NA), Coro The Overtones (SA)
with repertoire of sacred and profane polyphony
Entrance ticket to the villa
Sunday July 7
Orchestra Italia
Belvedere of Villa Rufolo, 21.30 hours
Baroque Academy of Santa Cecilia
Director Federico Maria Sardelli
Music by Vivaldi
Unique place € 50
Wednesday July 10
Orchestra Italia
Belvedere of Villa Rufolo, 20.00 hours
Choeur et Orchester Sorbonne Université
Director Sébastien Taillard
Music by Boulanger, Beethoven
Ingresso libero su prenotazione
Friday July 12
Belvedere of Villa Rufolo, 21.30 hours
Polunin Ink
presents
Sergei Polunin
SACRÉ
Fraudulent Smile
Choreography by Ross Freddie Ray
They dance Sergei Polunin, Johan Kobborg and corps de ballet
Kroke music
Sacred
Choreography by Yuka Oishi
Dance Sergei Polunin
Music by Igor Stravinsky, The Spring Festival
In collaboration with ATER - Emilia Romagna Theater Association
Sunday July 14
Orchestra Italia
Belvedere of Villa Rufolo, 20.00 hours
Luigi Cherubini Youth Orchestra
Director and pianist Jean Efflam Bavouzet
Music by Cimarosa, Mozart
Unique place € 50
Tuesday July 16
Extra Festival
Belvedere of Villa Rufolo, 21.00 hours
O pretty moon ...
At 50 years from the landing a night of narrations on the Moon and the
cosmos, music dedicated to the Moon and observations of the sky with Valerio
Rossi Albertini, the pianist Mario Merola and the experts
of the Association AstroCampania. Music by Chopin, Debussy,
Scarlatti, Scriabin. Leads Rosita Sosto Archimio.
Ingresso libero su prenotazione
Thursday 18 July
Orchestra Italia
Belvedere of Villa Rufolo, 20.00 hours
San Carlo Theater Orchestra of Naples
Director Juraj Valčuha
Music by Rota, Williams, Gershwin
Unique place € 50
Sunday July 21
Orchestra Italia
Belvedere of Villa Rufolo, 20.00 hours
Orchestra of the Teatro Carlo Felice of Genoa
Director Wayne Marshall
Luca Bizzarri, reciting voice
Music by Ghedini, Ravel
Unique place € 50
Tuesday July 23
Extra Festival
Belvedere of Villa Rufolo, 21.00 hours
Wireless puppet
Automata, Robots, artificial Intelligences: the new overwhelming
industrial revolution in an evening of science and entertainment with
Bruno Siciliano, full professor of Robotics at the Federico II University of
Naples, and the artists of the "G. Martucci "of Salerno.
Music by Bach. Leads Rosita Sosto Archimio.
Ingresso libero su prenotazione
Wednesday July 24
The notes of Sigilgaita
Ravello Cathedral, 20.00 hours
Bernard Foccroulle
Music by Frescobaldi, Mendelssohn, Brahms, Bach
Free admission
Sunday July 28
Orchestra Italia
Belvedere of Villa Rufolo, 20.00 hours
Orchestra of the Teatro Massimo of Palermo
Director Gabriele Ferro
Maida Hundeling, soprano
Thomas Gazheli, baritone
Music by Zemlinsky, Smareglia, Strauss
Unique place € 50
Wednesday July 31
In Wagner's Garden
Hall of the Knights of Villa Rufolo, 23.00 hours
Guadagnini Quartet
Music by Colasanti, Donatoni, Mozart
Unique place € 25
August
Friday August 2
In Wagner's Garden
Hall of the Knights of Villa Rufolo, 23.00 hours
Odhecaton Ensemble
Director Paolo Da Col
Music by Sciarrino, Da Venosa, Pärt, Rihm
Unique place € 25
Sunday August 4
Orchestra Italia
Belvedere of Villa Rufolo, 20.00 hours
Symphony Orchestra of the Teatro Comunale di Bologna
Director Pietari Inkinen
Music by Respighi, Rimsky-Korsakov, Stravinsky
Unique place € 50
Wednesday August 7
In Wagner's Garden
Hall of the Knights of Villa Rufolo, 23.00 hours
Ylenia Cimino, flute
Alberto Ferro, piano
Music by Bach, Gaubert, Doppler, Prokofiev
Unique place € 25
Sunday August 11
Orchestra Italia
Belvedere of Villa Rufolo, 5.00 hours
Concert at dawn
Salernitana Philharmonic Orchestra 'Giuseppe Verdi'
Director Lorenzo Passerini
Music by Puccini, Stravinsky, Mussorgsky
Unique place € 60
Saturday August 17
In Wagner's Garden
Gardens of the Monsignor, 09.00 hours
Church of San Giovanni del Toro, 12.00 hours
Piazzetta San Lorenzo in Scala, 19.00 hours
Hall of the Knights of Villa Rufolo, 23.00 hours
Pierre-Laurent Aimard pianist
Catalog of Oiseaux
by Oliver Messianen
Unique place € 25
Sunday August 18
Orchestra Italia
Belvedere of Villa Rufolo, 20.00 hours
Italian Youth Orchestra
Director Jérémie Rhorer
Music by Mahler, Casella
Unique place € 50
Tuesday August 20
Orchestra Italia
Belvedere of Villa Rufolo, 19.30 hours
Salernitana Philharmonic Orchestra 'Giuseppe Verdi'
Director Ryan McAdams
Anna Tifu, violin
Alessandro Taverna, piano
Music by Listz, Chausson, Sgambati, Sarasate
Unique place € 50
Friday August 23
Orchestra Italia
Belvedere of Villa Rufolo, 19.30 hours
Giuseppe Verdi Symphony Orchestra of Milan
Director Claus Peter Flor
Music by Salviucci, Strauss
Unique place € 50
Sunday August 25
Orchestra Italia
Belvedere of Villa Rufolo, 19.30 hours
Filarmonica 'Gioachino Rossini' of Pesaro
Director Donato Renzetti
Music by Respighi, Britten, Rossini
Unique place € 50
Wednesday August 28
In Wagner's Garden
Hall of the Knights of Villa Rufolo, 23.00 hours
Simone Rubino, percussion
Music by Gerassimez, Bocca, Xenakis, Piazzolla
Unique place € 25
Thursday August 29
The notes of Sigilgaita
Ravello Cathedral, 20.00 hours
Olivier Latry
Music by Couperin, Beethoven, Mozart, Messianen
Free admission
Saturday August 31
Orchestra Italia
Belvedere of Villa Rufolo, 19.30 hours
La Scala Philharmonic Orchestra
Director Lorenzo Viotti
Music by Rossini, Puccini, Dvorak
Unique place € 50
September
Tuesday September 3
The best youth
Oscar Niemeyer Auditorium, 19.00 hours
Music Conservatory 'S. Pietro a Majella 'of Naples
Vesuvius Wind Orchestra
Director Bruno Sepe
Giampiero Di Lecce, Marco Cocule, Antonio Punzone,
Francesco Maddaluna, Giuseppe Di Maio, clarinets
Isabella Giannatasio, Marcello Masi, flutes
Luigi Damiano, oboe
Guido Mandoglio, bundle
Maurizio Conte, Luigi Falanga, Fabio Montefoschi,
Nicola Copertino, saxophones
Alessandra Arillo, Nico Rodrigues, horns
Giulio Trifiletti, Salvatore Liotti, Rosario Maddaloni, trumpets
Vincenzo Vuolo, Davide Musella, Michele Sorrentino, trombones
Laura Francesca Mastrominico, Nicola Napolitano,
Luigi Di Ruba, Felice Iannicelli, percussion
Music by Rota, Williams, Zimmer, Stone, Djawardi
Free admission
Wednesday 4 September
The best youth
Hall of the Knights of Villa Rufolo, 12.00 hours
Plectrum Orchestra of the Music Conservatory
'S. Pietro a Majella 'of Naples
Gianni Marcellini, Tommaso Barra, Oscar Di Lorenzo, Marianeve Aricò, Federico Maddaluno, Emanuele Auricchio, Marco Dell'Aversana, Giovanni Leonetti, Mattia Raimo, mandolins
Vincenzo Mozzillo, Ivano Pagliuso, Salvatore Scafarto, guitars
Entrance ticket to the villa
Thursday September 5
In Wagner's Garden
Hall of the Knights of Villa Rufolo, 23.00 hours
Wind Quintet of the San Carlo Theater in Naples
Pianist Giuseppe Albanese
Music by Ibert, Hindemith, Ligeti, Mozart
Unique place € 25
Saturday September 7
In Wagner's Garden
Hall of the Knights of Villa Rufolo, 23.00 hours
String Quartet of the San Carlo Theater in Naples
Pianist Giuseppe Albanese
Music by Puccini, Verdi, Ferrari
Unique place € 25
Monday 9 September
The best youth
Hall of the Knights of Villa Rufolo, 19.00 hours
Santa Cecilia Music Conservatory of Rome
Wind ensemble
Music by Strauss
Entrance ticket to the villa
Tuesday September 10
The best youth
Location to be defined
'Benedetto Marcello' Music Conservatory of Venice
Free admission
Wednesday 11 September
The best youth
Location to be defined
'Benedetto Marcello' Music Conservatory of Venice
Free admission
Thursday September 12
The notes of Sigilgaita
Ravello Cathedral, 19.00 hours
Andrea Macinanti
Music by Bach, Bossi, Respighi
Free admission
Thursday September 12
The best youth
Oscar Niemeyer Auditorium, 20.30 hours
'Nicola Sala' Music Conservatory of Benevento
"Charlie Mingus"
Jazz Orchestra
Free admission
Saturday September 14
In Wagner's Garden
Hall of the Knights of Villa Rufolo, 19.00 hours
Budriese Ocarinistic Group
Music by Mozart, Rossini, Verdi, Piazzolla
Unique place € 25
Wednesday 18 September
The best youth
Oscar Niemeyer Auditorium, 19.00 hours
'Niccolò Piccinni' Music Conservatory of Bari
Percussion Ensemble
Free admission
Thursday September 19
The best youth
Oscar Niemeyer Auditorium, 19.00 hours
'Niccolò Piccinni' Music Conservatory of Bari
Tribute to Nino Rota
Free admission
Friday September 20
The notes of Sigilgaita
Ravello Cathedral, 19.00 hours
Michel Bouvard
Music by Marchand, Bach, Mozart, Bouvard
Free admission
Thursday September 26
The best youth
Church of Santa Maria a Gradillo, 19.00 hours
'Agostino Steffani' Music Conservatory of Castelfranco Veneto
String Quartet
Free admission
Friday September 27
The best youth
Oscar Niemeyer Auditorium, 19.00 hours
'Agostino Steffani' Music Conservatory of Castelfranco Veneto
Jazz Ensemble
Free admission
Sunday September 29
The best youth
Oscar Niemeyer Auditorium, 19.00 hours
Music Conservatory 'Giuseppe Martucci' of Salerno
I Scheherazade
Concert for pianos
Free admission
October
Saturday October 5
The best youth
Oscar Niemeyer Auditorium, 19.00 hours
Music Conservatory 'Giuseppe Martucci' of Salerno
Director Nicola Samale
Concerto for piano and orchestra n.3 in D minor, op.30
Concerto for piano and orchestra n.4 in G minor, op.40
Sergej Vasilyevich Rachmaninov
Free admission
Friday 14th October
The notes of Sigilgaita
Ravello Cathedral, 19.00 hours
Luca Scandali
Music by Bach, Franck, Listz
Free admission
Saturday October 12
The best youth
Oscar Niemeyer Auditorium, 19.00 hours
Music Conservatory 'Giuseppe Martucci' of Salerno
Director Nicola Samale
Concerto for piano and orchestra n.1 in F sharp minor, op.1
Concerto for piano and orchestra n.2 in C minor, op.18
Sergej Vasilyevich Rachmaninov
Free admission
Sunday October 20
The power of pleasure
Ravello Cathedral, 19.00 hours
Choir Festival
performance by Coro ARCC and Coro Giovanile Campano
Music by Bob Chilcott (Five days that changed the word) and various authors,
sacred and secular polyphony repertoire
Free admission
Event information
When: from 14 June to 20 October 2019
Where: Villa Rufulo and Duomo di Ravello
Prices: consult the program or the official website
[Votes: 0 Media Rating: 0 / 5]