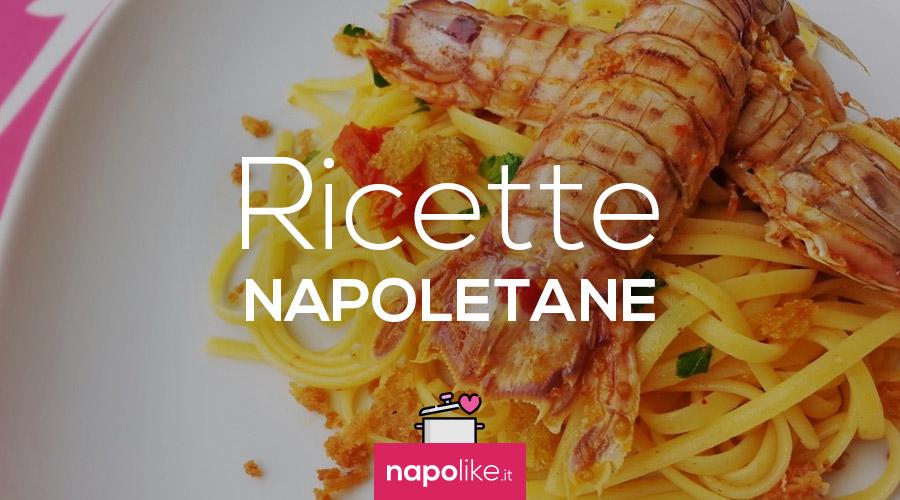 The recipe for linguine with sparnocchie, also called mantis shrimps or cicadas, a very fragrant first course.
Enjoyed both in summer and in winter, fresh pasta can not do without a good sauce of fish, that's why we have decided to prepare for you the recipe of linguine to the sphesters.
Defined in Neapolitan sparnocchie, cicadas of the sea they are funny crustaceans with a strange appearance, but with a very good taste. The linguine with sparnocchie sauce is one of the dishes that mothers and grandmothers loved to prepare, and probably still do, for a quick Saturday lunch.
And fresh pasta requires the use of this ingredient. Fast yes, because these crustaceans they cook in a very short time in the fresh tomato sauce that is reminiscent of lunches by the sea. We bring a little 'sea on the table, then, with the linguine sauce with sparnocchie.

Ingredients
400 gr fresh linguine
500 gr peeled tomatoes San Marzano
1 kg sparnocchie (sea cicadas)
100 gr Piennolo cherry tomatoes
2 cloves of garlic
1 glass of Brandy
1 glass of dry white wine
1 coppered onion
a sprig of parsley
1 dried chili
70 ml extra virgin olive oil
salt and black pepper to taste
Prepare the sparnocchie
Rinse the sparnocchie under running water and, in a saucepan with salted water and flavored with black peppercorns, white wine and finely chopped copper onion, boil quickly. They will be ready when they have changed slightly color. Cool them as soon as they are ready in water and ice remove the carapace helping you with scissors to open them. Extract the shellfish pulp and keep it aside.
Prepare the sauce
In a saucepan, make sauté oil, peeled garlic and chilli pepper. Pour in this the carcasses of the sparnocchie, crushing them and sprinkling them with a glass of Brandy. Once the alcohol has evaporated, add the peeled tomatoes, season with salt and pepper, and cook for 2 hours. Please note: you can also cook the sauce much less, even half an hour or 15 minutes, if you want to save time.
When ready, it must be sieved, thus obtaining a smooth and clean sauce.
Complete the dish
Rinse and cut into four i Piennolo tomatoes and cook them in a pan with the oil, the other clove of garlic in a shirt and the parsley. Add the sauce previously prepared and the sparnocchie. In a pot with plenty of freshly salted water blanch the linguine, drain them al dente and stir them in a pan with the sauce of the sprouts seasoning at the end of the freshly ground black pepper.