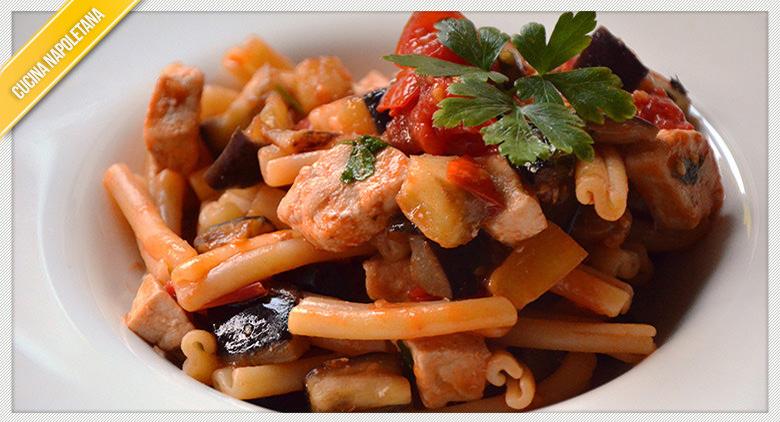 The recipe for pasta with swordfish ragout is a rich first course really tasty!
Every year the Mediterranean Sea gives us truly unique products, we from southern Italy, also in Naples, benefit from various and really tasty fish products. And for this we want to offer you one very greedy recipe pasta with swordfish ragout.
Naples is one of the cities that, with its culinary tradition, boasts many dishes that see the fish as protagonist and the swordfish ragout is succulent and really fragrant. This delicious sauce can give new life to pasta, much loved in the capital of Campania.
A rich first course with an intense flavor of blue fish, embellished with sweet tomato cherries.
Ingredients
500 gr durum wheat pasta (we recommend that they are of the Paccheri type)
200 gr fresh swordfish
40 ml extra virgin olive oil
200 gr little pizzutelli tomatoes
1 clove of garlic
a sprig of parsley
1 tablespoon of wheat flour type 00
Salt and Pepper To Taste
Prepare the sauce
To start preparing this good swordfish ragout, start by warming the extra virgin olive oil in one large frying pan (it is required that it is large because once the pasta has been cooked it will have to be sautéed). As soon as the oil is boiling, fry the garlic and start to quickly scald the swordfish cut into small pieces removing the bone paste from the piece.
After browning the fish, remove it and place it on a plate. In the pan add the well-washed and cut into small pizzutelli tomatoes, seasoning with salt and pepper. As soon as the tomatoes have formed a good sauce, tie it with a spoon of flour, taking care to make it melt for good.
Prepare the pasta
Heat plenty of water in a pot and add salt. As soon as it comes to a boil, lower the pasta and let it cook for the number of minutes indicated on the package. To cook the type of pasta like paccheri you will have to wait around the 12-15 min. As soon as the pasta is ready, dip it in the sauce prepared earlier, adding the chunks of fish and a ladle of the cooking water. Let it cream for at least a minute and serve sprinkled plenty of chopped parsley.