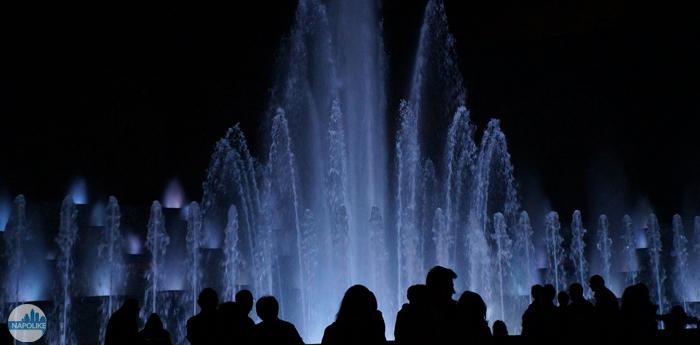 Information (days and times), photos and videos on the Esedra Fountain Show at the Mostra d'Oltremare (Isola delle Passioni) in Naples.
La
Mostra d'Oltremare of Naples
becomes
Island of the Passions
, an incubator of musical, cultural, sporting activities and shows of various kinds. Among the many events, what most attracts the interest of citizens is certainly the
show of the Fontana dell'Esedra
.
Our advice is to not miss the fantastic show that mixes music, colors and water games. The spectacle of the Fontana dell'Esedra takes place every Friday at 21.30 and every weekend (Saturday and Sunday) at 12.30 and 21.30 (Timetable updated and valid from November 2014: every Friday and Saturday from 19.30). This last appointment is undoubtedly very suggestive because the darkness will exalt the colors and the music that accompanies the flow of water. Before the start of the Esedra Fountain show, circus performers will perform in the fire show.
Entry costs only 1 € and a monthly subscription is available at the price of 5 euro. We leave you at photo showing the fountain as it lights up to captivate viewers and even the video which recalls the water games on the notes of Mozart's The Magic Flute.
Info on the spectacle of the Fontana dell'Esedra
When: every Friday and Saturday
Schedule: Friday 21.30 hours. Saturday and Sunday 12.30 and 21.30 hours
Schedule valid from November 2014: by 19.30
duration: about 30 minutes.
Price: 1 euro for the Island of the Passions entrance