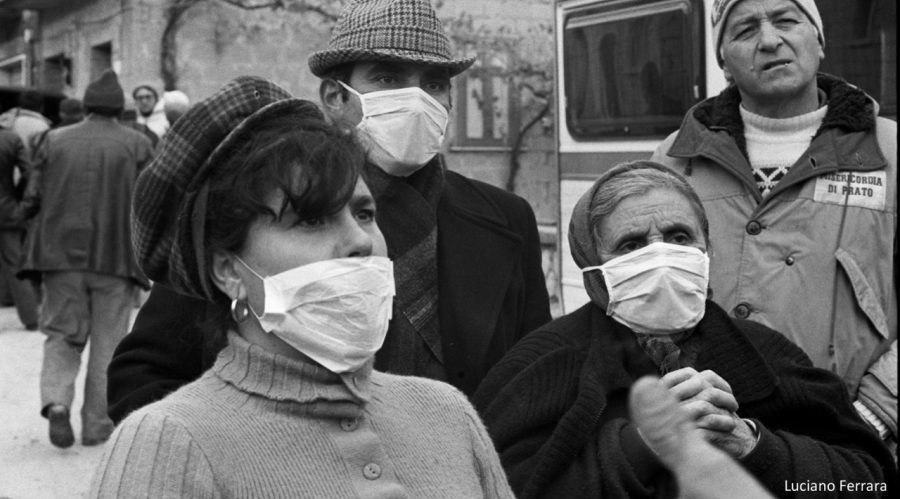 A beautiful photographic exhibition with over 100 shots by 20 great photographers on the Irpinia earthquake, in the Convent of San Domenico Maggiore in Naples.
The exhibition is closed in compliance with the anti-Covid provisions applied in the orange regions.
***
A 40 years after the terrible earthquake that hit Irpinia on November 23, 1980, in Convent of San Domenico Maggiore in Naples a beautiful exhibition has been set up with numerous photos relating to that tragic event.
It is over 100 historical images made by about 20 photographers and the exhibition was inaugurated on February 12, 2021. It will be open until March 31 and is entitled "SISMA80 - November 23 at 19.34".
The SISMA80 exhibition in 100 shots
All the pictures show us i various scenarios of the catastrophe, among collapses, devastation, the earthquake victims housed in buses also in Naples, i container fields in the neighborhoods of San Pietro a Patierno, San Giovanni a Teduccio, Bar, Secondigliano. Obviously there is no shortage of photos of desperation of the earthquake victims of the Avellino area with photos of the collapses and the areas devastated by Lioni, Sant'Angelo dei Lombardi, Teora and Bagnoli Irpino, up to Bavano in the Potentino area.
There are also photographs of Pozzuoli with post-earthquake reconstructions.
The video installation "The story of the protagonists"
In the room of the Small Refectory of the Convent of San Domenico Maggiore there is the video installation "The story of the protagonists", Projected on a 6-meter wall and created by Gix Musella and Elio Di Pace, and what makes us listen to voices and testimonies of the time.
In fact, "SISMA 80" is an unpublished project by participatory storytelling, precisely on the effects of the earthquake, and both the photos and the video installation represent unique and precious testimonies.
The installation "Il Crater Infographic Maps"
To complete the exhibition, there is the great installation "The Crater Infographic Maps"(6 × 2,5 meters), set up in the Great Refectory, where they are documents and information collected from the pages of The morning of the time, together with the mapping of the places affected and the effects.
The "Crater" was also the name of a 'huge area that extended from the southern Apennines over the whole of Irpinia and in the adjacent areas of the provinces of Salerno and Potenza.
The investigative photojournalism
The exhibition also wants to highlight theimportance of investigative photojournalism, always necessary and essential to improve the living conditions of citizens. The photojournalist is a responsible professional who allows us, after decades, to still have the testimony and voices of those who lived through that tragedy.
The photographers of the exhibition
archive Luciano D'Alessandro Bibliographic study Marini Rome - Massimo Cacciapuoti - Toty Ruggieri - Annalisa Piromallo - Gianni Fiorito - Fotosud (Giacomo Di Laurenzio, Antonio Troncone, Mario Siano, Guglielmo Esposito) - Associazione Archivio Carbone - Pressphoto (Gaetano Castanò, Franco Castanò, Franco Esse) - Mario Riccio - Giuseppe Avallone - Guido Giannini - Pino Guerra - Sergio Del Vecchio - Photographic archive Ferrara, Luciano Ferrara - Mimmo Jodice.
Information on the SISMA80 exhibition
When: from the 12 February to the 31 March 2021
Where: Convent of San Domenico Maggiore, Via San Domenico Maggiore, 18 - 80134 Naples NA
Hours: Monday to Friday, from 10.00 to 18.30 (last admission at 18.00)
Reservation required: noos.tribunali138@gmail.com
Photo credit: Luciano Ferrara