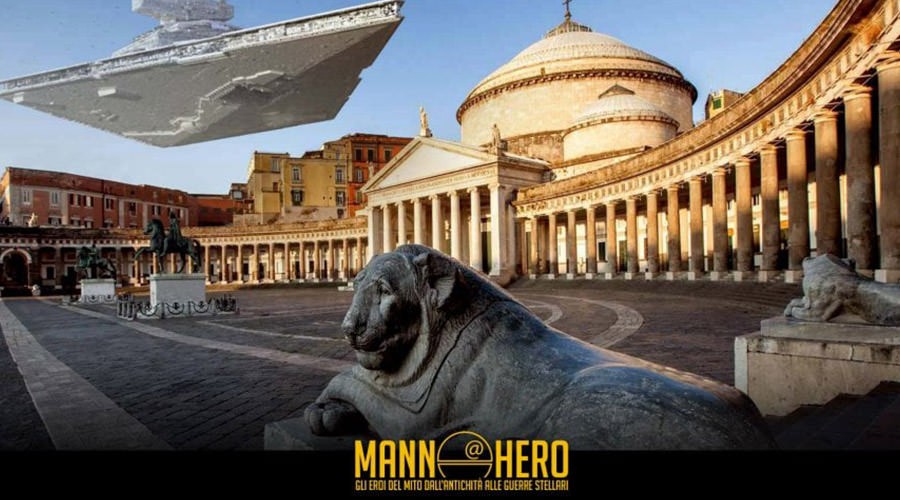 At the MANN in Naples an exhibition on Star Wars: the rooms of the Archaeological Museum come the heroes of Star Wars!
A new exhibition which will surely have great success has been announced by the MANN, the National Archaeological Museum of Naples, and will also please all fans of Star Wars. It is, in fact, an exhibition on Star Wars within the project Mann Hero and from 4 May to 31 July 2018 will invade the halls of the museum Neapolitan. The most famous characters and collectibles will be exhibited and blend in with the classical works of the museum.
The inauguration will be there on the occasion of Star Wars Dayin fact, in the World Day dedicated to the Star Wars fantasy / science fiction universe, the exhibition will start will unite classical archeology and contemporary cinematography.
Star Wars and the MANN: characters and objects of the saga are camouflaged with classical works
They have been already published some pictures from the Museum and you can very well see how the exhibition on Star Wars will be a tribute to the works in the various rooms, but also to the film.
We can see the statue of Atlas that, instead of supporting the celestial sphere, carry the Death Star on his shoulders, the weapon of mass destruction of the size of a planet; the Ercole Farnese is in possession of the black mask of Darth Vader; finally, the Naoforo in bronze, which is found in the Egyptian Section, has with it a sort of image of Han Solo hibernated in graphite.
It is no coincidence that the Star Wars theme was chosen for this exhibition because the saga of Star Wars is certainly inspired by the classical myths and the Skywalker, Luke, Leia and Anakin family characters, but also the figure of Rei, inserted in the new trilogy underway, can be inserted in this context without seem out of place.
Costume events in the city and galactic troops in the sky
Pending the start of the exhibition, they are already circulating in the network of the photos that anticipate the big event and we can see the hunting Tie Fighter flying over Piazza del Plebiscito with the Stormtroopers positioned in the hemicycle of the Basilica of San Francesco di Paola, but also soldiers in the historical center and in the Gulf of Naples.
This army of Star Wars moves towards the MANN and its own in the museum there will be the costumed groups most famous in the world and recognized by LucasFilm.
Furthermore, during the Comicon, there will also be one stand of the Archaeological Museum with gadgets and scale objects of the galactic means of transport of the saga.
The artistic direction is the archaeologist Mario Grimaldi and was conceived and curated by Ciro Sapone who also collaborated with the director and screenwriter George Lucas during the filming of Star Wars episodes 1 and 2, while the scenes were being shot at the Royal Palace of Caserta.
Photo gallery of the preview
Photo source: Repubblica.it
Information on Star Wars at the MANN
When: from 4 May to 31 July 2018, closed on Tuesday
Where: Naples Archaeological Museum, 19 Museum Square
Timetables: the 4 May inauguration at 18.00 | from 5 May from 9.30 to 19.30. Closing operations start at 19.00
Prezzi: the exhibition is included in the museum ticket - whole: 12 euro | reduced: 6 euro